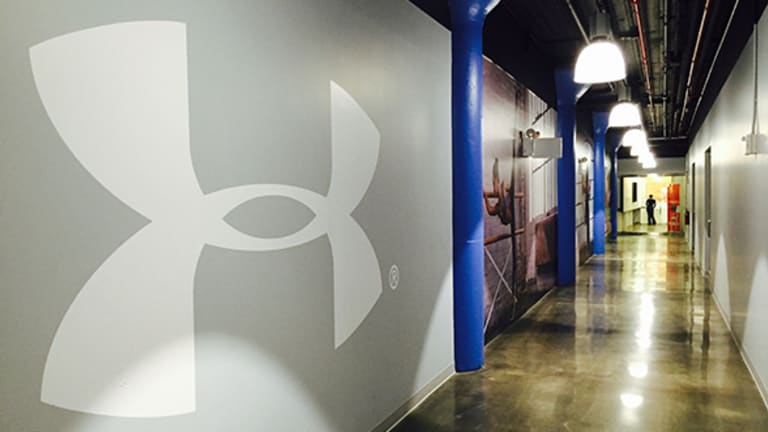 These 5 Stocks Are Breaking Out
These technical setups are showing solid upside potential right now.
These technical setups are showing solid upside potential right now.
U.S. markets fired back to life yesterday, following Friday's surprise selloff.
The big S&P 500 index rallied 1.47% during Monday's session, making back a meaningful chunk of the drop from last week. But more than the size of the move, Monday's rebound was telling because of market breadth: 485 of the stocks in the S&P 500 managed to end the session higher than they started, sending a message to investors that pretty much everything is participating in the rebound.
But as usual, there's still a pretty big performance gap in the S&P 500 right now. One in four S&P components actually managed to post gains of 2% or more yesterday. And the top 10% of S&P components rallied 3% or more during Monday's session.
To take advantage of those outsized price moves in the top tier of the broad market, we're turning to the charts for a technical look at five stocks that are moving into breakout territory this week.
In case you're unfamiliar with technical analysis, here's the executive summary: Technical analysis is a way for investors to quantify qualitative factors, such as investor psychology, based on a stock's price action and trends. Once the domain of cloistered trading teams on Wall Street, technicals can help top traders make consistently profitable trades and can aid fundamental investors in better planning their stock execution.
Without further ado, here's a rundown of five technical setups that are showing solid upside potential right now.
Nexstar Broadcasting Group
We're starting small, with small-cap broadcasting company Nexstar Broadcasting Group (NXST) - Get Report . At a glance, it doesn't look like Nexstar Broadcasting has done much this year. In fact, shares are actually down a little over 8% since the start of 2016. But that year-to-date stat misses the more important trend that's been unfolding in Nexstar Broadcasting more recently. Since bottoming out back in February, Nexstar has been in rally mode, up almost 50%.
And now shares look like they're on the verge of a fresh breakout buy signal in September. Here's how to trade it.
Nexstar is currently forming an ascending triangle pattern, a bullish continuation setup that's formed by horizontal resistance up above shares at $55 and uptrending support to the downside. Basically, as Nexstar bounces between those two technically significant price levels, this stock has been getting squeezed closer and closer to a breakout through its $55 price ceiling. When that happens, we've got our buy signal.
The side indicator to watch on Nexstar's chart here is relative strength. Relative strength measures Nexstar's performance versus the broad market -- and the fact that this indicator is holding onto its uptrend from February signals that the outperformance story in NXST is still happening this fall. If shares can catch a bid above $55, it's time to buy.
M&T Bank
We're seeing the exact same price setup in shares of $19 billion banking company M&T Bank (MTB) - Get Report . Like Nexstar Broadcasting, M&T is currently forming an ascending triangle pattern after bottoming early in the year. For M&T, the big breakout level to watch is resistance up at $120.
Why all of that significance at the $120 level? It all comes down to buyers and sellers. Price patterns, such as this ascending triangle setup in M&T Bank, are a good quick way to identify what's going on in the price action, but they're not the actual reason a stock is tradable. Instead, the "why" comes down to basic supply and demand for M&T Bank's shares themselves.
The $120 resistance level is a price where there has been an excess of supply of shares; in other words, it's a spot where sellers have previously been more eager to step in and take gains than buyers have been to buy. That's what makes a breakout above $120 so significant -- the move means that buyers are finally strong enough to absorb all of the excess supply above that price level. Once M&T Bank trades above $120, it's time to join the buyers.
Embraer
No doubt about it, 2016 has been a tough year for shareholders in mid-cap Brazilian aircraft manufacturer Embraer (ERJ) - Get Report . So far, Embraer has given back more than 35% of its market value since the start of this year -- and shares are hovering near the bottom of their 52-week range as I write. That's the bad news. The good news is that Embraer is finally looking "bottomy" in September.
Embraer has spent the last month and a half forming a double bottom pattern, a simple turnaround setup that looks just like it sounds. The pattern is formed by a pair of swing lows that bottom out at approximately the same price level, and it triggered a buy last week, when Embraer caught a bid above the $19 price level for the first time since the double bottom started forming. After a quick throwback to test newfound support at $19, Embraer looks ready to resume its upward trajectory.
Momentum, measured by 14-day RSI up at the top of the chart, is the side indicator to be watching for the Embraer trade. Our momentum gauge has been trending higher over the course of the double bottom in shares, a positive divergence that indicates buying pressure is building in this aircraft stock. There's still time to buy the bounce off of $19 here.
Under Armour
Things are looking pretty straightforward for shareholders of Under Armour (UA) - Get Report  right now. In fact, the price action on UA's chart is about as basic as it gets. Since the start of this year, Under Armour has been bouncing its way higher in a well-defined uptrend -- and shares are coming up on a big buying opportunity this week.
Under Armour's uptrend stretches all the way back to the lows shares established back in January. Put simply, every time Under Armour's share price has tested trend line support, the subsequent bounce has provided an optimal entry from a risk/reward standpoint. And now, as shares touch that support level once again in September, it makes sense to buy yesterday's definitive bounce off of support.
Actually waiting for a bounce from here is important for two key reasons: It's the spot where shares have the most room to move up before they hit resistance, and it's the spot where the risk is the least (because shares have the least room to move lower before the channel breaks, invalidating the upside trade). Remember, all trend lines do eventually break, but by actually waiting for the bounce to happen first, you're ensuring Under Armour can actually still catch a bid along that line before you put your money on shares.
Huaneng Power International
Last up on our list of potential breakouts for September is $15 billion Chinese power producer Huaneng Power International (HNP) - Get Report . Like a lot of other ex-U.S. trades, Huaneng Power has spent most of this year moving lower -- but shares have spent the whole summer carving out a classic bottoming pattern, signaling the potential for a big change to Huaneng's long-term trend.
Huaneng Power is currently forming an inverse head and shoulders pattern, a classic reversal setup that signals exhaustion among sellers. The pattern is formed by two swing lows that bottom out at approximately the same level (the shoulders), separated by a lower low (the head). The buy signal comes on a move through Huaneng's neckline at $26.50.
Like with any of the other trades on our list, it's crucial to be reactionary if you want to profit from the price setup in Huaneng. Technical analysis is a risk-management tool, not a crystal ball, and Huaneng doesn't become a high-probability trade until buyers can muster the strength to materially push shares above $26.50. The good news is that investors won't need to exercise a whole lot of patience here; shares are finally within grabbing distance of that price level this week.
This article is commentary by an independent contributor. At the time of publication, the author held no positions in the stocks mentioned.