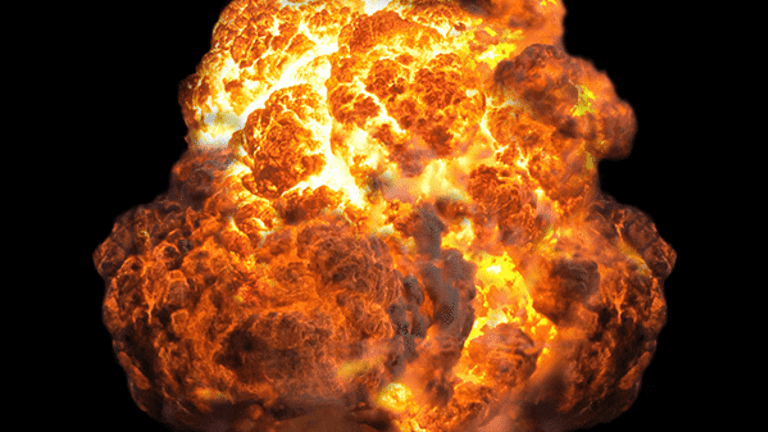 Publish date:
Here Are 5 Unknown Small-Cap Tech Stocks That Could Be About to Explode
These five small-caps from the tech sector are testing breakout territory.
These five small-caps from the tech sector are testing breakout territory.
Bigger isn't always better.
In fact, sometimes it's the smaller stocks that wring out the best performance for your portfolio. Just take a look at the last year -- while the S&P 500's 26% return over the last 12 months has been impressive, the small stock focused Russell 2000 Index has managed to hand investors total returns of 40.72% over the exact same timeframe.
That's particularly true in the tech sector, where some of the most impressive gains in the last year came from stocks that started off squarely in small-cap territory.
So, to find the next round of tech stocks that looks likely to hand investors big gains in 2017, we're turning to the charts for a technical look at five non-mainstream technology stocks that are teetering on the edge of breakout territory.
For the unfamiliar, technical analysis is a way for investors to quantify qualitative factors, such as investor psychology, based on a stock's price action and trends. Once the domain of cloistered trading teams on Wall Street, technicals can help top traders make consistently profitable trades and can aid fundamental investors in better planning their stock execution.
Without further ado, let's take a look at five technical setups worth trading now.
Quantum Corp.
Leading things off is small-cap computer storage stock Quantum  (QTM) - Get Report. This small stock has been handing shareholders big gains in the last year, doubling in price over those last 12 months. But don't worry if you've missed that recent upside move -- Quantum looks ready for a second leg higher in the weeks ahead.
Quantum is currently forming an ascending triangle pattern, a bullish continuation setup that's formed by horizontal resistance up above shares at 95 cents, with uptrending support to the top-side. Basically, as Quantum bounces in between those two technically significant price levels, this small stock has been getting squeezed closer and closer to a breakout through 95 cents. When that breakout happens, we've got our buy signal.
Relative Strength, the indicator at the bottom of Quantum's chart, adds some extra upside confidence to this stock. Relative strength measures QTM's price performance versus the broader market, and the fact that the indicator has been in an uptrend of its own is a signal that this stock is primed to continue outperforming as long as that trend remains in play.
StarTek Inc.
Data processing and technology services stock StarTek  (SRT) - Get Reportis showing off the exact same price setup right now. Like Quantum, this small-cap stock has spent the last few months forming an ascending triangle pattern that's getting close to breakout territory. For StarTek, the buy signal comes on a breakout above $9.
That $9 price level boils down to buyers and sellers. Price patterns, like this ascending triangle setup, are a good quick way to identify what's going on in the price action, but they're not the ultimate reason shares look attractive here. Instead, the "why" is driven by basic supply and demand for SRT's shares themselves.
The $9 resistance level is a price where there has been an excess of supply of shares; in other words, it's a spot where sellers have previously been more eager to step in and take gains than buyers have been to buy. That's what makes a breakout above $9 so significant -- the move means that buyers are finally strong enough to absorb all of the excess supply above that price level.
WebMD Health Corp.
Small-cap health website network WebMD Health Corp. (WBMD) is better known among the stocks on our list of tiny tech trades, but it hasn't exactly been a welcome contributor to most investors' portfolios lately: shares have shed almost a quarter of their market value since peaking back in May. That's the bad news. The good news is that this stock is finally looking ready for a reversal higher in 2017.
WebMD has spent the last several months forming a long-term double bottom pattern, a price setup that looks just like it sounds. The double bottom is formed by a pair of swing lows that bottom out at approximately the same price level -- it triggers a buy when shares are able to muster the strength to push through the intermediate peak that separates that pair of lows. For WebMD, the breakout level to watch is resistance up at $54.
Price momentum, measured by 14-day RSI, is the side-indicator to look at in WebMD. Our momentum gauge has made a series of higher lows during this stock's double bottom setup, a bullish divergence that indicates buyers are stepping in behind the scenes. Momentum is still secondary to price, however. Wait for shares to push through $54 before you click "buy" on this stock.
Descartes Systems Group Inc.
Meanwhile, shares of small-cap software stock Descartes Systems Group Inc. (DSGX) - Get Report are pointing higher this winter, and it doesn't take an expert technical trader to figure out why. Descartes has been bouncing its way higher in a well-defined uptrend since last spring, rallying more than 30% higher along the way. That uptrend is still intact in 2017.
The uptrending channel in Descartes Systems is formed by a pair of parallel trendlines that have identified the high-probability range for this stock to remain stuck within since last March. In a nutshell, every test of trendline support so far has provided buyers with a low-risk, high-reward opportunity to build a position. Now, as DSGX moves down to test support once again, it makes sense to buy the next bounce off of the bottom of the channel.
Actually waiting for that bounce is important for two key reasons: it's the spot where shares have the most room to move up before they hit resistance, and it's the spot where the risk is the least (because shares have the least room to move lower before the channel breaks, invalidating the upside trade). Remember, all trend lines do eventually break, but by actually waiting for the bounce to happen first, you're ensuring DSGX can actually still catch a bid along that line before you put your money on shares.
ACI Worldwide
Last on our list of small-cap tech breakouts is $2.3 billion payment software stock ACI Worldwide (ACIW) - Get Report. The last six months have been pretty boring on ACI's chart - shares have churned sideways since the summer, ending up all of 0.74% higher in the last six months. But that sideways grind is actually what's setting shares up for a breakout in February.
ACI Worldwide has spent the last couple of quarters forming an inverse head and shoulders pattern, a bullish reversal pattern that signals exhaustion among sellers. The pattern is formed by two swing lows that bottom out at approximately the same level (the shoulders), separated by a lower low (the head). The buy signal comes on a move through ACI's neckline at $20. The choppy price action in ACIW makes the price setup a little harder to decipher than typical, but the materiality of resistance at the $20 level is pretty hard to miss (and more important).
Once $20 gets taken out, the path is cleared for a retest of ACIW's prior highs up at $22. That push would also bring shares within striking distance of all-time highs set back in 2015 -- potentially opening the door to a more prolonged upside move after a period of consolidation. Like with any of the other trades on our list, it's crucial to be reactionary if you decide to trade ACI Worldwide. This doesn't become a high-probability setup until shares clear the $20 level.
At the time of publication, author had no positions in the stocks mentioned
.