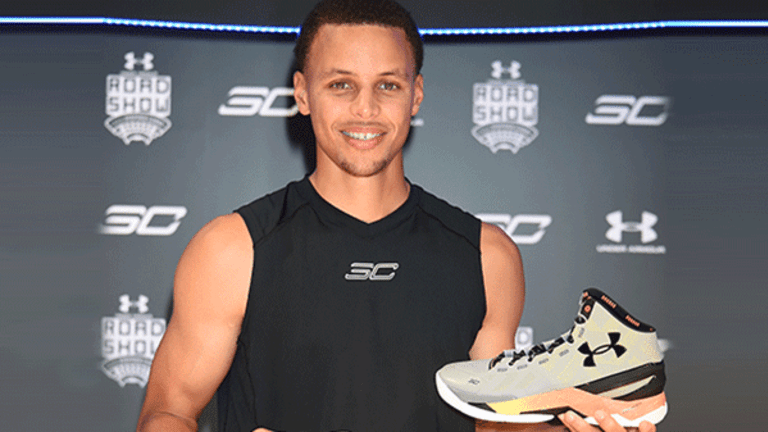 Publish date:
These 5 Simple Photos Show Why Sales of Under Armour's Stephen Curry Basketball Sneakers Have Slowed
Through the years, the Under Armour Curry line of sneakers has seen little change.
Through the years, the Under Armour Curry line of sneakers has seen little change.
While Under Armour's (UA) - Get Under Armour, Inc. Class C Reportfirst-quarter results impressed Wall Street on Thursday, or rather they didn't scare investors off entirely, the period was one of the worst the company has seen.
And, Under Armour CEO Kevin Plank finally admitted that the company may not have done all it could with sneakers tied to its biggest sports marketer, NBA star Stephen Curry.
The Curry One shoe first hit retailers in 2015. Since then, Under Armour has modestly altered the sneaker and re-released it as the two and three iterations in various different colors. But, each sneaker, coming with a slightly higher price tag, looks essentially the same. By the time the latest version came to retail last October, consumers appear to have been over the sneaker.
"While the three plays very well on court for Stephen Curry and our athletes, a sluggish signature market and a warm consumer reception has led to softer than expected results," Plank said on Thursday morning's earnings call.
Moving ahead, Plank said for the release of the Curry 4 sneaker, and other shoes, Under Armour has "retooled" its "test, learn [and] scale approach" and will focus on strengthening innovation. One of the ways the company is doing that is by launching UA Icon later this summer, which allows consumers to customize their shoes online, something competitor Nike (NKE) - Get NIKE, Inc. (NKE) Report already does.
READ MORE: LeBron James Reveals He Was Offered $10 Million to Sign With Reebok, But Still Decided on Nike
On Thursday, Under Armour reported a first-quarter net loss of 1 cent a share, the first time the company had ever posted a loss. Still, analysts had anticipated the company to incur a loss of 4 cents a share.
Under Armour said its revenue increased 7% to $1.1 billion in the three months ended March 31, in line with Wall Street's expectations. But, in North America, the company's largest market, sales fell 1%. Under Armour's footwear sales rose a meager 2%, compared to growths of 64% in the year ago first quarter, 36% in the fourth quarter and 42% in the third quarter of last year.
Shares of Under Armour rose 9.94% to $21.67 on Thursday. 
TheStreet takes a look at Curry's signature basketball sneakers through the years. As you can see, they haven't changed a great deal since first bursting onto the scene. 
Read More Trending Articles: