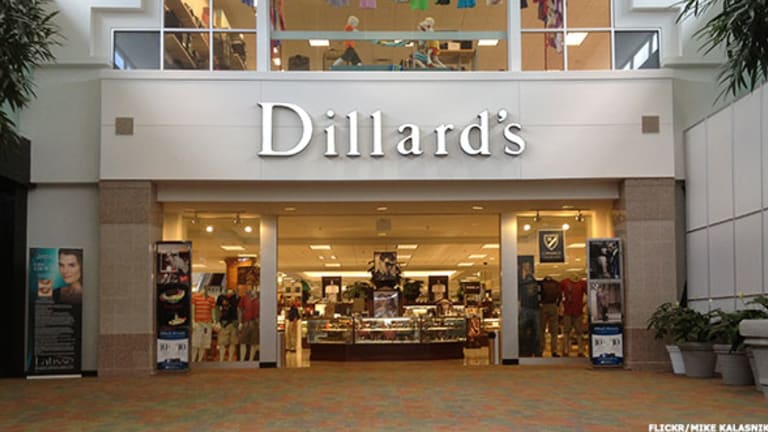 These 5 Mid-Cap Stocks Are Breaking Out in October
Small and medium-sized companies are outperforming the rest of the market in 2016.
Who says bigger is better?
Small and medium-sized companies are actually outperforming the rest of the market in 2016. Year-to-date, the iShares Core S&P Mid-Cap ETF (IJH) - Get Report  is up 10.2% on a price basis, almost doubling the price performance of the S&P 500. And there may well be a lot more where that came from as we round the corner to October trading.
That's because, as of this writing, many mid-caps are actually still poised to make breakout moves this fall. To take advantage of the outperformance in mid-cap stocks, we're turning to the charts for a technical look at five of the most attractive trades with market capitalizations between $2 billion and $10 billion.
In case you're unfamiliar with technical analysis, here's the executive summary: Technical analysis is a way for investors to quantify qualitative factors, such as investor psychology, based on a stock's price action and trends. Once the domain of cloistered trading teams on Wall Street, technicals can help top traders make consistently profitable trades and can aid fundamental investors in better planning their stock execution.
Without further ado, here's a rundown of five technical setups that are showing solid upside potential right now.
Spirit Realty Capital
Leading off our list today is $6.5 billion REIT Spirit Realty Capital (SRC) - Get Report . Spirit Realty has been a stellar performer all year long, boosted by a strong environment for high-yield stocks like REITs as the Fed continues to act vague about the timing on the next interest rate hike. Since January, Spirit has rallied more than 30% -- but don't worry if you've missed the move. Shares look ready to kick off a second leg higher in October.
After making its way higher in a well-defined uptrend for much of the year, Spirit Realty started consolidating sideways this summer. Now shares are forming an ascending triangle pattern, a bullish continuation setup that's formed by horizontal resistance up above shares at $13.75 and uptrending support to the downside. Basically, as Spirit Realty bounces in between those two technically significant price levels, this stock has been getting squeezed closer and closer to a breakout through $13.75. When that happens, we've got a fresh buy signal.
The side indicator to pay attention to in Spirit Realty is relative strength, down at the bottom of the chart. Spirit's relative strength line measures its price performance vs. the rest of the stock market. The uptrend in that outperformance gauge indicates that shares are continuing to beat the S&P 500, even now. As long as the uptrend remains intact, Spirit remains predisposed to keep on beating the averages.
Companhia Brasileira de Distribuicao
We're seeing the exact same price setup right now in shares of $4.4 billion Brazilian retailer Companhia Brasileira de Distribuicao (CBD) - Get Report , better known as GPA. Like Spirit Realty, GPA is currently forming a textbook example of an ascending triangle pattern, giving a potential second act to the 58% rally shares have experienced so far in 2016. For GPA, the key price level to watch is resistance up at $17.50.
What makes $17.50 matter so much? It all comes down to buyers and sellers. Price patterns, such as this ascending triangle setup in GPA, are a good quick way to identify what's going on in the price action, but they're not the actual reason a stock is tradable. Instead, the "why" comes down to basic supply and demand for GPA's shares themselves.
The $17.50 resistance level is a price where there has been an excess of supply of shares; in other words, it's a spot where sellers have previously been more eager to step in and take gains than buyers have been to buy. That's what makes a breakout above $17.50 so significant. The move means that buyers are finally strong enough to absorb all of the excess supply above that price level. Once shares crack $17.50, it's time to join the buyers again.
Dillard's 
Here at home, another mid-cap retailer, Dillard's (DDS) - Get Report  is starting to look buyable. That's a big change considering the fact that Dillard's has actually been a serial underperformer in the last year, selling off more than 31% in those trailing 12 months. The good news for long-suffering shareholders is that this stock finally looks "bottomy."
Dillard's has spent the last few months forming a double bottom, a bullish reversal setup that looks just like it sounds. The double bottom is formed by a pair of swing lows that bottom out at approximately the same price level. They're separated by a peak that defines the resistance level for the pattern. In Dillard's case, it comes in at the $70 level. If shares can manage to catch a bid above $70, then the downtrend is officially over, and it's time to buy.
Momentum, measured by 14-day RSI up at the top of the chart, adds some extra confidence to a reversal in Dillard's. Our momentum gauge has been trending higher over the course of the double bottom in shares, a positive divergence that indicates buying pressure is building in this health stock. Once shares can crack $70, upside becomes the high-probability trade for Dillard's.
Equity Commonwealth
Things are looking pretty straightforward in shares of $3.8 billion REIT Equity Commonwealth (EQC) - Get Report . Since January, this mid-cap real estate investment trust has been bouncing its way up and to the right, showing off the simplest chart pattern imaginable: an uptrending price channel. From here, it makes sense to buy the next bounce.
Equity Commonwealth's uptrend is identified by a pair of well-defined, parallel trendlines that have corralled 99% of this stock's price action stretching all the way back to the middle of January. Every time EQC's share price has tested trendline support, the subsequent bounce has provided an optimal entry from a risk/reward standpoint. And shares are touching that price floor for a sixth time this week.
From here, the next bounce higher means that it's time to pull the trigger on the Equity Commonwealth trade. Actually waiting for that bounce is important for two key reasons: It's the spot where shares have the most room to move up before they hit resistance, and it's the spot where the risk is the least (because shares have the least room to move lower before the channel breaks, invalidating the upside trade).
Remember, all trend lines do eventually break, but by actually waiting for the bounce to happen first, you're ensuring EQC can actually still catch a bid along that line before you put your money on shares.
Norwegian Cruise Line Holdings
Rounding out our list of potential mid-cap breakouts is $8.7 billion cruise operator Norwegian Cruise Line Holdings (NCLH) - Get Report . Norwegian has actually been a pretty awful stock to own for most of this year, selling off more than a third of its market value since the calendar flipped to 2016. But this stock is finally about to trigger a reversal breakout signal this week - here's how to trade it.
Norwegian has spent the last couple of months forming a rounding bottom, another reversal setup that looks just like it sounds. The pattern indicates a gradual shift in control of shares from sellers to buyers - and in NCLH's case, it triggers a buy signal on a push through $38. That $38 is meaningful here: It acted like a floor for shares on the way down back in February, June and August. Now it's flipped to a ceiling as Norwegian tries to carve out a bottom. If shares can muster the strength to break through that $38 level, the protracted selloff in this cruise company is finally over.
Norwegian Cruise Line Holdings is another stock where momentum adds some extra upside confidence. Our momentum gauge, 14-day RSI up at the top of the chart, has been making a series of higher lows since the end of the summer. Even though a price move above $38 is still required to trigger a buy, momentum is a leading indicator that's signaling a reversal rather than just another pullback on the way down.
With all of that in mind, don't try to jump the gun on NCLH. Wait for shares to move through $38 before you buy.
This article is commentary by an independent contributor. At the time of publication, the author held no positions in the stocks mentioned.