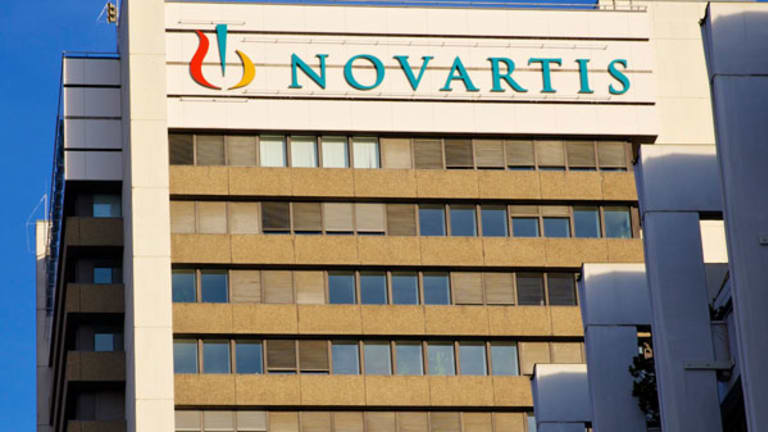 These 5 Health Care Stocks Are Breaking Out This Christmas
The health care sector has been a miserable performer lately -- but these five health trades are bucking the trend.
The market may be making new highs this holiday season, but not all sectors are participating in the rally. If there's one sector that qualifies for "Grinch" status this month, it's health care. Since the "Trump rally" kicked off on election day, 42 of the 60 stocks that make up the S&P 500 Healthcare Index are actually lower than where they started.
The underperformance in the health care sector is hardest to swallow because it caught so many investors by surprise. Health care was one of the sectors that was seen as benefiting the most under the repeal of Obamacare and the lighter regulations proposed by President-elect Donald Trump.
But while health care stocks have been a major disappointment for the last month and change, it's too soon to write them off completely. That's because a handful of health stocks are teetering on the edge of breakout territory as we head into the holidays. And after going nowhere while the rest of the market blasted off, these stocks could be about to make up for lost time.
To figure out which health care stocks you should actually buy in December, we're turning to the charts for a technical look at five health trades that are showing off bullish breakout signals this week.
In case you're unfamiliar with technical analysis, here's the executive summary: technical analysis is a way for investors to quantify qualitative factors, such as investor psychology, based on a stock's price action and trends. Once the domain of cloistered trading teams on Wall Street, technicals can help top traders make consistently profitable trades and can aid fundamental investors in better planning their stock execution.
Without further ado, here's a rundown of five technical setups that are showing solid upside potential right now.
Quintiles IMS Holdings
Up first on our list of bullish trades from the health care sector is Quintiles IMS Holdings  undefined, an $18 billion biopharmaceutical development services provider. Quntiles IMS has actually been a strong performer all year long, up almost 12% so far this year in a run that's slightly edged out the S&P 500. The good news for shareholders is that a continuation pattern on Quintiles' chart is signaling another leg higher this winter.
Quintiles has spent the last few months in an ascending triangle pattern, a price setup that's formed by horizontal resistance up above shares at $81, and uptrending support to the downside. Basically, as this stock bounces in between those two technically important price levels, it's been getting squeezed closer and closer to a breakout through its $81 price ceiling. When Quintiles breaks through that $81 price level, we've got a new buy signal in this stock.
Remember to be reactionary if you're looking for a buying opportunity in Quintiles -- or any of the other technical trades on our list today. This stock doesn't become a high-probability buy until buyers can muster the strength to push shares above $81. From there, it's good risk management to park a protective stop on the other side of the 200-day moving average.
ICU Medical 
We're seeing the exact same price pattern in medical device maker ICU Medical (ICUI) . Like Quintiles, ICU has been forming an ascending triangle pattern since early October, signaling a potential second leg to the 31% rally that shares have already enjoyed in 2016. While the rest of the health sector has been struggling this year, ICU Medical is still squarely in "rally mode".
For ICU Medical, the breakout signal comes on a push through resistance at $155.
What makes that $155 level so important for this stock? It all boils down to buyers and sellers. Price patterns, like this ascending triangle setup, are a good quick way to identify what's going on in the price action, but they're not the ultimate reason shares look attractive here. Instead, the "why" comes down to basic supply and demand for ICUI's shares themselves.
The $155 resistance level is a price where there has been an excess of supply of shares; in other words, it's a spot where sellers have previously been more eager to step in and take gains than buyers have been to buy. That's what makes a breakout above $155 so significant - the move means that buyers are finally strong enough to absorb all of the excess supply above that price level. Wait for ICUI to catch a bid above $155 before you join the buyers in this stock.
Mettler-Toledo International
Chart patterns don't get much more straightforward than what we're seeing in shares of $11 billion lab instrument maker Mettler-Toledo International (MTD) . The price action is about as simple as it gets. Since late June, Mettler-Toledo has been bouncing its way higher in a well-defined uptrend, and MTD is still a "buy the dips stock" this December.
Mettler-Toledo's uptrend is identified by a pair of parallel trendlines that have identified the high-probability range for this stock to remain stuck within since this summer. In a nutshell, every test of trendline support so far has provided buyers with a low-risk, high-reward opportunity to build a position. Now, as MTD moves back towards trendline support for the fifth time, it makes sense to buy the next bounce off of the bottom of the channel.
Actually waiting for that bounce is important for two key reasons: it's the spot where shares have the most room to move up before they hit resistance, and it's the spot where the risk is the least (because shares have the least room to move lower before the channel breaks, invalidating the upside trade). Remember, all trend lines do eventually break, but by actually waiting for the bounce to happen first, you're ensuring Mettler-Toledo can actually still catch a bid along that line before you put your money on shares.
Edwards Lifesciences
Don't get thrown by the nearly 16% gains in shares of medical device maker Edwards Lifesciences  (EW) . This stock's trend has turned ugly lately. Since peaking back in October, Edwards has shed more than 22% of its market value thanks to a big drop following third quarter earnings, and sector trailing performance post-election. That's the bad news. The better news for long-suffering shareholders is that Edwards Lifesciences is finally starting to look "bottomy" here.
Edwards has spent the last several months forming an inverse head and shoulders pattern, a classic price setup that indicates exhaustion among sellers. The inverse head and shoulders pattern is formed by two swing lows that bottom out at approximately the same level (the shoulders), separated by a lower low (the head). The buy signal comes on a move through EW's neckline, at the $92.50 level.
Price momentum, measured by 14-day RSI, is the side-indicator to look at in Edwards Lifesciences. Our momentum gauge has made a series of higher lows during this stock's inverse head and shoulders setup, a bullish divergence that indicates buyers are stepping in behind the scenes. Momentum is a leading indicator for price - but fight the temptation to buy shares before $92.50 gets materially taken out by the bulls. EW is back within grabbing distance of breakout territory this week...
Novartis 
Last, but certainly not least, on our list of health care breakouts, is $190 billion pharmaceutical giant Novartis  (NVS) . At a glance, Novartis' chart looks very much like the setup in Edwards -- it's just not quite as far along. Since peaking back at the beginning of the fall, Novartis has lost more than 14% of its market value, but it's finally looking "bottomy" this winter thanks to an inverse head and shoulders setup.
For Novartis, the inverse head and shoulders pattern triggers a buy on a move through $74. At this point, Novartis hasn't formed its right shoulder yet, but that doesn't necessarily change the breakout implications here. Even if the pattern doesn't form completely, traders should look at any push through resistance at $74 as a buying opportunity.
Don't let the goofy name fool you. In case you think that the inverse head and shoulders is too well known to be worth trading, the research suggests otherwise: an academic study conducted by the Federal Reserve Board of New York found that the results of 10,000 computer-simulated head-and-shoulders trades resulted in "profits [that] would have been both statistically and economically significant." That's a good reason to keep a close eye on Edwards and Novartis this week.
At the time of publication, author had no positions in the stocks mentioned.