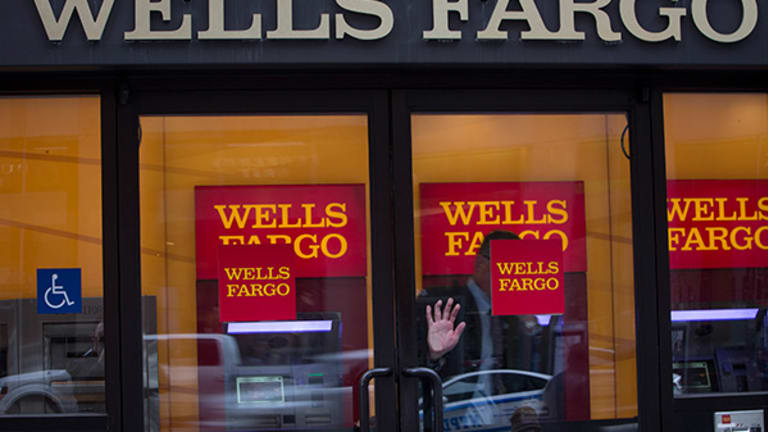 These 5 Blue-Chip Stocks Are Breaking Out in August
Here's a technical look at how to trade some of the biggest stocks on Wall Street.
2016 is shaping up to be a pretty good year for stocks. As I write, the big S&P 500 index is up 7.9% year-to-date, putting everyone's favorite stock market index on track for 12.9% gains by the time December rolls around.
And while this has been a good year for stocks as a group, it's been a great year for a subset of serial outperformers. The thing is, you don't need to scour the tiniest, most obscure names on the market to find those outperformers. Instead, some of the biggest, most well-known stocks on Wall Street are the ones that are showing the best returns right now.
To find the big stocks that look primed for higher ground from here, we're turning to the charts for a technical look at five big-name stocks that are teetering on the edge of breakout territory.
First, a quick note on the technical toolbox we're using here: Technical analysis is a study of the market itself. Since the market is ultimately the only mechanism that determines a stock's price, technical analysis is a valuable tool even in the roughest of trading conditions. Technical charts are used every day by proprietary trading floors, Wall Street's biggest financial firms, and individual investors to get an edge on the market. And research shows that skilled technical traders can bank gains as much as 90% of the time.
Every week, I take an in-depth look at big names that are telling important technical stories. Here's this week's look at five big stocks to trade.
Advanced Micro Devices
Up first ton the list is Advanced Micro Devices (AMD) - Get Advanced Micro Devices, Inc. Report . AMD has been one of the outstanding performers in 2016, up more than 130% since the calendar flipped to January. To be sure, it's been a massive rally -- but don't worry if you've missed the move. That's because AMD looks like it's on the precipice of another breakout in the short-term.
AMD is currently forming an ascending triangle pattern, a bullish continuation setup that's formed by horizontal resistance up above shares (at $7 in this case) and uptrending support to the downside. Basically, as this tech stock bounces between those two technically important levels, shares have been getting squeezed closer and closer to a breakout through their $7 price ceiling. When that happens, we've got a buy signal.
Not surprisingly, relative strength, which measures AMD's performance vs. the rest of the broad market, is looking strong here. Our relative strength line has been making a series of higher lows, and that uptrend in that indicator is still intact now. That uptrend in relative strength indicates that shares are still beating the rest of the market right now.
Once $7 gets taken out, it's time to jump into this tech trade.
M&T Bank
We're seeing a similar price setup right now in shares of $18 billion regional banking company M&T Bank (MTB) - Get M&T Bank Corporation Report . M&T Bank started off the year on a sour note, but it's been rebounding ever since, up more than 14% since bottoming back at the start of March. Now, like AMD, this bank is forming an ascending triangle setup (albeit in the longer-term). For M&T Bank, the big breakout level to watch is resistance up at $120.
What's so special about the $120 level? It all comes down to buyers and sellers. Price patterns, such as this ascending triangle setup in M&T Bank, are a good quick way to identify what's going on in the price action, but they're not the actual reason that makes the stock tradable. Instead, the "why" comes down to basic supply and demand for MTB's shares themselves.
The $120 resistance level is a price at which there has been an excess of supply of shares; in other words, it's a spot where sellers have been more eager to step in and take gains than buyers have been to buy. That's what makes a breakout above $120 so significant. The move means that buyers are finally strong enough to absorb all of the excess supply above that price level.
Once M&T Bank manages to definitively move above $120, we've got a new clear-cut buy signal in this stock. 
Wells Fargo 
Like M&T Bank -- and the rest of the financial sector, for that matter -- Wells Fargo (WFC) - Get Wells Fargo & Company Report  started off the year in selloff mode, and shares have struggled to play catch-up. Since the calendar flipped to January, this big bank is still down more than 10%. That's the bad news. The good news is that Wells could have greener pastures ahead of it, thanks to a classic reversal pattern that's been shaping up for shares in the long run.
Wells Fargo has spent most of 2016 forming a double bottom, a bullish reversal setup that looks just like it sounds. The double bottom is formed by a pair of swing lows that bottom out at approximately the same price level. The buy signal comes on a push through resistance up at $50.50, the price ceiling that separates that pair of price peaks in Wells Fargo.
Remember, like with any of the other potential breakout stocks on our list today, it's critical to be reactionary when it comes to actually taking the trade. More upside in Wells Fargo doesn't become a high-probability trade until shares are actually able to muster the strength to push above $50.50. That's our signal that buyers are in control of Wells Fargo's shares -- and that it's finally time to join them.
Wells Fargo is a holding in Jim Cramer's Action Alerts PLUS charitable portfolio. On Friday, Cramer and Research Director Jack Mohr wrote:
We appreciate Wells' consistency, strong dividend and lack of exposure to volatility across trading and investment banking. We believe shares offer upside but remind members that the company continues to rely on stabilization in energy prices (at least $40-$45 per barrel of oil) in order to avoid further losses/provisions. That said, the market appears to be pricing this uncertainty in. We ultimately prefer Citi over Wells as an investment but for entirely different reasons (Citi is deep value, Wells is stability).
Tyco International
If the price charts we've seen so far have your head spinning, have no fear -- you don't need to be an expert technical trader to figure out what's happening with shares of Tyco International (TYC) . In fact, the price action in this $19 billion security systems stock is about as simple as it gets.
Since the middle of January, Tyco has been bouncing its way up and to the right in a well-defined uptrending channel. Tyco's trend channel is formed by a pair of parallel trend lines that have contained most of this stock's price action that whole time. So far, every test of the bottom of Tyco's price channel has provided investors with a low-risk, high-reward opportunity to build a position in this stock. And shares are touching support again this week.
Actually waiting for this latest bounce is important for two key reasons: It's the spot where shares have the most room to move up before they hit resistance, and it's the spot where the risk is the least (because shares have the least room to move lower before the channel breaks, invalidating the upside trade).
Remember, all trend lines do eventually break, but by actually waiting for a bounce to happen first, you're ensuring Tyco can actually still catch a bid along that line before you put your money on shares.
Ametek
Last, but definitely not least, on our list of potential big-cap breakouts is $11 billion electrical instrument maker Ametek (AME) - Get AMETEK, Inc. Report . Put simply, Ametek has been a frustrating stock to own in 2016. Since the calendar flipped to January, this stock has shed almost 10% of its market value, underperforming in a big way as the S&P 500 hits new all-time highs. But shareholders could be in for a reprieve this summer. Here's how to trade it…
Ametek is currently forming an inverse head and shoulders pattern a classic reversal pattern that signals exhaustion among sellers. The pattern is formed by two swing lows that bottom out at approximately the same level (the shoulders), separated by a lower low (the head). The buy signal comes on a move through Ametek's neckline at $48.50, a price level that's getting tested today.
It's worth noting that Ametek actually looks ready for a reversal on a couple of timeframes. Besides the aforementioned inverse head and shoulders setup that we're seeing in the intermediate term, that reversal pattern is actually forming what looks like the second bottom on a double bottom pattern. That "nested price pattern" on Ametek's chart could spell additional upside momentum once this stock clears the $52 level.
If you decide to take the Ametek trade once it meaningfully clears $48.50, it makes sense to park a protective stop on the other side of $46 support.
Disclosure: This article is commentary by an independent contributor. At the time of publication, the author held no positions in the stocks mentioned.