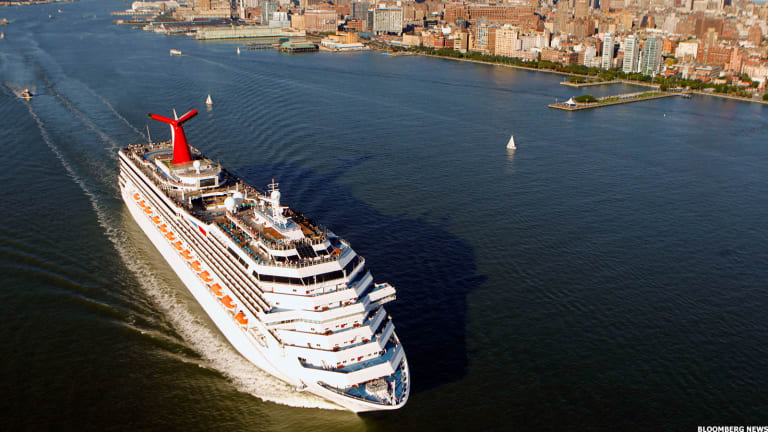 These 5 Big Stocks Are Breaking Out: Carnival, Altria, Priceline and More
As the Dow teeters on the edge of 20,000, these five blue-chip stocks are signaling buyable breakouts of their own.
Get ready to pop the champagne this week. Not for the new year -- we're a bit early for that still -- instead, it's Dow 20,000 that's captivating investors as we head into the final sessions of 2016.
How much more significance does Dow 20,000 carry than Dow 19,988? Not much. Either number would mean that the Dow Jones Industrial Average is higher than it's ever been before. But Dow 20K does represent an important psychological barrier for the big market averages to cross after a year that's been plagued by sideways go-nowhere trading until just last month. It's the cherry on top of our year-end stock rally, so to speak.
And that bullish price momentum in the big market averages is pulling most of the individual stocks higher, too.
That said, it shouldn't come as a surprise that despite the buoyant price action in the stock market, not all trades are created equal. To find the stock with the biggest upside potential as we head into 2017, we're turning to the charts for a technical look at five big stocks that are teetering on the edge of breakout territory.
First, a quick note on the technical toolbox we're using here: technical analysis is a study of the market itself. Since the market is ultimately the only mechanism that determines a stock's price, technical analysis is a valuable tool even in the roughest of trading conditions. Technical charts are used every day by proprietary trading floors, Wall Street's biggest financial firms, and individual investors to get an edge on the market. And research shows that skilled technical traders can bank gains as much as 90% of the time.
Every week, I take an in-depth look at big names that are telling important technical stories. Here's this week's look at five big stocks to trade.
Carnival 
Leading off our list of large-cap breakout trades is $39 billion cruise ship operator Carnival  (CCL) - Get Carnival Corporation Report. After a rocky start to the year, Carnival has spent the last six months or so trending higher, up more than 21% since bottoming back in early July. Don't worry if you've missed out on that recent upside -- Carnival's price action is pointing towards a second leg higher in 2017.
Carnival is currently forming an ascending triangle pattern, a bullish continuation setup that's formed by horizontal resistance up above shares at $53.50, and uptrending support to the downside. In short, as Carnival has bounced in between those two technically meaningful price levels, shares have been getting squeezed closer and closer to a breakout through that price ceiling up at $53.50 - when shares cross above that line in the sand, we've got a new buy signal in this cruise line.
Down at the bottom of Carnival's price chart, relative strength adds some extra evidence for the rally to continue in CCL. That's because relative strength, which measures Carnival's price performance versus the rest of the broad market, has been in an uptrend since the end of the summer, making continued upside in shares statistically likely to keep on happening as long as that trendline in our indicator stays up and to the right. Wait for $53.50 to get taken out before you take this trade - shares are within grabbing distance as I write.
Priceline Group
We're seeing the exact same setup right now in another travel-related stock: $75 billion online travel agency Priceline (PCLN) . Like Carnival, Priceline has spent the last month and change forming a textbook example of an ascending triangle pattern. For PCLN, the big breakout level to watch is resistance up at $1575.
What makes that $1575 price tag so important for Priceline? It's not magic. Here's why the ascending triangle pattern works: the $1575 resistance level is a price where there has been an excess of supply of shares. In other words, it's a spot where sellers have been more eager to step in and take gains than buyers have been to buy. That's what makes a breakout above $1575 so significant - the move means that buyers are finally strong enough to absorb all of the excess supply above that price level. And with that barrier to upside out of the way, shares are free to move higher.
Once shares crack $1575, risk management is key if you decide to take the Priceline trade. It makes sense to park a protective stop on the other side of the 50-day moving average. If the 50-day gets violated, then Priceline's breakout is invalidated and you don't want to own it anymore.
Altria Group
Tobacco giant Altria Group (MO) - Get Altria Group Inc. Report is in "breakout mode" this week. Altria pushed its way through $66 resistance earlier in December, a move that clears the way for a re-test of prior highs up at $69. Here's how to trade it.
After backsliding about 12% peak to trough from its July highs, Altria spent the last several months forming a double bottom, a bullish reversal pattern that looks just like it sounds. The double bottom is formed by a pair of swing lows that bottom out at approximately the same price level; they're separated by a near-term peak that acts like a breakout level for shares. In Altria's case, that was the $66 level that got taken out in last week's trading.
While $69 highs from back in July are the next potential barrier for Altria to work its way above, the double bottom actually gives some hints as to where this stock could end up in the longer-term. The minimum price objective from Altria's $66 breakout puts a $71.50 upside target on shares, a level that, if reached, would make a new 52-week high in Altria. Put simply, it still looks like a good time to buy this cigarette stock.
China Life Insurance Company 
Things are looking very straightforward in shares of $90 billion insurer China Life Insurance Company  (LFC) - Get China Life Insurance Company Limited American Depositary Shares Report. This financial sector giant has had a mixed year, but that masks a pretty unmistakable trend since shares bottomed back in the early summer. Since May, China Life has been bouncing its way higher in an uptrending channel that's still intact this winter. That makes China Life a "buy the dips stock" - and shares are coming off another buyable dip this week.
China Life's uptrend is formed by a pair of parallel trendlines that have identified the high-probability range for this stock to remain stuck within. Every test of the bottom of the channel has provided a low-risk, high-reward buying opportunity in LFC. So, as this stock bounces off of that same support level for a fifth time in December, it makes sense to buy the bounce.
Actually waiting for that bounce is important for two key reasons: it's the spot where shares have the most room to move up before they hit resistance, and it's the spot where the risk is the least (because shares have the least room to move lower before the channel breaks, invalidating the upside trade). Remember, all trend lines do eventually break, but by actually waiting for the bounce to happen first, you're ensuring China Life can actually still catch a bid along that line before you put your money on shares.
Colgate-Palmolive 
Finally, there's Colgate-Palmolive  (CL) - Get Colgate-Palmolive Company Report. Colgate has been a hard stock to like in recent months, as shares have slid more than 12% lower since peaking in December. Just for a little context, the S&P 500 is up around 4% over that timeframe. But after a prolonged correction, Colgate is finally looking "bottomy" this week - and shares are within grabbing distance of breakout territory.
Colgate-Palmolive has spent the last two months forming a textbook example of an inverse head and shoulders pattern, a price setup that signals exhaustion among sellers. The pattern is formed by two swing lows that bottom out at approximately the same level (the shoulders), separated by a lower low (the head). The buy signal gets triggered on a move through Colgate's neckline at the $67 level.
Remember to be reactionary if you decide to buy the Colgate breakout. Like with any of the other setups on our list, Colgate-Palmolive doesn't actually become a high-probability buy until after the breakout actually happens. Don't make the mistake of trying to anticipate the move above $67 beforehand; that push through Colgate's neckline is the signal we need to see to verify that buyers are back in control of this stock.
At the time of publication, author had no positions in the stocks mentioned.