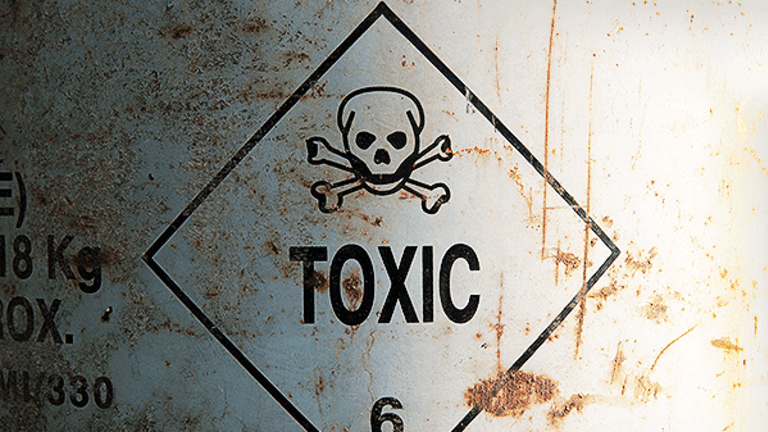 These 4 Stocks Are Showing Red Flags in March
Avoiding the worst performers in 2017 could be more important for your portfolio than finding the best performers.
You've already heard the same song and dance ad infinitum this year: the S&P 500 is rallying to all-time highs. It's a bull market for stocks. Yadda yadda yadda.
But there's another side to this stock market that you probably haven't heard about. Like the fact that, year-to-date, 26.2% of S&P 500 components are actually down right now. In other words, more than a quarter of the stocks that make up everybody's favorite stock market index have totally missed out on any upside since the calendar flipped to January.
That's a little over a 1-in-4 shot of owning a big stock that's been an anchor for your portfolio's performance in the last few months. And that's actually a good thing...
Put simply, it means that the key to crushing the S&P 500 this year isn't picking out the very best stocks for 2017; instead, all you have to do is avoid the very worst performers.
So, to find the stocks to avoid in March, we're turning to the charts for a technical look at four you should consider selling here...
For the unfamiliar, technical analysis is a way for investors to quantify qualitative factors, such as investor psychology, based on a stock's price action and trends. Once the domain of cloistered trading teams on Wall Street, technicals can help top traders make consistently profitable trades and can aid fundamental investors in better entry and exit points.
Just so we're clear, the companies I'm talking about today are hardly junk.
By that, I mean they're not next up in line at bankruptcy court - and many of them have very strong businesses. But that's frankly irrelevant to what happens to their stocks; from a technical analysis standpoint, sellers are shoving around these toxic stocks right now. For that reason, fundamental investors need to decide how long they're willing to take the pain if they want to hold onto these firms in the weeks and months ahead. And for investors looking to buy one of these positions, it makes sense to wait for more favorable technical conditions (and a lower share price) before piling in.
So, without further ado, let's take a look at four "toxic stocks" to sell - and when to sell them.
Korea Electric Power Corp.
Up first on the list of potentially toxic trades is overseas electric utility Korea Electric Power  (KEP) - Get Korea Electric Power Corp. Report, better known as KEPCO. KEPCO has been a hard stock to like in the last half-dozen months - since peaking back in the summer, shares have shed more than 30% of their market value. The problem for shareholders is that KEPCO's chart is signaling the possibility of a second leg lower this winter. Here's why...
KEPCO has spent the last several months forming a descending triangle pattern, a bearish continuation setup that's formed by horizontal support down below shares at $17.70, and downtrending resistance to the topside. Basically, as KEPCO has pinballed in between those two technically significant price levels, shares have been getting squeezed closer and closer to a breakdown through that $17.70 level. When that happens, we've got a new sell signal inthis stock.
KEPCO's price setup doesn't actually become toxic until the $17.70 level gets violated. But shares are waving a big red flag for investors thinking about "buying low" in March. Shares could end up lower still by April.
Williams Partners LP
Meanwhile, things have actually looked pretty strong in shares of $40 billion energy infrastructure stock Williams Partners  (WPZ) lately. WPZ has more than doubled in the last year, rallying 114% since March 2016. But shareholders might want to start thinking about taking some of those recently-won gains off the table. WPZ is starting to look "toppy" in the long-term.
Williams Partners has spent all of 2017 forming a rounding top, a bearish reversal pattern that looks just like it sounds. The rounding top indicates a shift in control of shares from buyers to sellers - and it triggers when shares violate the support line that defines the bottom of the pattern. In WPZ's case, that price floor to watch is support at $39.
Price momentum, measured by 14-day RSI in Williams Partners' chart above, is an extra red flag to pay attention to in this price setup. That's because our momentum gauge rolled over in January, making lower highs over the course of the rounding top pattern. Momentum is a leading indicator to price, and the downtrend in RSI creates a bearish confirmation that suggests buying pressure is waning here. Buyer beware.
Royal Gold Inc.
The price action in shares of $4.5 billion gold miner Royal Gold  (RGLD) - Get Royal Gold, Inc. Report is about as simple as it gets ... unfortunately.
The trend in Royal Gold has been pretty hard to miss, even if you don't fancy yourself a technical trading expert. In a nutshell, shares have been bouncing their way down and to the right in a textbook example of a downtrending channel. Now, as shares start to head back up towards the top of that price channel for the seventh time, it makes sense to "sell the rips" in RGLD. The next bounce lower from the upper bound of the channel is the sell signal.
Waiting for that bounce lower before clicking "sell" is a critical part of risk management for two big reasons: it's the spot where prices are the highest within the channel, and alternatively it's the spot where you'll get the first indication that the downtrend is ending. Remember, all trend lines do eventually break, but by actually waiting for the bounce to happen first, you're confirming that sellers are still in control before you unload shares of Royal Gold.
Vale SA
Rounding out our list of potentially toxic trades is $58 billion Brazilian metals and mining company Vale  (VALE) - Get Vale SA Report. Vale has been a phenomenal performer in the last year, exploding 172% higher since March 2016. It's been a heck of a run - but that rally is starting to look fatigued in 2017. The critical level to watch in VALE is $9.50.
VALE's price pattern is a head and shoulders top, a classic bearish reversal setup that signals exhaustion among buyers. The pattern is identified by two swing highs that top out at approximately the same level (the shoulders), separated by a higher high (the head). The sell signal triggers when Vale's neckline gets materially violated -- that happens at the aforementioned $9.50 price level.
Like with the Williams Partners trade, momentum is adding some extra evidence for a change in trend in Vale. Our momentum gauge, 14-day RSI, rolled over in January, and it's been making lower highs in the intervening months. It's also worth noting that a violation of Vale's $9.50 neckline would coincide with a breakdown through the uptrend support line that's been propelling shares higher for the last year. So, if that line in the sand gets crossed, Vale opens up a lot of downside risk -- and you don't want to own it anymore.
At the time of publication, the author had no positions in the stocks mentioned.