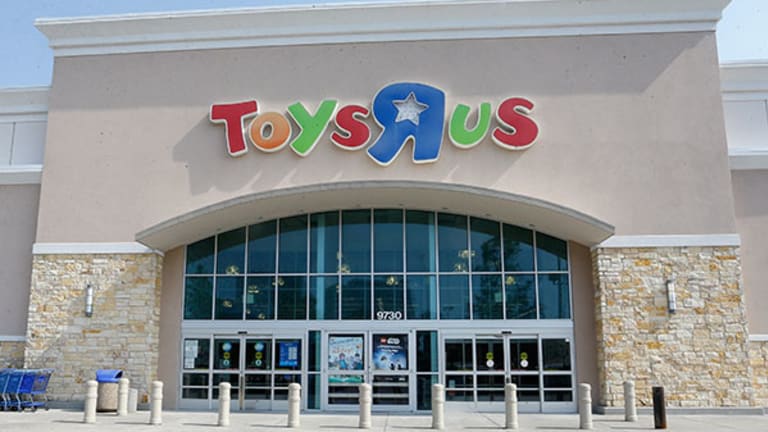 Toys 'R' Us Is Nearing Its End These 3 Signs Reveal
Toys 'R' Us reportedly hired Kirkland & Ellis to restructure its $400 million in debt.
Toys 'R' Us Inc. may soon be added to a long list of bankrupt retailers.
The ailing private equity-backed children's retailer retained Kirkland & Ellis LLP to help it restructure its nearly $400 million debt load due in 2018, CNBC reported on Wednesday, Sept. 6. One option Toys 'R' Us is said to be exploring is filing for Chapter 11 protection, according to the report.
"As we previously discussed on our first quarter earnings call, Toys 'R' Us is evaluating a range of alternatives to address our 2018 debt maturities. We expect to provide an update about these activities, as well as the many initiatives underway to provide an outstanding customer experience in our global retail locations and webstore during the holiday season, during our second quarter earnings call," a Toys 'R' Us spokeswoman told TheStreet in an email on Thursday, Sept. 7.
Kirkland & Ellis did not return a request for comment.
Toys 'R' Us was taken private by KKR & Co.  (KKR) - Get KKR & Co. Inc. Class A Report , Bain Capital LP and REIT Vornado Realty Trust (VNO) - Get Vornado Realty Trust Report in a 2005 deal valued at $6.6 billion. Despite being a private company, Toys 'R' Us still publicly reports its quarterly financial results and is set to release its second quarter results on Sept. 26.
The retailer behind the Toys 'R' Us and Babies "R" Us banners had already tapped financial advisory and asset management firm Lazard last year and successfully refinanced some of its debt.
Coming off of a weak holiday season for toy sales in February, Toys 'R' Us was forced to lay off 10% to 15% of its corporate employees at its Wayne, N.J., headquarters. After, TheStreet questioned whether Toys 'R' Us was running on its last legs.
Toys 'R' Us was quick to deny that it was in trouble.
"We, like many other retailers, must continually look for opportunities to work more efficiently and effectively, particularly as customer shopping patterns are evolving. The recent changes are not just about cost-containment - our growth plans require us to have the right structure, talent and determination to transform our business and achieve the financial objectives we've set for the company," a Toys 'R' Us spokeswoman told TheStreet in February.
Recent retail bankruptcies include rue21 Inc., which is working to close 416 of its 1,179 teen apparel stores in its Chapter 11 case filed on May 15; former educational game retailer Marbles Holdings LLC, which had its plan to liquidate all of its assets confirmed on Aug. 30; and discount shoe retailer Payless ShoeSource Inc., which exited bankruptcy on Aug. 10 as a newly-reorganized Payless Holdings LLC.
Here are three signs that show Toys 'R' Us may be nearing insolvency.
Consumers are increasingly turning to e-commerce to shop for toys.
In the age of Amazon.com Inc. (AMZN) - Get Amazon.com, Inc. Report , where every toy imaginable is accessible at one's fingertips, consumers are shifting away from Toys 'R' Us, as well as most other bricks-and-mortar retailers. On Black Friday, the crucial shopping holiday held each year in November, TheStreet interviewed customers at a Toys 'R' Us store in Freehold, N.J., who said they prefer online shopping. One gripe the customers had with going to bricks-and-mortar stores, especially for the season's hottest toys, is that there is no guarantee that the items they're searching for will be there when they arrive. For the nine-week period ended Dec. 31, 2016, also known as the key holiday period that is supposed to reap massive sales for Toys 'R' Us, the retailer's same-store sales dropped 2.5% in the U.S. and 4.9% internationally.
Toys 'R' Us has lost its magic.
Not even the retailer's former flagship store, FAO Schwarz, in New York City has survived. FAO Schwarz, a kid's ultimate toy land destination for 145 years, shuttered its doors in 2015, blaming the rising cost of rent. The store's claim to fame was its appearance in the 1988 comedy "Big," in which Tom Hanks and Robert Loggia danced on its jumbo-sized toy piano. Toys 'R' Us owned the FAO Schwarz store and its toys from 2009 until 2016, when it sold the brand to consumer products company ThreeSixty Group Inc. last October.
One of the retailer's top toy makers is struggling too.
Mattel Inc. (MAT) - Get Mattel, Inc. Report  has been the victim of sluggish sales as children increasingly gravitate to electronics and application-based games rather than traditional toys, like Barbie and Hot Wheels. Barbie sales alone fell 5% in the company's recent second quarter, reported on July 27. Mattel reported a net loss of 14 cents a share for the second quarter and a scant revenue increase of 2% worldwide.
More of What's Trending on TheStreet:
Working Mothers Shouldn't Feel a Twinge of Guilt
Stick with TheStreet for updated storm coverage as Hurricane Irma moves the market:
Hurricane Irma: What Kind of Insurance Should You Have?
Hurricane Irma Will Make Orange Juice Unaffordable and Destroy Your Grocery Bill
Hurricane Irma: How Floridians Are Using Tech, Apps to Prepare for the Big Storm
Editors' pick: Originally published Sept. 7.