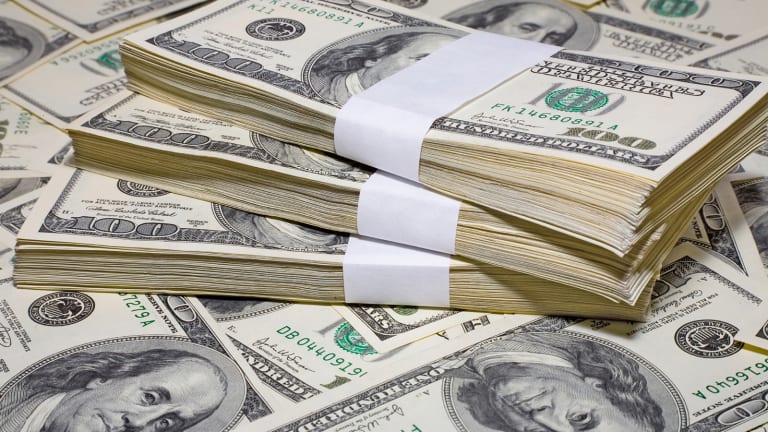 These 3 Investment Stocks Boast Dividend Yields of More Than 10%
AGNC, Annaly Capital Management and Energy Transfer Partners have some of the highest, most dependable yields.
Federal Reserve Chief Janet Yellen released a statement Thursday saying that a rate increase will likely occur "relatively soon."
That, combined with the largest jump in 10-year Treasury yields in the past three years last week, hasn't changed the fact that dividend-paying stocks are an income investor's best asset.
With yields of more than 10%, the three investment stocks highlighted below yield about five times more than a 10-year Treasury note. Even in the case of a correction, these stocks will generate a reliable income stream and present an opportunity to buy more shares at a discount to generate even more income.
1. AGNC Investment (AGNC) - Get AGNC Investment Corp. Report
This company is a real estate investment trust that invests in residential mortgage-backed securities covered by the U.S. government as well as government-sponsored entities. The company's share price is up nearly 9% this year to more than $19.
AGNC Investment pays out its 11.3% dividend yield monthly. For investors who have dividend reinvestment plans, this means that the income earned from the dividend will be greater than for companies that distribute their dividends quarterly.
As the name suggests, a DRIP reinvests dividends immediately back into the stock, which also avoids being charged commissions for buying new shares. Income that is compounded more frequently -- monthly rather than quarterly -- will increase the total amount of income received.
That is a time-proven way to steadily build wealth.
2. Annaly Capital Management (NLY) - Get Annaly Capital Management, Inc. Report
This company invests in various mortgage-backed securities covered by government-sponsored entities such as Fannie Mae and Freddie Mac and deals heavily in business loans. So far this year, the company's stock is up 5% to about $10.
Annaly Capital Management has a dividend yield of about 10.5% based on the company's recent quarterly dividend of 26 cents a share. That represents a slight decline from the 30-cent-a-share dividend of the previous 12 quarters.
But Annaly Capital Management is in the process of acquiring Hatteras Financial.
Kevin Keyes, chief executive and president of Annaly Capital Management, said at the time of the acquisition that the deal will help his company "significantly grow our diversified portfolio and broaden our investment options."
3. Energy Transfer Partners (ETP)
This company is one of the largest master limited partnerships by market capitalization, and it has significantly expanded from its initial focus on gas pipelines within its home state of Texas. Over the years, the firm has bought and built interstate platforms, and in recent years it has gained more natural-gas liquids assets via acquisitions.
The dividend yield is 11.2%.
Energy Transfer Partners is the primary owner of the Dakota Access Pipeline, which has become a cause of significant controversy. The project was partially halted in September following vehement protests and a legal challenge by the Standing Rock Sioux Native American tribe.
The tribe has said that it wasn't consulted by the federal government when it fast-tracked permission of the construction of the pipeline in North Dakota.
The Standing Rock Sioux tribe said that the pipeline has already damaged ancestral sites and will threaten drinking water. 
President-elect Donald Trump reportedly owns a stake in the company. If it continues to face headwinds, perhaps this will give the company a boost in finishing the project. 
---
Double digit yields at bargain prices are the best kind of yields. We've found a genius trader who turned $50,000 into $5 million by using his proprietary trading method. For a limited time, he's guaranteeing you $67,548 per year in profitable trades if you follow his simple step-by-step process. Click here now for details.
This article is commentary by an independent contributor. At the time of publication, the author held no positions in the stocks mentioned.