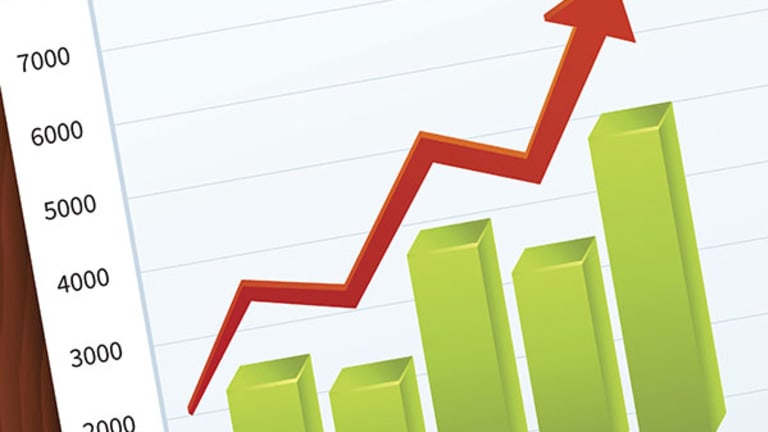 These 3 Growth Stocks Rose on Friday, Bucking the Overall Market
Here is the story behind why shares of these three companies rose and whether investors should jump on board.
Market indices are mostly unchanged Friday, with the S&P 500 down slightly, but three stocks are bucking the trend.
Let's look at the stocks and whether investors should jump on the bandwagon.
1. Chevron (CVX)
Despite low oil prices, shares of energy giant Chevron are up more than 4% on Friday, after reporting third-quarter earnings.
Chevron posted earnings of 68 cents a share on revenue of $30.14 billion, down from earnings of $1.09 a share on revenue of $34.14 billion a year earlier. Analysts, however, were expecting earnings of 37 cents a share on revenue of $29.05 billion.
The better-than-expected results and lower capital expenditures and overall costs are an indication that Chevron management is dealing with weak oil prices and planning its business operations accordingly. The only thing that may concern investors about this strategy is not knowing what kind of position Chevron will be in if oil prices move rapidly higher.
Will the company be ready to take full advantage of that opportunity or, due to low spending now, will Chevron be late to the party of higher-priced oil? But this may all be a moot point because no one knows how long the downturn in oil prices will last or if they will ever go as high as before.
Investors who want to own Chevron should do so because of its dividend and for the long term. Otherwise, they will be taking on too much risk.
2. Hanesbrands (HBI)
Shares of apparel maker Hanesbrands shot up more than 8%, following the company's release of third-quarter earnings late Thursday.
Hanesbrands posted adjusted earnings of 56 cents a share, matching Wall Street's estimate. Revenue came in at $1.76 billion, below the $1.77 billion expected.
The company expects to report revenue of between $1.7 billion and $1.73 billion for the fourth quarter and earnings between 57 cents and 60 cents a share. For the full year, Hanesbrands expects to post earnings of $1.89 to $1.92 a share on revenue of $6.15 billion to $6.18 billion.
The stock had been down 19% for the year before Friday, so though this looks like a big win for shareholders, most are still in the red.
Investors may want to continue to stay on the sidelines. Hanesbrands certainly has a good name and reputation, but this is a very slow growth business, and the dividend yield isn't that impressive at 1.84%.
3. Royal Caribbean Cruises (RCL)
Shares of Royal Caribbean Cruises have jumped more than 9% on Friday. The move higher comes after Royal Caribbean reported third-quarter earnings that beat estimates, though it missed the mark on revenue.
Adjusted earnings came in at $3.20 a share, above the $3.10 a share analysts forecast and well above the $2.84 a share a year earlier. Revenue of $2.56 billion represented a 1.6% increase from a year earlier but was below the $2.58 billion expected. 
Royal Caribbean Cruises expects to report earnings of $1.20 a share for the fourth quarter and $6 to $6.10 a share for the full year.
Management said that 2017 bookings are ahead of where they were a year earlier.
The low oil prices that are hurting Chevron certainly are helping Royal Caribbean Cruises, but again the issue isn't knowing how long low prices will last.
Royal Caribbean Cruises had lost almost 30% of its value this year, and Friday's move higher is just another indication of how volatile the stock can be. There is an opportunity to make money with Royal Caribbean Cruises, but there are easier ways to do it.
---
Perhaps you're like me and not a fan of the companies mentioned above. No problem, because here is a list of seven companies that you will profit from, regardless of what the markets do. But with many calling for a coming crisis, now is the perfect time to make sure you and your portfolio are protected. Each one of these powerful, yet overlooked companies barely notices when the market tumbles. And they'll skyrocket when it rebounds. You can pick all seven up for pennies on the dollar right now. But that'll change the instant average investors catch wind of just how bad things really are. Get their names here before it's too late.
The author is an independent contributor who at the time of publication owned none of the stocks mentioned.