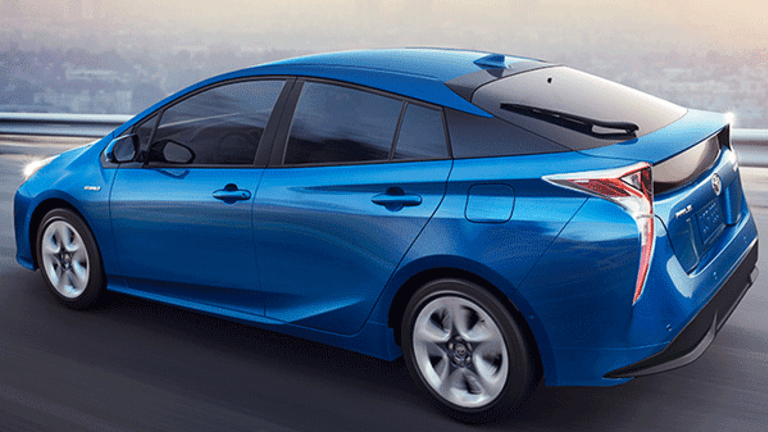 I Found 10 Station Wagons That Are Better Than Your New $50,000 Compact SUV
The station wagon is cool again.
The station wagon isn't dead, but it isn't all that far off.
Through June, there have been more than 264,000 minivans sold in this country. While that's more than the number of vans (230,000) sold during the same period, it's less than the number of luxury cars (452,519) and far less than the number of old-school truck-based SUVs (883,000) sold during the same period, according to MotorIntelligence.
The station wagon falls into a much tougher spot, largely because it's being attacked from all angles. The station wagon is basically a car with elongated cargo space, and cars have seen their sales numbers fall 11.4% so far this year. Granted, people love the extra space: They'd just rather see it in a car-based crossover SUV. Those vehicles have not only seen an 8.4% uptick in sales this year, but the 2.5 million sold through June has outsold every other class of vehicle out there.
In theory, U.S. drivers love a station wagon. They just don't love that it's so low to the ground. Spoiled by minivan and SUV height, drivers now enjoy that wide-open view of the road and all the space that generally comes with it. We say "generally," because the Environmental Protection Agency points out that there are still plenty of cars out there that they'd classify as station wagons. In fact, some of the most efficient new cars on the road still fall into that station-wagon category.
With hep from the EPA's FuelEconomy.gov, we've found ten wagons that make a strong argument for the category's existence. They aren't the hulking, wood-paneled beasts that the Vista Cruisers, Country Squires and Roadmasters that came before were, but they're just the right wagons for a crossover generation.
Car Enthusiast? Don't miss these galleries..
These 13 Cool Cars From the 1980s And 1990s Are Absolutely Worthless Collectibles
These Are the 30 Most Expensive Cars Ever Sold at Auction
10 Station Wagons That Are Better Than Your New $50,000 Compact SUV
10 Hot Luxury Cars to Buy Instead of a Tesla
10. Fiat 500L
Starting price: $20.995
Miles per gallon: 22 city, 30 highway, 26 combined
We'll admit, the 75.5 cubic feet of passenger space inside the standard Fiat (FCAU) - Get Free Report 500 is a bit tight. The four door 500L, meanwhile, has a slightly more roomy 123 cubic feet of space to go with its peppy 160-horsepower engine, seven airbags, voice command with Bluetooth, dual-pane sunroof, flip and fold rear seats and 33 miles per gallon on the highway. The 22.4 cubic feet of cargo space (and a whopping 68 cubic feet with the seats down) is a surprise in a car that's still fairly small. It's a Fiat with more room, if less mileage, which makes it a whole lot easier to swipe at your tablet without elbowing someone in the head.
9. Mini Clubman
Starting price: $24,100
Miles per gallon: 25 city, 34 highway, 29.5 combined
Once just Mini's stretchy, gate-doored entry into the small car segment, the Clubman has bulked up a bit and added features including various upholstery options and the Mini Connected information and entertainment system with 6.5-inch high-resolution display, third-party app support, Bluetooth audio streaming and voice control.
Mini's goal is to dazzle premium customers with a leather-wrapped three-spoke multifunction steering wheel and gearshift, dual-zone automatic climate control, rain-sensing windshield wipers, keyless ignition, 12-color ambient interior lighting, 60/40 split-folding rear seats, 16-inch alloy wheels, and carbon black leatherette upholstery. However, the biggest update that will debut with the Clubman in January is the choice of a BMW-developed three- or four-cylinder turbocharged engine, and with a six-speed manual or eight-speed automatic. BMW crammed 134 horsepower into the three-cylinder, while the four gets a ridiculous-for-a-car-this-size 189 horsepower. The Clubman's slumming days are over, but its 17.9 cubic feet of cargo space (48 with the seats down) still make it a family wagon at heart.
8. Volkswagen Golf Sportwagen
Starting price: $18,744
Miles per gallon: 25 city, 34 highway, 29.5 combined
It gets five stars from the National Highway Traffic Safety Administration (NHTSA) for safety and is an Insurance Institute for Highway Safety Top Safety pick. But the seating for five, 13 square foot panoramic sunroof, touchscreen navigation and rearview camera come with a bit of Dieselgate baggage courtesy of the now-vanished TDI version. However, while you're tearing up at those cross-country Simon and Garfunkel-tracked commercials for Volkswagen's (VLKAY) Atlas, just remember that this one still has 30.4 cubic feet of cargo space with all seats up and a whopping 66.5 with the seats down.
7. Volvo V60
Starting price: $36,150
Miles per gallon: 25 city, 36 highway, 30.5 combined
It looks like a wagon and its combined 31 mpg seems to agree.
We'll note that the 2-liter, 4-cylinder engine for the front-wheel drive model is the only one that gets anything close to this kind of mileage. The five-cylinder all-wheel-drive upgrade cuts combined mileage to less than 25 miles per gallon, but the base still gets you 43.8 cubic feet of cargo space, 3,500 pounds of towing capacity power driver's and front-passengers' seats, power moonroof and an audio and communications system with a 7-inch touchscreen.
6. Nissan Juke
Starting price: $21,170
Miles per gallon: 27 city, 33 highway, 30 combined
Nissan is about to kill of the Juke, which is a shame. Instead of making its freaky performance crossover with six headlights into a staid bore headed for the rental lots, Nissan opted to go full-tilt weird with it. The grill now has a triangular shape, the parking lights on the top of the fenders now have LED daytime running lights built into them and Nissan has countered the car's "ugly" label with a term of its own: polarizing.
Juke sales peaked around 38,000 in 2014, but skidded to 19,600 last year. Sure, the Juke is small and funny looking, but with a combined 30 miles per gallon that's among the best in its class it's what's inside that counts. That includes a surprising 36 cubic feet of cargo space and a navigation system, rearview camera, leather interior and a beefed-up speaker system available as upgrades. Not bad perks for a car sporting all of four cylinders in its engine while putting out 188 horsepower.
5. Subaru Impreza wagon
Starting price: $18,895
Miles per gallon: 28 city, 37 highway, 32.5 combined
The Subaru Outback was once simply a Subaru Legacy wagon. The Subaru Forester was basically just a very tall version of a wagon in its earliest days. The Crosstrek wants to say it's a crossover, but it basically looks like a wagon.
That makes the fuel-sipping five-door version of the Impreza the last true wagon being sold by a company that was basically built on them. It also makes both the sedan and wagon the most-efficient vehicles that all-wheel-drive-loving Subaru produces. This isn't surprising, considering the Impreza is Subaru's small car and is just all its other vehicles' features -- including a standard multi-function display, Starlink touchscreen communications and entertainment package and rearview camera -- shoved into a sporty little package, but it has to be comforting to people who didn't pay nearly $7,000 extra for a Crosstrek hybrid that still doesn't match this vehicle's mileage. The 52.4 cubic feet of cargo space with the seats down don't hurt, either.
4. Toyota Prius v
Starting price: $26,675
Miles per gallon: 43 city, 39 highway, 41 combined
The wagon-like Prius V's combined 41 miles per gallon lags behind the 50 of the original Prius, but it's still impressive for a hybrid. Also, the V's 67.3 cubic feet of cargo space with the seats down is considerably larger than the original-recipe Prius's 39.6 cubic feet and is closer to that of compact SUVs such as Toyota's (TM) - Get Free Report RAV4.
Even if you go with the base model, features including a touchscreen audio and information system, a backup camera and Smart Key come standard. There are available tech upgrades including SiriusXM satellite radio, navigation and the Entune app suite -- as well as an optional panoramic moon roof -- but the surprising room and fuel-sipping mileage sell a road trip in the Prius V on their own.
3. Kia Niro
Starting price: $23,785
Miles per gallon: 52 city, 49 highway, 50 combined
Kia introduced this sleek crossover during the Super Bowl and it's just about the right size for tailgating. The 97.1 cubic feet of passenger volume and 19.4 cubic feet of cargo space is smaller than that of Toyota's Prius V or Ford's C-Max, but its 54.5 cubic feet with the seats down makes it a happy little hauler. Its 104 horsepower falls below that of the C-Max and Honda's HR-V, but its satellite radio and auxiliary jack really stand out from the crowd.
So what does it have going for it? That mileage, which is the best among all the competitors listed above and the whole reason why most aren't on this list.
2. Kia Soul EV
Starting price: $32,250
Miles per gallon: 120 city, 92 highway, 105 combined
Electric charge range: 93 miles
This wagon is taking itself a lot more seriously than it did during its dancing hamsters and LMFAO days. The touchscreen UVO infotainment system and its charge status updates, charging station navigation, climate control and sound system with beat-sensing mood lighting and boasted top speed of 149 miles per hour all have some youthful vigor to them, but this vehicle has embraced efficiency.
It's stripped away the broad color palate, mix-and-match accent plates and sunroof upgrades still of the standard model, but it still has the Soul's 60/40 rear seating and 23.7 cubic feet of cargo space (49.5 with the rear seats down). The ten-year, 100,000-mile Kia warranty also suggests a car that's managed to balance its practicality with playfulness.
1. Chevrolet Bolt
Starting price: $36,620
Miles per gallon equivalent: 128 city, 110 highway, 119 combined
Electric charge range: 238 miles
Forget the Chevrolet Spark or Volt: This wagon is GM's (GM) - Get Free Report first serious swipe at Tesla (TSLA) - Get Free Report .
With 200 horsepower, fast-charging capability, satellite radio, OnStar information and communications with 4G Wi-Fi, automatic climate control, remote liftgate release and an 8-inch passenger information system, the Bolt is built as if it wants to attack Tesla's Model 3 head-on. However, safety features like lane departure and collision sensors extra and cargo volume that hits 56.6 cubic feet with the seats down, the Bolt doesn't have to lean so heavily on its range -- which still falls short of the more powerful Model S.
Car Enthusiast? Don't miss these galleries..
These 13 Cool Cars From the 1980s And 1990s Are Absolutely Worthless Collectibles
These Are the 30 Most Expensive Cars Ever Sold at Auction
10 Station Wagons That Are Better Than Your New $50,000 Compact SUV
10 Hot Luxury Cars to Buy Instead of a Tesla