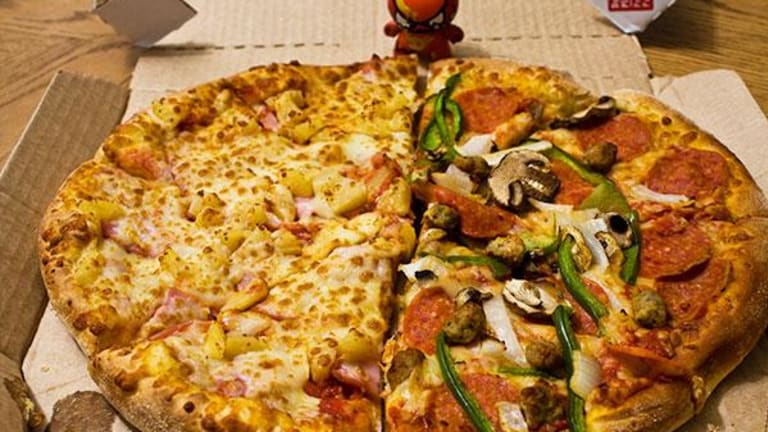 Why You Should Crave Domino's Pizza
Three reasons say it all.
Investors can expect Domino's Pizza  (DPZ) - Get Free Report to perform even better in 2017 than it did in 2016, according to analysts at KeyBanc who upgraded the stock to "overweight" from "sector weight" with a $200 price target. 
Domino's Pizza closed Friday trading up 1.8% to $167.84 on Friday and continued to rise more than 1% in after-hours trading. 
Analyst Chris O'Cull identified three trends that will help drive the company's growth: convenience, value, and franchising. 
"Domino's growing scale allows it to have a more efficient supply chain, larger advertising war chest, and technological capabilities far superior to small competitors," O'Cull wrote. 
Domino's has been one of the market's most consistent growth stocks, climbing more than 50% over the past 12 months and more than 400% over the past five years. 
Domino's closed 165 stores between 2006 and 2009 as it looked to re-brand itself and trim fat in order to make the company more profitable. Between 2010 and 2012 the company added only a single store, according to KeyBanc.
However, as Domino's has hit its stride in recent years, the company added 58 units in 2013, 81 units in 2014, and 133 units in 2015. Through the first three quarters of 2016, the company has opened 161 new units.
KeyBanc analysts believe that while Domino's growth has been consistent, the company still has opportunities to gain domestic market share. O'Cull noted that as the company's advantages over regional chains continues to grow, its scale has allowed it to feature prices that remain competitive with lesser chains, and the early stages of its loyalty program are promising. 
"We do not dispute the argument that 'mom and pop' pizza operators with strong local appeal can remain competitive against Domino's, but we do believe there are several 50-200-unit regional chains that are unable to make the investments necessary to compete," O'Cull wrote. 
Part of the company's advantage comes from its dominance of the digital space through its mobile apps.
"There is a lot you can do with the data we are compiling. Frankly, once you have people on your digital ordering platform getting them there is great, but what you do once they are there is even more interesting," explained Domino's CEO Patrick Doyle in a recent interview with TheStreet.
To start reversing consumer perception -- and boosting sales in the process -- Doyle hinted Domino's is likely to better leverage the reams of data it's collecting from mobile users.
Watch TheStreet's @BrianSozzi test drive Domino's cool new delivery car.