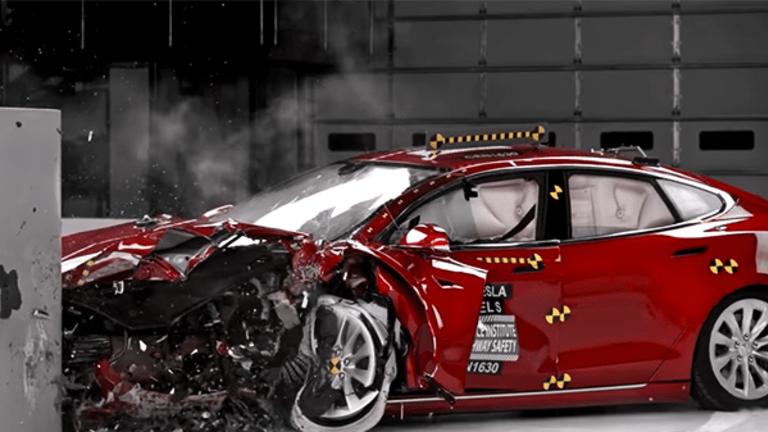 There Is One Problem With Tesla That Should Keep It From Being Mentioned Among the Greats Like Apple
Tesla shouldn't be included in this group.
Tesla shouldn't be included in this group.
Just what do we make of Tesla (TSLA) - Get Report ?
We often speak of run-away valuations. We often debate the possibility that the FANG -- Action Alerts PLUS holding Facebook (FB) - Get Report , Trifecta Stocks name Amazon (AMZN) - Get Report , Netflix (NFLX) - Get Report and Google parent Alphabet (GOOGL) - Get Report -- names might be overvalued. Then, we always come back to the point that for the most part, FANG make money, and outside of Netflix, the rest of this fabled group all can post a positive number for Operating Cash Flow. Not so for Teska.
There are times when the FANG acronym that Jim Cramer invented years ago includes that extra A for Apple (AAPL) - Get Report . Apple could be included, but at times trades much more like a value stock. Apple trades at less than 15 times forward earnings, and can boast significantly higher operating cash flow than can any other corporations mentioned in this piece. Apple even pays a dividend, for crying out loud.
Back to Tesla. Tesla can claim a 25% gross margin on every car it sells. Still, for the quarter just reported, the firm lost $336 million. This loss comes after figuring in $2.3 billion worth of sales as well as the sale of $100 million worth of "zero emissions" tax credits to the other auto manufacturers. Now, about the crafty CEO, Elon Musk. If you watch the monthly Trading Strategies roundtable at TheStreet, then you have heard me marvel at Elon Musk's ability to raise money more than once. This time, he really outdid even himself. The straight debt issue that made headlines yesterday is expected to raise $1.5 billion without the dilution impact that a secondary equity offering would have brought with it. Nor does it bring the complications that a convertible debt offering implies, such as did the $1.4 billion raised earlier this year in such fashion.
This latest offering will increase the amount raised by the firm to $2.9 billion this year, and to $7.9 billion since the start of 2014.
Am I negative on Tesla? You could say that. I am short the name -- not large, and completely manageable, but enough to tick me off. Let's put that out there, so you understand my bias. Negative. Standard and Poor's rates the firm's debt at B-, which is sub-investment grade. Positive. Rates are low, and the markets love this guy. Negative. Tesla just burned through $1.0 billion in cash in the latest quarter, and has projected capital spending of another $2 billion over the rest of the year. Positive. Musk navigates financial markets like he was born to do it. Negative. Marketing materials for this latest bond offering warn of possibly significant delays during the launch, and production processes for new vehicles. Lastly, the firm admits to having "no experience" in manufacturing vehicles at high volumes. Hmmm.
This one, as I mentioned, is against me. As for "FAANG", this proved to be an excellent earnings season. I played each and every name in the acronym, and that has left me with a cushion to let this position run. I remain long AAPL, as I consider that one to be investable, and the rest of "FANG" to be more tradable. Tesla found support at the $370 level for the month of June, before selling off a bit. I will allow the name to run as far as $375, before I take my ball and go home. Remember, it's always more about risk management than it is about wins and losses.
Apple, Alphabet and Facebook are holdings in Jim Cramer's Action Alerts PLUS Charitable Trust Portfolio. Want to be alerted before Cramer buys or sells AAPL, GOOGL and FB? Learn more now.
More of What's Trending on TheStreet:
Google Fires Diversity Memo Author -- Here's What Top Experts Are Saying
The Stock Market May Be Poised for a Replay of the 1987 Crash