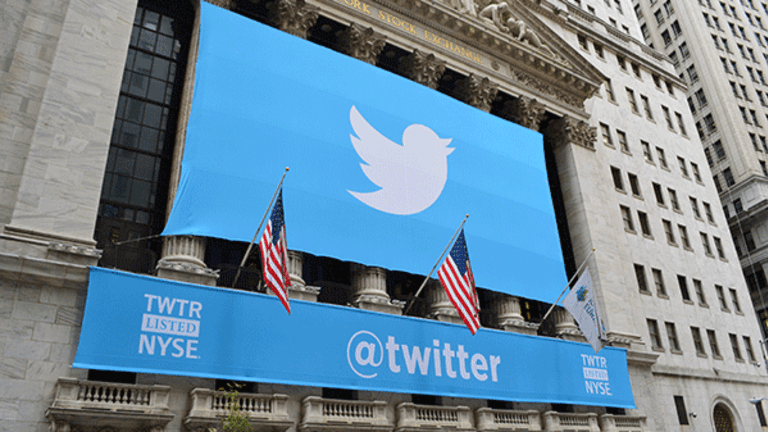 Publish date:
There Are Still a Lot of Reasons to Be Nervous About Twitter
Though Twitter's results beat expectations, a lack of sales guidance is worrying. Plus, the company might be getting a temporary boost from this year's election.
Though Twitter's results beat expectations, a lack of sales guidance is worrying. Plus, the company might be getting a temporary boost from this year's election.
Twitter's (TWTR) - Get Report third-quarter results were certainly better than feared, and the company's decision to pare its arguably oversized workforce is being received well. But sales growth is still decelerating, user growth remains minimal and investors shouldn't be under any illusions about what Twitter's unwillingness to provide fourth-quarter revenue guidance implies.
Twitter reported Q3 revenue of $616 million (up 8% annually) and EPS of $0.13 (up $0.03 annually), topping consensus analyst estimates of $605.8 million and $0.09. Unlike in prior earnings reports, the company declined to provide a sales outlook for the following quarter, citing a restructuring through which the company is cutting headcount by 9% and reducing the number of sales channels it has to two from three.
Thanks partly to the job cuts, Twitter hiked its full-year adjusted EBITDA margin guidance to a range of 27.5% to 28% from one of 26% to 27%. Full-year capital spending is now expected to be "no more than $360 million," or perhaps about 14% of revenue. Prior guidance was for a range of $300 million to $375 million.
With expectations low going into earnings -- see RBC and Oppenheimer's recent downgrades -- shares are up 1.2% as of the time of this article. They remain well below where they traded after rumors of buyout interest from Google, Salesforce.com and Disney arrived in late September. Twitter plunged this month after fresh reports arrived indicating the aforementioned companies are no longer interested, at least for now.
Given how sales growth has been trending -- growth fell to 8% in Q3 from 20% in Q2, 36% in Q1 and 48% in Q4 2015 -- there's a real chance sales growth will be negative in Q4. Poor ad execution, limited traffic growth, competition from Facebook, Instagram and Snapchat and a lack of the Facebook/Google-like scale sought by some major brand advertisers have all weighed on ad sales.
While data licensing and other revenue grew a healthy 26% to $71 million, ad revenue rose just 6% in Q3 to $545 million, after having grown 18% in Q2 and 37% in Q1. "Ad engagements" rose 91% annually (down from 229% in Q2), but ad prices fell 44%. A mix shift towards video ads from text-based Promoted Tweet ads is responsible for both of these numbers.
Twitter doesn't have the traffic growth to significantly increase its Promoted Tweet ad inventory, at least without badly damaging its user experience. That's leading it to rely heavily on video ads, but it looks as if growth in this space is also slowing.
The company's live video efforts, which the company just got a chance to promote at Apple's Thursday event, might provide a large boost to the company's video ad inventory in time, but it's still early days. The company's controversial decision -- announced after the Q3 report -- to kill off its Vine 6-second video platform might also help, since it will serve to steer Vine users (assuming they don't stop uploading videos altogether) to Twitter's standard video-upload service. Since standard Twitter videos can be up to 140 seconds long, many of them can be monetized in a way that Vine clips can't.
Many have pointed out that Twitter's monthly active user (MAU) growth was a little better than feared, but this really amounts to damning with faint praise. MAUs rose by just 1% sequentially and 3% annually to 317 million. Daily active users (DAUs) rose 7% annually, but Twitter declined to provide a specific figure. For comparison, Facebook's (FB) - Get Report MAUs and DAUs respectively 15% and 17% annually in Q2 to 1.71 billion and 1.13 billion.
Churn remains a big roadblock to more rapidly growing Twitter's user base. Twitter stated in its Q3 shareholder letter " there are millions of people that come to Twitter to sign up for a new account or reactivate an existing account that has not been active in the last 30 days." As analyst Jan Dawson observes, this figure, when taken with Twitter's meager MAU growth, implies a large percentage of the MAUs that exist one month aren't around the next.
Moreover, Twitter's MAUs and DAUs -- along with its ad sales -- may have received a boost in Q3 from the company's NFL streaming deal and interest in the 2016 Presidential election. With election interest naturally set to wane after November 8, it will be interesting to see how the company's user metrics fare in Q4.
Overall, there are still a lot of reasons to be nervous about Twitter's execution and growth trajectory, even if its earnings didn't confirm worst-case scenarios. If the company's latest numbers and job cuts don't change the minds of any of the prospective buyers that reportedly got cold feet, shares could still be in for a bumpy ride in the coming months.
Facebook is a holding in Jim Cramer's Action Alerts PLUS Charitable Trust Portfolio. Want to be alerted before Cramer buys or sells FB? Learn more now.