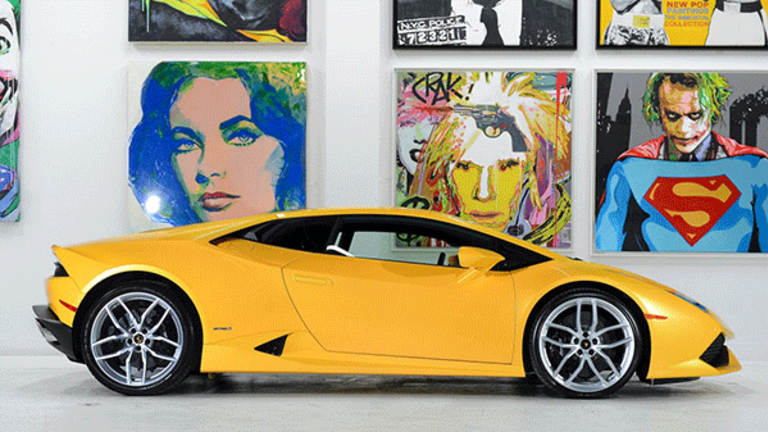 There Are So Many Obvious New Signs the U.S. Auto Sales Bubble Could Soon Burst
The U.S. auto industry boom could be over.
Guilty as charged: I have been living in the auto industry bubble. But, it's now time to look at things from a fresh perspective amid some worrying rounds of new data. 
Over the past year, I have delved into the world of high-end auto reviews. Here's how it works: Automakers kindly drop off six-figure cars at my house for a few days and I drive them around, taking photos, videos and documenting the overall experience. A whole bunch of cool content then ensues. During this span -- which has brought many childhood dreams to life (I had a McLaren for a few days...) -- several common themes have emerged.
First, these high-end supercars are getting even faster -- to the point where you have wonder about legality. Second, these cars are akin to rolling computers -- the BMW I just reviewed (see video below) could be controlled by the keyfob, and if you got out of your lane the car puts you back in the lane automatically. Mind-blowing. And finally, the cars are getting way more expensive in light of the increased horsepower and amenities (which in the case of the Bentley, comes with a wine fridge in the backseat).
Unsurprisingly, this rising level of auto luxury has come alongside a surge in the stock market that has buyers willingly plunking down their credit card or some cold hard cash to get a new toy. The same thing could be applied to non-luxury cars, say mid-size sedans from Ford (F) , Toyota (TM) and General Motors (GM) . They are receiving hosts of new features that have caused buyers to reach deeper into their pocketbooks. Meanwhile, it's also causing people to trade in their cars more often than they would have in the past, in order to stay up to date. A Ford Focus has turned into nothing more than an Apple (AAPL) iPhone that has to be upgraded every few years.
Apple is a holding in Jim Cramer's Action Alerts PLUS Charitable Trust Portfolio. Want to be alerted before Cramer buys or sells AAPL? Learn more now.
But all this activity has triggered several dangerous trends underneath the glitz and glamour that always surrounds the auto industry. And with the Federal Reserve possibly on track to raise interest rates four times this year, it's time investors pay closer attention to the realities of the auto space. 
There are several fresh data points to consider.
Auto debt has become a major concern: Losses for subprime auto loans, annualized, were 9.1% in January, up from from 8.5% in December and 7.9% in the first month of 2016, according to S&P. The rate is the worst since January 2010 and is being fueled by worsening recoveries after borrowers default, notes S&P. More than six million U.S. consumers are at least 90 days late on their car loan repayments, according to the Federal Reserve Bank of New York.
In a new report on Monday, Moody's estimated that 32.1% of loans for new cars had terms between 73 and 84 months in the fourth quarter, compared with 29.0% one year ago. These highly extended terms, says Moody's, increase loss severity at default. Moody's adds that growth in the average amount financed for a new car from 2013 to 2016 has outpaced growth in median household income over this period (chart below). 
Peak auto sales could mean riskier loans: Moody's expects U.S. new-vehicle sales of 17.4 million units in 2017, down from 18.4 million last year. Falling auto sales could increase the risk that lenders will be more accommodative and accept riskier loans on new-car sales to remain competitive and maintain or increase loan volumes, Moody's points out. 
"Recent increases in incentive spending, growing industry inventory and rising interest rates point to challenges ahead for manufacturers," says Moody's senior credit officer Jason Grohotolski. While the auto bubble isn't going to explode overnight, Fed rate hikes could slowly start to expose the auto industry's weaknesses and make the second half of the year pretty interesting for the space (and those in other industries) and those invested in the sector. In the meantime, bring on that Tesla (TSLA) Model 3 for review.
Editor's Pick: Originally published March 13 on Real Money, our premium site for active traders. Click here to get great columns like this from Brian Sozzi and other writers even earlier in the trading day.