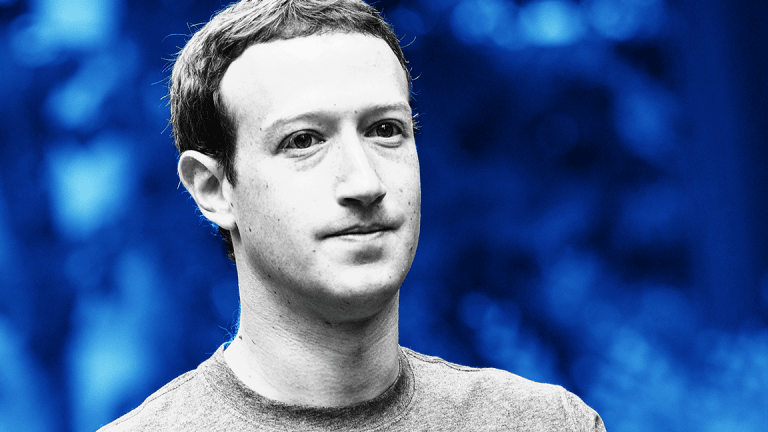 Why the Worst May Be Over For Facebook
Mark Zuckerberg and Sheryl Sandberg are finally doing needed damage control. And the remedies Facebook has offered should help appease consumers and regulators.
A week after a pair of media reports plunged Facebook (FB) - Get Meta Platforms Inc. Class A Report into what has arguably been its largest controversy to date, there are reasons to be cautiously optimistic that the worst has passed.
Still, a measure of risk remains that an additional dose of bad news could arrive in the coming weeks -- either in the form of fresh revelations about leaked/misused data or a push for data-usage regulations that could have a meaningful impact on Facebook's ad business.
Following several days of calls to speak out about the Cambridge Analytica scandal, Mark Zuckerberg finally did so on Wednesday in a lengthy Facebook post in which he admitted his company "made mistakes" with regards to its data-sharing policies and outlined a series of steps meant to create new safeguards and give users better control over how their data is used. Zuckerberg also did interviews with Re/code and CNN in which he expressed contrition over past missteps and suggested he's open to both testifying before Congress and supporting ad transparency regulations.
COO Sheryl Sandberg has also been making the rounds. In a CNBC interview, Sandberg admitted she and Zuckerberg should have spoken out sooner after the Cambridge reports emerged, and joined Zuckerberg an expressing an openness to regulation.
Facebook shares remain down 12% from where they traded before reports emerged on March 16 that Cambridge Analytica -- a political data firm that did work for Donald Trump's 2016 Presidential campaign -- improperly gained access to data for about 50 million Facebook users, courtesy of a professor whose Facebook-connected personality-testing app had been used by 270,000 people in 2014. But shares are roughly flat relative to their Wednesday lows, and would likely be higher if equity markets hadn't tumbled over the last two trading days. They also remain up 16% over the last 12 months.
Facebook's relatively low valuation is probably helping limit the damage done to its shares. Though the company is aggressively growing its spending on both data center capex and content security, shares only trade for 18 times a 2019 GAAP EPS consensus of $8.78 now, and 16 times a non-GAAP consensus of $9.42. Compared with the valuations that Netflix (NFLX) - Get Netflix, Inc. Report and Amazon.com (AMZN) - Get Amazon.com, Inc. Report are being granted, that feels like a bargain -- especially since Facebook still has a lot of room to better monetize Messenger, WhatsApp and (to a lesser extent) Instagram.
Some investors might also now be wagering that the remedies outlined in Zuckerberg's post could appease could appease consumers and limit calls for truly harsh regulations to be imposed. Among other things, Zuckerberg said Facebook will:
Ban any developers that it learns has "misused personally identifiable information."
Remove developer access to data from users who haven't used an app in three months.
Only allow apps to ask for a user's name, profile photo and e-mail address when a user is signing in.
Require developers to sign a contract (one that presumably makes them legally liable for unauthorized data-sharing) "in order to ask anyone for access to their posts or other private data."
Make a tool (currently in the Settings section) that lets users see and manage which apps have access to their data visible at the top of the news feed.
Just as important as any of these remedies is the fact that Facebook had already made changes to its programming interfaces (APIs) that prevent an app from getting info about a user's Facebook friends (rather than just the user) and thus make it impossible for a Cambridge-Analytica-like situation to repeat. Zuckerberg mentioned this in his Wednesday post, while adding Facebook will "investigate all apps" that gained access to data about a user's friends before the changes were made.
There could nonetheless be a push for tighter regulations about how user data that developers can still access is monitored and secured -- this would impact not only Facebook, but also Alphabet/Google (GOOGL) - Get Alphabet Inc. Class A Report and Twitter (TWTR) - Get Twitter, Inc. Report , who offer similar login and data-sharing services for apps. However, there's little reason to think that such regulations would significantly impact Facebook's ad business.
Though advertisers are given tools by Facebook to target users whose Facebook data indicate they fit one demographic profile or another, they aren't given the identities of those who are shown the ad. That's the case unless a user engages with the ad in a way that reveals his or her identity -- for example, by "liking" the ad or buying a product on the advertiser's site -- or an advertiser is targeting existing customers with the help of an e-mail list. And in such situations, the advertiser only sees what a user has either chosen to make public or directly share with the advertiser.
For that reason, unless the Cambridge scandal leads to a push for greater regulations on what data Facebook itself is collecting, rather than what can potentially be shared with third parties, the regulatory fallout from the scandal is unlikely to do serious damage to Facebook's top line.
The other risk -- that Facebook usage will take a major hit due to the damage the scandal has done to its image -- may also be more bark than bite, even if there have been some high-profile calls to disengage from Facebook's services.
A Friday article from BuzzFeed notes that Facebook has actually risen in App Store download rankings -- from #12 to #8 -- since the Cambridge scandal broke, and is holding steady on Google Play. It also noted TV/social media ad firm 4C Insights has seen its Facebook ad spend hold steady over the last week.
Moreover, it's worth keeping in mind here that Facebook has long possessed a less-than-sterling image in the eyes of many of its users. A U.S. survey done by The Verge last fall found that while over half of respondents "greatly" or "somewhat" liked Facebook's services, 30% either disliked them or neither liked nor disliked them. And a 2016 survey by The Huffington Post indicated 62% of Americans either didn't trust Facebook at all with their personal data, or didn't trust it very much.
On the other hand,75% of Facebook users responding to The Verge's survey did say that Facebook helps them stay in touch, and 62% said it helps them reconnect with people. In addition, 66% said they use Facebook to send private messages to friends or family, and a similar percentage said that they use its services because "people I need to communicate with are on Facebook."
Therein lies the rub. Facebook has never been beloved by its user base to the degree that, say, Amazon and Apple  (AAPL) - Get Apple Inc. Report are by their bases. And there has long been some wariness among many consumers about both how much information they're sharing with the social media giant, and how it's used. But they have nonetheless kept returning to its site and apps, in large part because they're still seen as free and needed utilities for connecting with people they know.
That gives Facebook a good chance of weathering the current storm without seeing too much damage to user engagement, at least now that Zuckerberg and others are doing some needed damage control.
Jim Cramer and the AAP team hold positions in Facebook, Apple, Alphabet and Amazon for their Action Alerts PLUS Charitable Trust Portfolio. Want to be alerted before Cramer buys or sells FB, AAPL, GOOGL or AMZN? Learn more now.