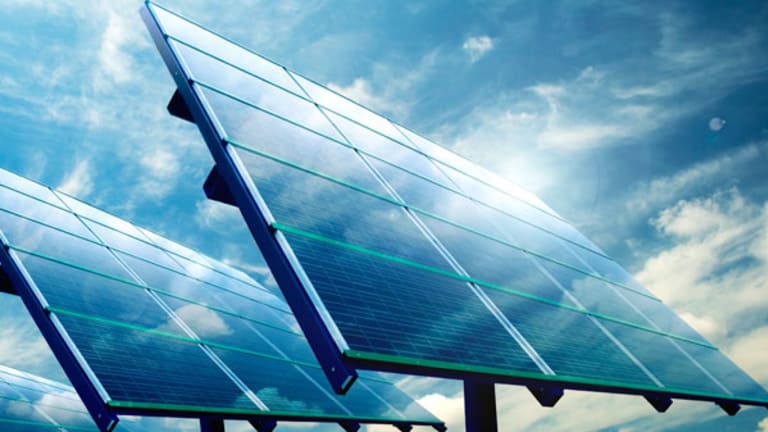 The Week in Solar: 'Too Big To Fail' Moment Arrives for China
China's solar industry arrives at its do-or-die moment.
NEW YORK (
) - Maxim Group analyst Aaron Chew was thinking about
Trina Solar
(TSL)
debt covenants this past week when digesting the China-based company's second straight quarterly loss. Trina's debt covenants stipulate that it must be profitable in a 12-month period or be in breach of its bank lending requirements.
With a combined loss per share of $1.38 over the past two quarters, Trina would have to earn at least $1.39 in the first half of 2012 to not breach this debt covenant. This isn't just a heroic earnings target, Chew realized, but is in fact an impossible dream. The first half of 2012 isn't expected to be more than break even to marginally profitable for any Chinese solar company.
Then Chew came to the real issue at the heart of the Trina debt covenant: There is no real bankruptcy risk when it comes to Chinese solar because the Chinese government and Chinese banks have too much invested in the sector. If the Chinese banks can't carry these solar companies on their backs forever, just how they lessen the load a little has always been the opaque road to which the Chinese solar manufacturing onslaught has been leading.
LDK Solar
(LDK)
, the poster-child for Chinese solar balance sheet imbalance, has a chairman who has pledged his shares to the banks as collateral, and as the situation in the solar sector deteriorated in 2011 and LDK shares plummeted in value, analysts began worrying about the Chinese banks forcing a margin call.
The big question for a while has been what will the Chinese banks, and the Chinese government do when push comes to shove?
The sector may be on the cusp of an answer because Germany's decision this week to act sooner and swifter in reducing solar subsidies than anticipated has all the makings of a
too big too fail
moment.
The immediate aftermath of the German move -- which will limit what was solar's biggest market in 2011 at 7.5 gigawatt to 2.5 GW-3.5GW in 2012 -- is that China will finally be forced to pick up the slack and become a 7 gigawatt or more market this year.
The Wall Street reports have been surfacing since January predicting that China will exceed expectations this year, and some of this Chinese solar demand bullishness had been responsible for a more encouraging view of the solar market coming off 2011 lows. These reports received one more boost with the German hard line on solar.
Will China overnight become the largest solar market in the world?
The answer is, it better. China has no choice. After years of shrewdly living off the solar incentive schemes in Europe, led by Germany, as a way to fund very profitable solar manufacturing enterprises without needing to stimulate its domestic solar growth, the Chinese solar monster has nowhere to turn but China for immediate growth.
Yes, the U.S. is growing, and so is India, and in North Africa and the Middle East and across the globe there are markets where in the years ahead solar will be economic without any subsidy support. But as far as 2012 is concerned, Chinese solar companies are on a fast boat back to their home country.
"China is not doing anyone else a favor, it's doing itself a favor by rescuing an industry because of the stake it has in it. China has taken solar as one of 7 industries to subsidize hell or high water," says Auriga Securities analyst Hari Chandra.
For investors, though, the question is not whether China finally gets serious about absorbing its own solar manufacturing output, it's whether that makes any difference to Chinese solar profits and as a basis for investment in the sector.
"The China rescue will be a social rescue, not a profit rescue. The government has to make sure these companies can function so jobs are not lost," said Chandra.
Throughout 2011, as the situation worsened for LDK Solar and its peers -- and as U.S. solar companies began slouching into bankruptcy, led by Solyndra -- the point was made by even the most bearish solar analysts that there is no such thing as true bankruptcy risk in a Chinese solar stock that has enough scale, like LDK. The rhetorical question that distinguished Chinese solar from Solyndra was this: "Have you been to LDK's facility. It's a small city!"
The social welfare story masquerading as a socially minded clean energy plan, as Chandra refers to the early days of Chinese solar manufacturing development, implies that the Chinese government and the banks want the biggest of the solar companies to make ends meet so they can meet debt payments and refinance as required to stay solvent.
However, to think the Chinese government or banks care if these companies generate the 20% to 30% gross margins that European subsidies afforded them isn't likely. "You can install 10 gigawatts in China, but it won't be juicy profits. It won't be Germany," the Auriga analyst said.
The primary reason to be constructive on solar stocks in 2012 is that as long as solar has a heartbeat, it's one step closer to economics that aren't dependent on subsidies. The investment story is still a few years out, though, and it's the trading story that continues now, and it won't be a one-way trade in 2012. Stocks rallied sharply to start the year after crashing in 2011 but have been clobbered again, most recently with the headlines out of Germany.
"The pain will continue, but the irrationality of a state-oriented capitalism that doesn't have a true market mechanism will begin to fade," Chandra said.
As for Trina's debt covenant issue, it is as related to the larger story in China as the LDK chairman's collateral, and it's even more magnified by the fact that Trina is often held up as the "sound" balance sheet manager among risky Chinese solar companies. "Trina is a one-eyed king among the blind," the Auriga analyst said.
Maxim's Chew expects Trina to revisit 2011 lows of $5 before a more normalized earnings model emerges.
There will be a time to buy solar stocks again, but for now, the big story is the bailout that has been in the making for years and that is now reaching its hell-or-high water mark.
Chinese solar
is
too big to fail, and it's fair to refer to Chinese solar demand as the likely sector savior in the near-term. After all, China created today's profitless Chinese solar manufacturers, and gave them every reason to believe that when the apocalypse came, they would be saved.
For bullish investors betting on a 7.5 gigawatt market from China in 2012, though, it's not likely to save them.
-- Written by Eric Rosenbaum from New York.
>To contact the writer of this article, click here:
Eric Rosenbaum
.
>To follow the writer on Twitter, go to
.
Follow
TheStreet
on
and become a fan on