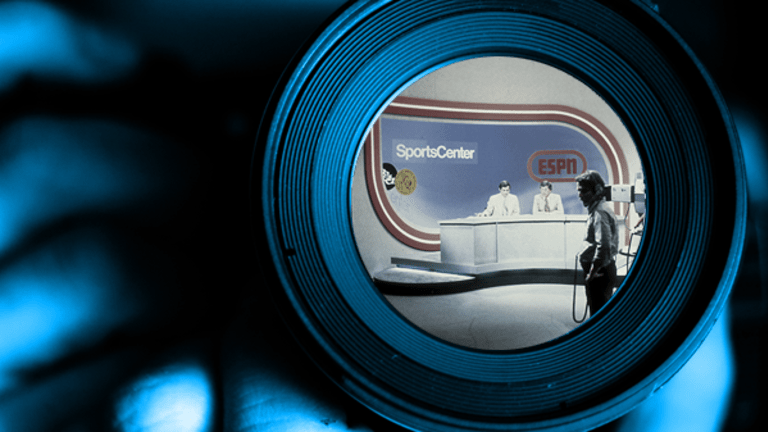 Publish date:
The Week in Photos: From Bally Shoes to ESPN Blues to Fossil Fuels
It was an eventful week. Here's how it shook out in pictures.
It was an eventful week. Here's how it shook out in pictures.
"Why do today what you can put off until tomorrow?" is Congress' new catchphrase. Lawmakers passed a stopgap funding bill Friday to narrowly avoid a potential government shutdown. They'll take the issue back up ... next week.
Temporarily-averted disaster in Washington wasn't enough to push stocks into the green on Friday. The Dow, S&P 500 and Nasdaq ended the day with modest declines after the Commerce Department reported the U.S. economy grew by just 0.7% during the first quarter of the year, its slowest pace in three years.
But it wasn't all doom and gloom on Wall Street. Shares of Exxon Mobil (XOM) - Get Exxon Mobil Corporation Reportand Chevron (CVX) - Get Chevron Corporation Report climbed on the heels of the oil companies' impressive earnings results. Automaker General Motors (GM) - Get General Motors Company (GM) Reportgot a boost from better-than-expected earnings as well. And Amazon (AMZN) - Get Amazon.com, Inc. Report continued to climb after its Thursday earnings numbers despite a downgrade from the analysts at Pacific Crest, who cited increasing competition and "moderating" growth rates in its businesses.
Saturday marks Trump's 100th day in office, and so far, it's been quite a ride. In an interview with Reuters, the president himself admitted this whole leader-of-the-free-world thing is easier said than done. "This is more work than in my previous life. I thought it would be easier," he said.
So did we, Don, so did we.
But before you gallivant into what we hope will be a fabulous weekend, be sure to check out our recap of the week in photos: 
Monday, April 24: Like Slick Rick the Ruler...
JAB, the German conglomerate that recent acquired Panera (PNRA) , on Monday said it had started a strategic review of its options relating to its investment in Swiss luxury footwear company Bally International, including a possible sale of the company. JAB began investing in Bally in 2008. The footwear company was founded in 1851 in Schonenwerd, Switzerland. It first opening stores in Geneva, London and Paris in the late 19th Century. Bally's had a stint of popularity in the U.S. music community, when rapper Slick Rick famously wore a pair of red Bally's on the cover his 1988 album, "The Great Adventures of Slick Rick."
Tuesday, April 25: A Home Run Investment
A group of investors led by former New York Yankees shortstop Derek Jeter and former Florida Governor Jeb Bush on Tuesday won a bid to buy the Miami Marlins for a reported $1.3 billion. The Marlins, founded as the Florida Marlins in 1993, don't have much of a history but the history they do have is impressive. In 1997 the team managed to win the World Series behind a group of free agent veterans. Art dealer Jeff Loria, bought the team in 2002 for $158 million. Not a bad return, especially considering the team was able to get the city of Miami to help pony up for its $500 million new stadium in Miami in 2015. Above members of the 1995 team are pictured celebrating their first World Series.
Wednesday, April 26: The World Wide... Bleeder
It was another rough day for the World Wide Leader, as Disney's (DIS) - Get Walt Disney Company Report ESPN began laying off around 100 employees who work as either on-air commentators or content creators. ESPN's first broadcast occurred on Sept. 7, 1979 and the company hit the ground running. Pictured above are anchors George Grande (right) and Lee Leonard hosting the first episode of the company's flagship show: "SportsCenter." Funny enough, declining ratings of the flagship show are actually aiding in the demise of ESPN and the network is working to rebrand and reshape around different properties, and people, for that matter. Read more
Thursday, April 27: #MergerCandidate?
Jack Dorsey hasn't had an easy go of it lately, as his social media company, Twitter (TWTR) - Get Twitter, Inc. Report , has been ravaged by poor earnings, a lack of direction (a viable merger partner) and trolls. Well, things began to look a little brighter as the 11-year-old company on Wednesday posted its first encouraging financial results in some time. The results revive the question everyone has been asking: Will Twitter become a possible takeover target again? Twitter was founded in 2006 by Dorsey and other members of Twitter's first parent company "Obvious." Above Dorsey (left) is pictured with Biz Stone, another one of the co-founders, about a year after the initial launch. @Jack's got a few more millions in his pocket now, but a few more wrinkles, too. Read more
Friday, April 28: Drill, Baby, Drill!
Before Donald Trump set out to make America great again, Sarah Palin was chanting, "Drill, baby, drill." The former Alaska governor and 2008 vice presidential candidate popularized the slogan after it was first used by former Maryland Lieutenant Governor Michael Steele at the 2008 Republican National Convention. Palin has yet to weigh in on Trump's executive order on Friday to expand offshore drilling, but "Mama grizzly," as she once coined herself, would almost certainly be proud.