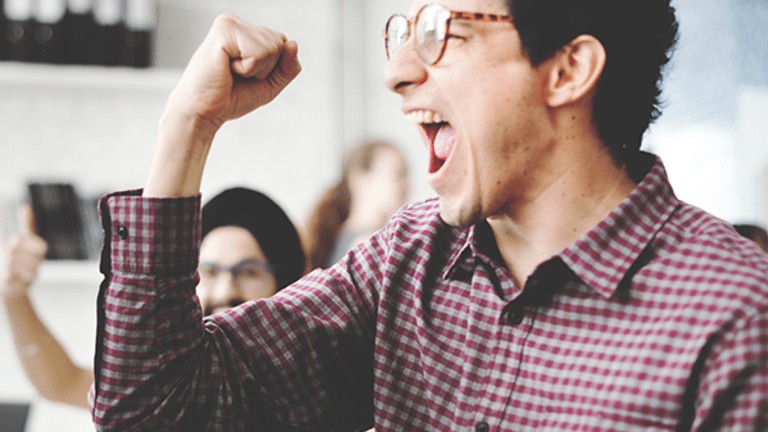 The Stock Market Has Gone Bonkers -- Watch TheStreet's 'Five Before the Bell' Pre-Market Show Live
Stock prices are out of control.
Paraphrasing Oliver Stone's brief cameo in the 1987 epic "Wall Street" is the best way to describe markets today, with a new record for the MSCI World index, near seven-year highs for Asia stocks and an onward march in Europe off the back of solid earnings, deal speculation and an improving global economy.
Whether it's the sugar-rush of earnings or an extended bet that central banks aren't ready to turn off the taps, investors are happy to add risk despite the myriad challenges facing the White House, including the unexpected collapse of trade talks with China late last night. Europe is up across the board (although the normally defensive Swiss markets is flat) in a busy session, with decent numbers from Unilever (UL) - Get Unilever Plc Report  and Publicis offsetting some concerns on costs in numbers from SAP (SAP) - Get SAP SE Report .
The euro is steady at a 14-month high of 1.1504 as investors await the ECB meeting later today, with many assuming Mario Draghi will signal the first QE exit ramps. I'm not as convinced, and think the best we'll get is a hawkish bone until inflation data firms into the fall. The pound jumped (past 1.3) against the dollar after a surprisingly good print for UK retail sales, but hasn't moved much since (perhaps because investors think it was tourists, not natives, that were spending the cash).
Wall Street futures are flat, though, which is interesting, but there's a long way to go before the bell and the upside is there. U.S. 10s are little-changed at 2.27% and oil is treading water at $47.16.
TheStreet's Big Read of the Morning
Tesla (TSLA) - Get Tesla Inc Report bulls have had a great year.
But, there is certainly reason to be concerned about the electric car maker's future. 
On the cusp of the launch of Tesla Inc.'s Model 3, Elon Musk can soon prove wrong the naysayers who doubt his ability to ship 500,000 of the mass model car next year.
Musk's cult of personality has attracted investors who seem to believe they will make their fortune betting with him. However, there is another group that believes with equal or greater conviction that they will get rich by betting against the Tesla founder.
Read the full feature here.
More of What's Trending on TheStreet:
Amazon Faces a Potential Existential Threat That Could Hammer Its Shares, Doug Kass Reveals
What's the Fallout From Chipotle's Latest Food Safety Concern? Who Knows?!
Honda Finally Makes a Cool-Looking Accord Sedan Because Everyone in America Is Buying SUVs
Facebook Exec Campbell Brown: We Are Launching a News Subscription Product
Stock Market Bulls Are Wrong and It Could End Badly