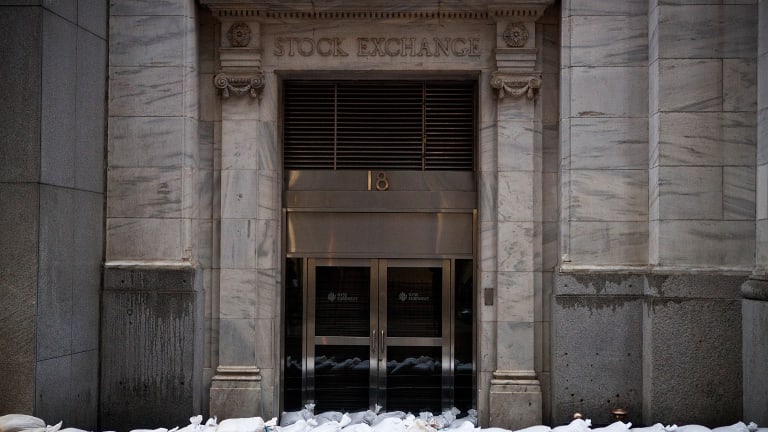 The Stock Market Has a Powerful Hurricane Barreling Toward Its Shores, Too
Start listening to what the market is saying, people. Hurricane Florence is taking aim at the Carolinas. Here's what investors need to know about the storm.
Start listening to what the market is saying, people. Hurricane Florence is taking aim at the Carolinas. Here's what investors need to know about the storm.
Six sessions into the month and this much is clear: It will be a weird September.
Weird in the sense the market is sending out red flags, but the bulls are ignoring them and instead praying for an amazing third-quarter earnings season. But there are enough negative undercurrents in this market right now to batten down the hatches for a month's end/early October storm.
(1) Dow Jones Industrial Average I:DJI and S&P 500 I:GSPC down slightly on the month despite the strong August employment report.
(2) Amazon (AMZN) - Get Report down 2% since hitting a record high on Sept. 4.
(3) the cryptocurrency rout continues -- the MVIS CryptoCompare Digital Assets 10 Index has crashed 80% from its January peak. The index is a modified market cap-weighted index that tracks the performance of the 10 largest and most liquid digital assets.
(4) the Philadelphia Semiconductor Index, aka the SOX, dropped below its 50-day moving average on Tuesday for the first time since Aug. 23.
Even favorable product news from the red-hot Advanced Micro Devices hasn't saved this leading indicator index. If anything, you do have to like how the market acts with 10-year yields hovering back around 3%. More on that via TheStreet's @Jacobsonenshine. But pullbacks in hotter areas of the market hint at a nervousness about something, perhaps the elections, perhaps a few more Federal Reserve meetings. Whatever it is, it's getting priced in.
The Weather 
Last check has #HurricaneFlorence packing gusts north of 170 mph as it barrels toward the Carolinas. To those in its path, stay safe.
Weather data firm Planalytics' initial estimate on the potential economic impact of Florence in the consumer and retail sector is $700 million in lost sales. Think closed stores and short-term delays in getting products back onto shelves. But per the usual with storms of this magnitude, some companies are poised to benefit from the clean-up efforts.
Long-time Baird retail analyst Peter Benedict noted that Home Depot (HD) - Get Report and Lowe's (LOW) - Get Report often see a 50-basis-point-plus positive sales impact during a quarter when a storm hits. The companies will often see sales increases for several quarters as communities rebuild. Unsurprisingly, Home Depot and Lowe's shares have gained 5.3% and 4.7%, respectively, over the past five sessions.
Sidebar: Florence will be the first test for new Lowe's CEO Marvin Ellison. Considering Ellison's experience running Home Depot stores for years, his knowledge should serve the struggling Lowe's very well during this key time.   
Around TheStreet
It's Apple time. Be sure to follow TheStreet's @AnnieGaus on Twitter when she reports live from inside Apple's (AAPL) - Get Report big product event. Tech columnist @EricJhonsa will be serving up live analysis of the products on TheStreet's homepage, so tune in there as well. Gaus reported that according to data provided by IG Group, an online trading platform, the ability of new products to move Apple's stock has diminished over time. Unsurprisingly, the original iPhone -- a category-defining device -- made the biggest difference in Apple's share price, driving the stock 10.5% higher to the equivalent of $13.52 a share, accounting for Apple's 7-for-1 stock split in June 2014.
Quote of the day: Sticking with the Apple theme, here's a dose of daily motivation via Steve Jobs: "Innovation distinguishes between a leader and a follower."
Did you know?@Jacobsonenshine dropped a profile on Sailpoint (SAIL) - Get Report , a $2.7 billion market cap company you probably have never heard of before. SailPoint CEO Mark McClain told TheStreet the company's push into Asia is likely to lead to more value creation. FYI. Kiss legend Gene Simmons told me he was in Los Angeles when Lehman Brothers went bankrupt. His reminder to all investors: Stay diversified.