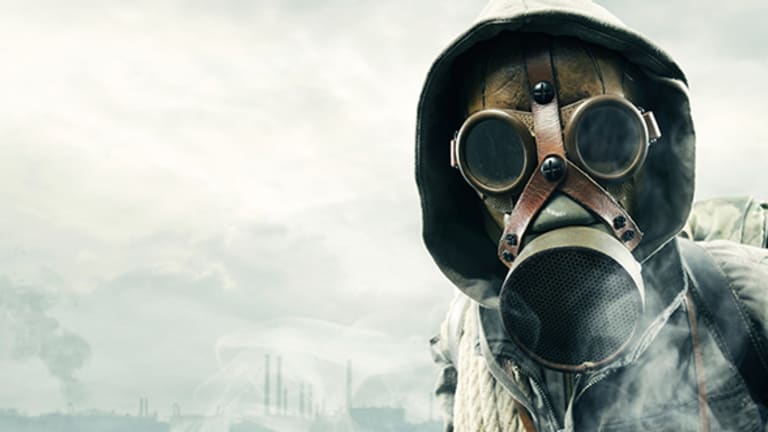 'The Sky Is Literally Falling' -- Health Care Investor Sentiment Sinks to End-Time Lows
Uncertainty over the presidential election, the backlash against drug pricing, slow sales growth, and a cloudy outlook for 2017 are contributing to the worst performance for drug stocks in years.
Health care investor sentiment right now is grim. It's funereal. I spent time this week canvassing professional health care investor sources, asking them to rate their mood on a 1 to 10 scale.
What I got back in response was a ton of 1s and 2s with a sprinkling of 3s. This was before Thursday's drug stock meltdown. The Nasdaq Biotechnology Index fell almost 3%, sending it to within a couple of percentage points of the June low.
The fatigue and uncertainty of the presidential election, the backlash against drug pricing, slowing and even negative sales growth, and a cloudy outlook for 2017 are all contributing to the worst overall performance for biotech and pharma stocks in years.
The Nasdaq Biotechnology Index has declined 18% since Sept. 22, the most recent high. For the year, the index has dropped 27%. The low point for the year, in June, saw the index down 29%, so we're getting close again. Two popular exchange-traded funds, the iShares Nasdaq Biotechnology (IBB) - Get iShares Biotechnology ETF Report and the SPDR S&P Biotech (XBI) - Get SPDR S&P BIOTECH ETF Report are down 27% and 24%, respectively.
A fund manager with a lot of years of health care investing under his belt told me that October was his worst month of performance ever. Previously, January 2016 was his worst month.
"The sky is literally falling," said another investor. He rated his mood a 1.
Another investor source (he runs a very large health care fund) fled his office this week to escape the carnage. "I would be at a 1 if I were in the office, but after this morning's earning calls, I took a mental health day to clean up my roof in the beautiful sunshine, so I'm at a 6."
One investor (he runs a smallish biotech-focused hedge fund) rated his mood a 5. I told him he was a raging bull compared to everyone else on my contact list. I asked him why he was so relatively happy.
"We've outperformed this year because of catalyst plays. On the fundamental side, the market this year has given us many shots, as long as you aren't greedy."
Translation: This fund manager is basically trading biotech events, not investing, i.e. holding biotech stocks. He's not alone, which explains why so many biotech stocks with fundamentally positive news this year can't seem to hold onto gains in their stock prices. If the stock price rises because a clinical trial succeeds or because of some good news on the FDA front, it just falls back days later as if nothing happened.
Let's not even touch on the destruction inflicted on a biotech stock with bad news.
Generally speaking, my Twitter polls take the pulse of retail investors. The responses I usually get skew more positive than when I query Wall Street pros. But in this poll, the mood captured seems equally dismal.
Three-quarters of the nearly 800 respondents describe their health care investing mood as "end of the world" or "bad but felt worse."
I did a similar sentiment poll on Twitter in the middle of September. People were a lot more hopeful for a better finish to the year compared with today. October appears to have crushed whatever optimism was left in the biotech stock market. November, so far, is more of the same.
There was hope that election day would spark a relief rally in biotech and pharma stocks, especially if the outcome is divided government. A Clinton presidency and a Republican Congress would likely mean gridlock on drug price legislation, even if political rhetoric continues. This week, the worry switched to a Trump victory and what that would mean for the overall markets.
More volatility? Buckle up.
Adam Feuerstein writes regularly for TheStreet. In keeping with company editorial policy, he doesn't own or short individual stocks, although he owns stock in TheStreet. He also doesn't invest in hedge funds or other private investment partnerships. Feuerstein appreciates your feedback; click here to send him an email.