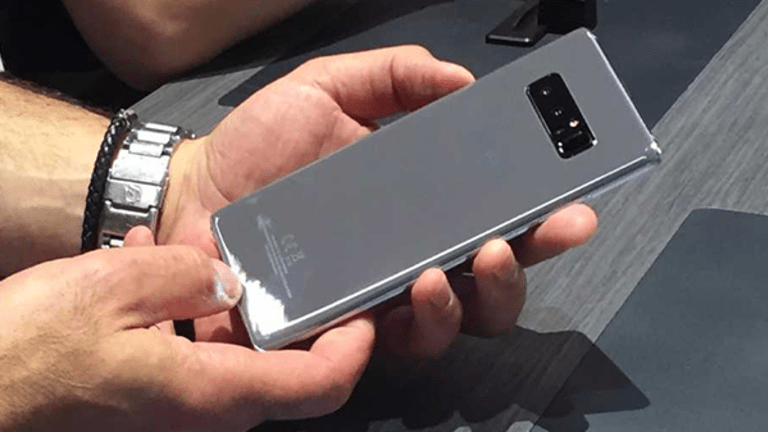 The Samsung Galaxy Note 8 Camera Blows the iPhone 7 Plus Camera out of the Water
Samsung just set a new industry standard with its Note 8 camera.
Samsung Group (SSNLF)  has made a habit of releasing its latest Note smartphone in August right before Apple Inc. (AAPL) releases its latest iPhone in mid-September.
If the Apple engineers watching Samsung's Note 8 unveiling presentation Thursday morning in New York have one thing to worry about, it's the impressive new camera. Samsung played catch-up to the iPhone 7 Plus camera by introducing a dual camera, but it also managed to leap-frog the capabilities of the iPhone 7 Plus camera in a number of ways.
While you could argue it's not fair to compare the 2016 model of the iPhone with the 2017 model of the Note, these comparisons show what Apple will have to live up to with its iPhone 8 coming out next month. 
"The new camera was a good catch-up for Samsung, as well as a big differentiating factor," said Jan Dawson, chief analyst at Jackdaw Research. 
Blurred backgrounds, aka "portrait mode"
Note 8: This is where the Note 8 really shines. Samsung now lets users blur the background of photos, a popular feature on the iPhone 7 Plus called "portrait mode." But unlike the iPhone 7 Plus, the Note 8 also allows users to adjust how blurry the background is on photos, and it lets users choose to blur the background after a photo is already taken. This option is known as "live focus mode" on the Note 8. A unique feature of the live mode is its dual capture capability, which tells the camera to automatically take two photos -- one close-up photo with a blurred background using the telephoto lens and one nonblurred photo that shows the entire background using the wide-angle lens.
iPhone 7 Plus: The iPhone 7 Plus introduced the stunning "portrait mode" in 2016. The depth effect gave pictures a high-quality look to them that was previously associated with expensive, bulky DSLR cameras. But that's about all this feature does on the iPhone 7 Plus. Let's hope the iPhone 8 steps up the game.
Dual camera setup: 
Note 8: The Note 8 camera is "literally twice as good as before" with the introduction of a dual camera, according to Suzanne De Silva, Samsung's director of product strategy. The two separate cameras on the back of the phone include two 12-megapixel sensors, one with a wide lens to capture landscapes better and a telephoto lens capable of 2x zoom to get closer to your subject. 
iPhone 7 Plus: The iPhone 7 Plus camera already featured two 12-megapixel sensors with one 28 mm wide-angle lens and one 56 mm telephoto lens. 
Optical image stabilization capabilities: 
Note 8: The Note 8 is also the first smartphone to feature image stabilization capabilities on both cameras, letting you take crisp and clear action shots.
iPhone 7 Plus: The iPhone 7 Plus only has OIS on the wide-angle lens.
Front camera, aka how good are your selfies going to be?: 
Note 8: Samsung's newest smartphone also includes an eight-megapixel front-facing camera with auto focus for sharp selfies and video chats.
iPhone 7 Plus: The front-facing camera has a slightly less powerful seven-megapixel camera with auto image stabilization. 
Waterproof:
Note 8: Yes. This is an industry standard now. 
iPhone 7 Plus: Yes.
On another note, Apple won't be making an autonomous car.
Don't miss these top stories on TheStreet:
Blue Apron Hiring Freeze Comes After Meal Kit Company Takes These Big Blows
We Are Astonished by How Far Uber Has Deviated From Its Original Master Plan
Bitcoin's Crash Could Be Epic -- Here's the Price One Firm Sees
We Might Have Unlocked the Secret Behind Amazon's Big Deal for Whole Foods