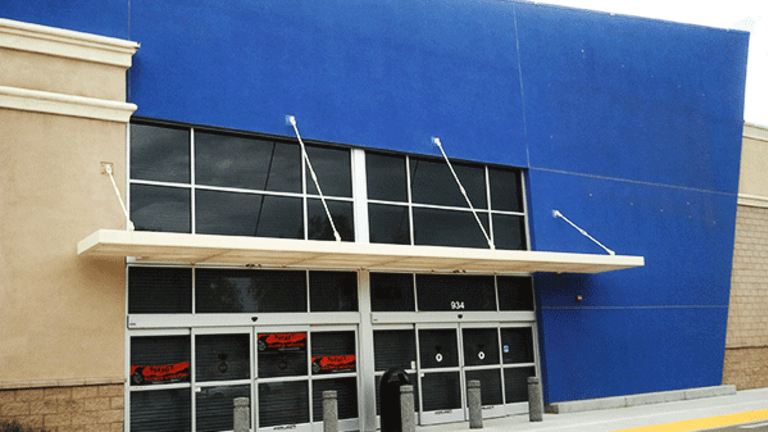 There's no doubt about it, retail is in poor shape.
Retail bankruptcies skyrocketed in the first quarter of this year, and are not predicted to slow throughout the rest of the year.
The most recent major retailer to succumb to bankruptcy was shoe discounterPayless ShoeSource, coming on the heels of everyday value price department store operator Gordmans Stores (GMAN) - Get Goldman Sachs Motif Manufacturing Revolution ETF Report , sporting goods retailer Gander Mountain, RadioShack successor General Wireless Operations, appliances, electronics and furniture retailer HHgregg and ready-to-wear products designer and seller BCBG Max Azria Global Holdings.
Other major retailers, including Macy's (M) - Get Macy's Inc Report , J.C. Penney (JCP) - Get J. C. Penney Company, Inc. Report and the still dyingSears (SHLD)  have chosen to close massive amounts of stores due to the downturn in the industry, attributed to the rising cost of rent and labor, slowing mall traffic and heightening pressure from e-commerce giants, mainly Amazon (AMZN) - Get Amazon.com, Inc. Report .
By TheStreet's count, 20 major retailers have shuttered, or are planning to shutter, large portions of their store bases. And their stocks have taken a beating, too.
READ MORE: Retail Is Falling Apart, But At Least You Could Still Find a Job as a Hotel Receptionist
Despite the doom and gloom, the stock market thinks one retailer is doing something right.
Electronics retailer Best Buy (BBY) - Get Best Buy Co., Inc. Report  surprisingly saw its stock come out as the winner within the retail sector in the first quarter, despite disappointing Wall Street when it reported its fourth quarter results last month.
In the last three months, Best Buy, which has a market cap of $15.99 billion, saw its stock spike 22.9%, higher than any other stock within the retail sector, according to Factset data. Jewelry retailer Tiffany & Co. (TIF) - Get Tiffany & Co. Report was a close second after seeing its shares soar 19.3% in the first quarter.
Although Best Buy posted a wider-than-expected sales slip in its fourth quarter, the company has consistently seen strong earnings growth over the past two years thanks to cost cuts and growing sales online. The results have made investors a believer in Best Buy being able to compete successfully against Amazon.
Meanwhile, Best Buy stands to clean up now that rival HHGregg has gone bust. 
Best Buy CEO Hubert Joly told analysts last month that some $1 billion in sales would be up for grabs should HHGregg disappear. Deutsche Bank analyst Mike Baker says if Best Buy were to pick up 20% of HHGregg's market share in appliances and electronics, it would add about $335 million in sales, or 0.9% to same-store sales.
Trending news on TheStreet:
Unfortunately for Chipotle, the Price for One of Its Most Beloved Ingredients Is Soaring
Taking Apart Samsung's Galaxy S8 Beside an iPhone Shows How Picky Apple Is About Design