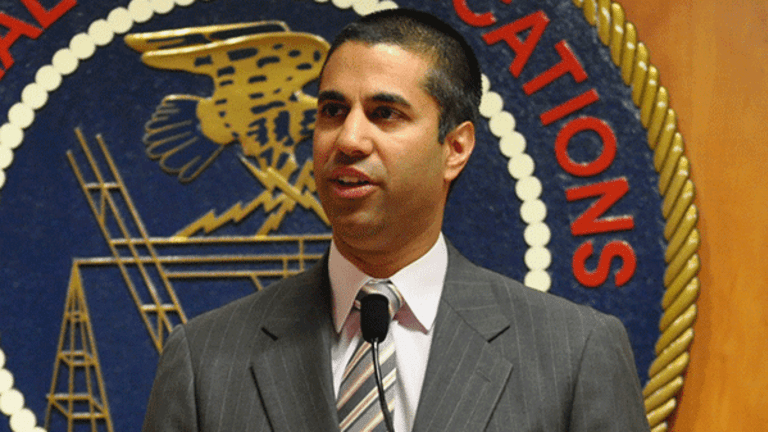 Publish date:
The Republican FCC Lays More Groundwork for Media Consolidation
The FCC is chipping away at limitations on media ownership, creating new rules likely to spark a new wave of consolidation among TV station owners.
The FCC is chipping away at limitations on media ownership, creating new rules likely to spark a new wave of consolidation among TV station owners.
It's a numbers game, but for the country's largest owners of TV stations, it's a very important scorecard.
The Republican-controlled Federal Communications Commission ruled by a 2-1 vote along party lines on Thursday to allow owners of local television stations to adopt more favorable measurement rules.
By reinstating the so-called UHF discount, the country's largest media companies will be able to lower how the FCC determines whether their holdings comply with a federally mandated cap that limits the total reach of their TV stations to 39% of U.S. households.
FCC Chairman Ajit Pai, a former Verizon (VZ) - Get Report associate general counsel, reversed his predecessor Tom Wheeler's decision made in August to eliminate a rule whereby owners of UHF TV stations are allowed to count just 50% of those stations total reach against their overall cap.
As a result, the scorecard changed as follows:
Nexstar Media Group (NXST) - Get Report went to 26% from 39%
21st Century Fox (FOXA) - Get Report  drops to 24% from 37%
Tribune Media (TRCO) - Get Report  fell to 26% from 42%
CBS (CBS) - Get Report goes to 25% from 38%
Univision Communications drops to 24% from 45%
Sinclair Broadcasting (SBGI) - Get Report was lowered to 24% from 37%
Of course, those were much the same percentage holdings that existed in August before the Democrat-controlled FCC eliminated the discount. At the time, Wheeler argued that the 1985 rule was outdated given that UHF stations were no longer saddled with limited range and technical inferiority. Cable TV, in part, took care of that issue.
Yet station owners had argued that Wheeler's FCC had changed the rules of the game in midstream and that preventing consolidation at a time when AT&T (T) - Get Report is likely to get approval to buy Time Warner (TWX) was grossly unfair.
Tribune Media applauded the FCC's decision. 
"Today's action by the Federal Communications Commission is a welcome step towards creating a more level playing field for all local broadcasters in their relationships with television networks, satellite operators, cable providers and streaming video services," the Chicago company said in a statement.
In the coming months, it's likely that the 39% cap will be pushed as high as 70%, thereby making the UHF discount obsolete. Indeed, that's what Sinclair, Fox and other station group owners have been demanding for years.
In a statement, the FCC said that it had reinstated the UHF discount until it "can address its national television ownership rule more holistically, in a proceeding to be launched later this year."
The vote on the UHF discount appears to be one step along a broader continuum. Pai has made clear he intends to reassess the full gamut of the commission's rules restricting media ownership. That's likely to include so-called cross-ownership rules that restrict whether a TV station owner also can own a newspaper in the same market.
TV station groups argue that with the emergence of sprawling media-tech conglomerates such as Alphabet's (GOOGL) - Get Report Google, Facebook (FB) - Get Report , Netflix (NFLX) - Get Report and Apple (AAPL) - Get Report , those rules are outdated.  
Coming out of Thursday's vote, companies such as Sinclair may have more wiggle room to make acquisitions. Sinclair is nearing a deal to acquire Tribune Media, Bloomberg reported on Wednesday. Such a deal likely would require some divestitures, but a merger isn't out of the question. 
With the FCC now controlled by Republicans, more deals may be in the offing.