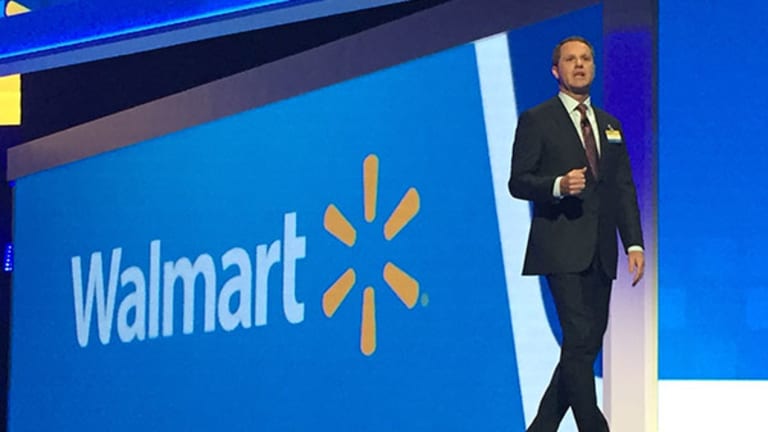 The Real Reasons Walmart May Want To Gobble Up Jet.com
Walmart may be looking at acquiring the struggling e-commerce site for several less obvious reasons.
Walmart may be looking at acquiring the struggling e-commerce site for several less obvious reasons.
Walmart (WMT) - Get Report is reportedly in talks to acquire ambitious money-losing e-commerce site Jet.com to quickly beef up its online business, according to The Wall Street Journal. But the retail giant is likely looking to gain more than just size and pricing data from the potential deal. 
Walmart execs probably see several attractive synergies that are less obvious to investors at the moment. Jet leads Walmart in how much business it does from the consumer products space online, according to market research firm Slice Intelligence, which points out that "Health and Beauty" and "Grocery and Gourmet Food" categories each accounted for over 12% of Jet's revenue over the past year.
Given that items such as makeup and food need to be constantly replenished by customers, Walmart would gain access to a lucrative recurring business in scooping up Jet. Furthermore, three of Jet's five top product categories do not overlap with Walmart's, says Slice. 
Meanwhile, Jet and Walmart are both strong in the "Electronics and Accessories" and "Home and Kitchen" areas online -- the two categories combined to make up over 50% of sales on Walmart's site in the last year, and almost 40% on Jet. By buying Jet, Walmart could become more of a go-to place for electronics and more effectively challenge the likes of Amazon (AMZN) - Get Report and Best Buy (BBY) - Get Report .
Finally, Jet could help Walmart diversify its customer base. According to Slice, Walmart's core customer is more female, less educated and slightly older than Jet's. In effect, Jet would give Walmart access to a higher-income customer that likely is in a position to spend more online and in its super centers throughout the year.
And make no mistake about it: Walmart could use more customers for its online business.
Wal-Mart's e-commerce sales touched about $14 billion, or a mere 3% of its $482 billion in annual sales last year. Amazon's revenue, meanwhile, was $107 billion last year, including its Web-services business.
Execs at Walmart pledged last fall to invest some $2 billion to bolster its e-commerce business by building new fulfillment centers, adding more products to its site and more recently, debuting a two-day free shipping service to compete against Amazon Prime.
Despite these efforts, however, Walmart's online sales growth has continued to slow, likely causing the bricks-and-mortar retailer to kick the tires on Jet.
Jet's sales in July grew 168% year over year, according to Slice. Walmart's online sales, meanwhile, have grown only 30% over the same time period, excluding the holiday season, although likely from a much larger base.
Walmart declined to comment for this story.  
Shares of Walmart were trading flat at $72.91 on Thursday afternoon, and are essentially unchanged over the last 12 months.
The reported price tag of up to $3 billion for Jet is likely a disappointment for that company's founders, however.
After a $500 million funding round in November, Jet announced that it was valued at $1.35 billion, while The Wall Street Journal reported that Jet had been pursuing a $4.8 billion valuation. The Journal reported that Jet management told investors that the company would eventually be worth $40 billion in five years. But far fewer people signed up for the service than Jet anticipated and retailers became frustrated with its suppliers.
Several highly touted e-commerce startups have recently sold to traditional brick-and-mortar retailers for a fraction of their venture capital valuation. Furniture e-retailer One Kings Lane, for instance, raised over $200 million and was once worth about $1 billion, but when Bed Bath & Beyond (BBBY) - Get Report snapped the company up last month, it was for an amount immaterial to its financial results.
In January, department store operator Hudson's Bay paid $250 million for Gilt, which was once valued at over $1 billion. Last year, QVC parent Liberty Interactive (QVCA) acquired Zulily for $2.4 billion, less than half its post-IPO valuation. And fast-fashion site Fab Inc., once valued at $1 billion, sold for a mere $15 million to an Irish manufacturing and fulfillment company in 2015.
Jet's prominent roster of investors includes mutual fund giant Fidelity and private equity/VC firm Bain Capital.