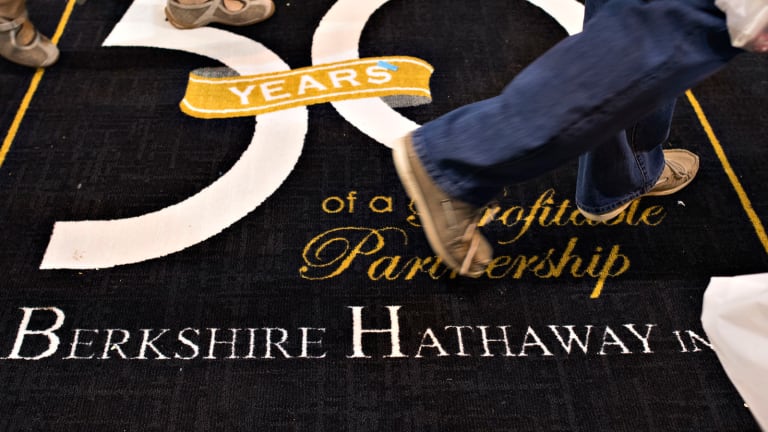 NEW YORK (TheStreet) -- It's not just Warren Buffet's $37 billion purchase of Precision Castparts (PCP) that has Standard & Poor's threatening to cut the company's credit rating.
The real culprit: sliding oil prices, which are hurting both the energy and insurance businesses at Buffett's Berkshire Hathaway (BRK.A) - Get BRK.A Report . Together, they account for more than 30% of revenue. The drop in available cash from the Precision Castparts deal, with Buffett planning to spend about $23 billion of a $66 billion cash pile,  is just adding more fuel to the fire of last week's lackluster earnings.
"The business mix has shifted,"S&P equity analyst Cathy Seifert said in a telephone interview. "It's been significantly impacted by the drop in oil prices, particularly subsidiaries like MidAmerican Energy."
Second-quarter revenue for Omaha, Neb.-based Berkshire's railroad, utilities and energy holdings stagnated, increasing only 0.2 percent from a year earlier. Net earnings companywide fell by 36 percent in the same period.
In the insurance businesses, modest prices at the gas pump, coupled with the lowest levels of unemployment since 2008, have kept people in their cars -- and insurance claims rolling in.
The quarter was particularly rough on GEICO, which had to pay for claims that were higher in both frequency and severity compared with past second-quarters, according to Seifert.
"The results at GEICO were clearly disappointing," she said. "This is more than a one-quarter event."
And those trends raise questions about a significant purchase like the Precision Castparts deal. The largest acquisition in the company's history, it spreads cash thin at a time when Berkshire may want to have some easily accessible reserves lying around.
"Is Berkshire less able to weather a shock than it was a week or two ago? Yes," said Meyer Shields, an analyst covering the company for New York-based Keefe, Bruyette & Woods. "The price for the acquisition was on the high end."
Buffet, however, is likely untroubled by the warning from S&P, which is the only ratings firms to signal any concern over the business, indicating it might lower Berkshire's credit rating from AA, but no more than two notches. That would mean a credit rating, at worst, of A+, only four notches below the top score of AAA.
S&P's warning "reflects uncertainty around the funding of the acquisition and how it may affect current cash resources and leverage metrics," the firm said in its announcement.
Buying Precision Castparts will temporarily end Berkshire's search for an "elephant," Buffett told CNBC in a telephone interview this week. "We'll be left with over $40 billion, probably, of cash when we get all through," he said, noting that Berkshire plans to borrow about $10 billion and use about $23 billion of cash on hand. "But I like to have a lot of cash at all times. This means we have to reload over the next 12 months or so."
Buffett and Berkshire Hathaway "are among the few that have the luxury, and the devoted limited partners/investors that think forever, to be unconcerned with the next three to five years," TheStreet's Doug Kass, author of Real Money Pro's daily trading diary, said recently. "Most of us investment mortals don't have that luxury as we live in the more immediate time frame."
Competing credit raters Moody's and Fitch affirmed their debt outlooks for Berkshire Hathaway as stable.
"Buffet has been saying for years that he's going to use free cash to make another major play," senior analyst Greggory Warren of Morningstar said in a phone interview. "His intention has been to broaden and diversify his portfolio looking into the future, and that's exactly what he's doing."
Must Read:AIG Bailout Ruling Now Fought by Both U.S. and Hank Greenberg