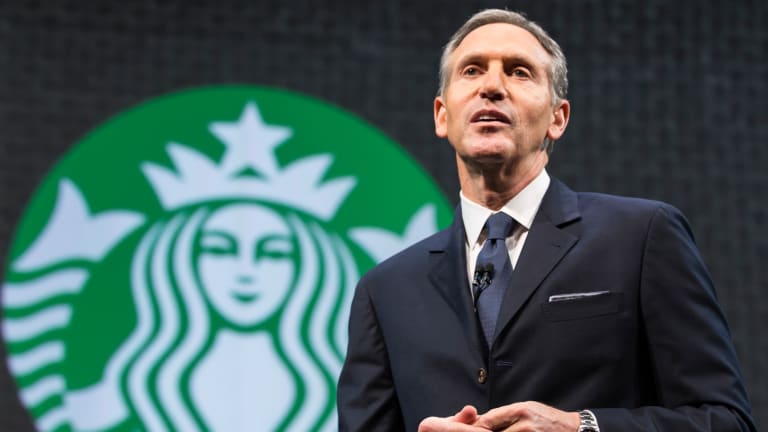 The Presidential Election Is Clearly Weighing On Starbucks CEO Howard Schultz
Starbucks CEO Howard Schultz pens a new missive ahead of Election Day.
Clearly, the outcome of the U.S. presidential election is weighing on the mind of Starbucks (SBUX) - Get Starbucks Corporation Report CEO Howard Schultz while sipping on a cup of Sumatra. 
"I woke up this morning feeling a bit anxious about Tuesday's election. Regardless of the outcome, our nation will feel divided. Many Americans have allowed the vitriolic nature of the presidential campaign to ignite our differences and strip away our civility and dignity. In the process, we've lost faith in what we all know has always been true, the promise of America," pontificated Schultz in a blog post to employees on Sunday afternoon. Schultz went on to rail about the often bombastic cable news networks and the overall divisive tone of the election, and urged employees to rise above up the insanity. 
"Let's each embrace the universal virtues of respect and dignity, refusing to allow the hatred on cable news, the ugliness of our politics, and the lack of political role models for our kids to define us and to dictate how we treat each other," Schultz said. 
The latest commentary comes mere days after Schultz warned on the global impact of presidential election. 
"I would label this time as one with a high degree of uncertainty--domestically driven--but it has affected the rest of the world. Where we have visited, we have never witnessed such concern as a result of the (U.S. presidential) election," Schultz told analysts on a conference call Thursday.
Schultz, who endorsed presidential hopeful Hillary Clinton in September, added, "It's very hard to cut through the noise and get our message to the consumer."
The noise emanating from the contentious battle for the U.S. presidency--whether on the 24/7 cable news networks Schultz references or on social media--appeared to take its toll on how consumers globally interacted with Starbucks in its most recent quarter. It also looks as if election outcome uncertainty was a factor in Starbucks offering mixed guidance for the first half of its new fiscal year.
Starbucks CEO Howard Schultz.
In spite of a host of new drinks and foods and a growing mobile presence, Starbucks' customer traffic in the U.S. fell 1% in the fiscal fourth quarter. Starbucks pinned the traffic fall on the estimated impact of order consolidation related to changes to its loyalty program. In April, Starbucks moved from rewarding members based on the number of times visited to how much they spend.
Adjusting for this, Starbucks said its traffic grew by 1%.
Same-store sales in the U.S. rose 4%, matching a disappointing 4% growth rate in the third quarter.
Starbucks overall same-store sales for the fourth quarter rose 4% for the second straight three-month period and came in below Wall Street estimates for a 4.8% increase. Prior to the third quarter, Starbucks had notched an impressive 25-quarter stretch of 5% same-store sales growth or greater.
Net sales rose 16% from the prior year to $5.71 billion, surpassing analyst forecasts of $5.69 billion. Earnings tallied 56 cents a share, narrowly surpassing estimates for 55 cents a share.
"Starbucks U.S. same-store sales peaked about this same time last year; and investors have grown cautious as Starbucks now laps these tough sales comparisons," wrote analysts at Credit Suisse ahead of the results. Shares of Starbucks are down about 12% so far this year in large part because of fear of slowing sales in the U.S.
The disappointment for Starbucks was worse outside the U.S.
Europe notched a 1% same-store sales drop likely due to reduced tourism in key markets such as France in the wake of several high-profile terrorism incidents. Wall Street saw sales for Starbucks Europe falling 0.4%. Even in the Asia Pacific region, where Starbucks continues to aggressively open new stores in regions like China and expand its offerings, came up short relative to Wall Street expectations. Same-store sales in Asia Pacific increased 1%, shy of forecasts for a 5.4% gain.
Starbucks guided to fiscal year earnings of $2.12 to $2.14 a share on a midsingle-digit percentage same-store sales increase. Wall Street had anticipated $2.16 a share.
The coffee giant pegged first-quarter per share earnings at 50 cents to 51 cents, below analyst forecasts for 55 cents a share. Starbucks executives acknowledged on the call that same-store sales in the first half of the year may be slower than its full-year projection due to the macroeconomic uncertainty. Sales may pick up later in the year, however, on the back of several new initiatives such as suggested product selling on the Starbucks mobile app and new product introductions.
Starbucks is a holding in Jim Cramer's Action Alerts PLUS Charitable Trust Portfolio. Want to be alerted before Cramer buys or sells SBUX? Learn more now.
Action Alerts PLUS, which Cramer co-manages as a charitable trust, is long SBUX.