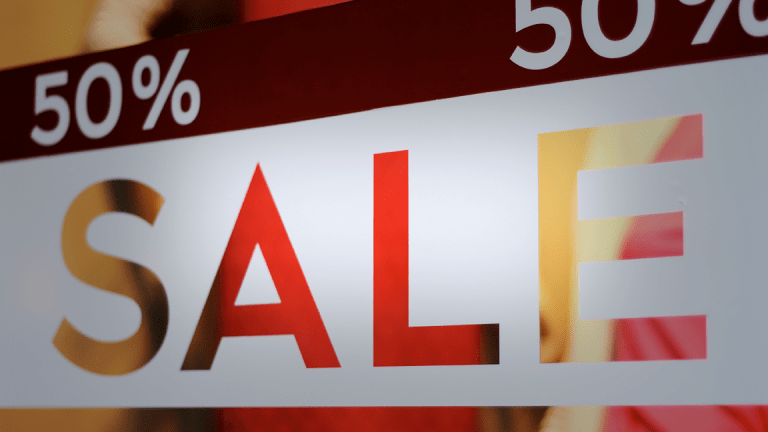 Why Does a Woman's Razor Cost $1.08 When a Man's Razor Only Costs 75 Cents?
Blame it on the so-called 'pink tax,' where products aimed at women cost more than similar ones designed for men.
The so-called "Pink Tax" is neither pink nor a tax. Rather, it's alleged gender-based price discrimination that critics say consumers face when buying items aimed at girls or women vs. almost identical goods that are gender-neutral or designed for males.
In honor of March's Women's History Month, TheStreet did an informal scan of prices both online and in stores and found that the pink tax is alive and well. Consider these virtually identical polo shirts for sale on the website of The Children's Place (PLCE) - Get Children's Place Inc. (The) Report  :
The girl's shirt above costs $5.18, but the boy's version is only $4.38. (The Children's Place did not reply to a request for comment.)
TheStreet also found Duane Reade, a Manhattan drug-store chain owned by Walgreens Boots Alliance (WBA) - Get Walgreens Boots Alliance Inc. Report , selling a 13-pack of Gillette Daisy Classic razors for women for $13.99 -- or $1.08 per razor -- while a 10-pack of Bic Comfort Twin razors for men cost just $7.48, or 75 cents per unit:
What's the big deal about paying a few extra pennies for a shirt or a razor? Experts say the problem is that over a lifetime, the pink tax can cost female shoppers thousands of dollars.
"Women shouldn't be charged more for products based on gender, particularly because of the pay gap," Surina Kahn, CEO of the Women's Foundation of California, told TheStreet. "Women are paying more [because of the pink tax] and earning and owning less." (According to Pew Research, women earned 83% of what men made in 2015.)
TheStreet found that other goods and services that appear to face a pink tax include:
Onesies for baby girls rather than baby boys;
Jeans and polo shirts made for girls and women;
Toiletries that have the word "Woman" on a pink- or pastel-colored bottle or wrapper;
Other items fabricated in the color pink;
The pink tax often also extends to charging female buyers more for cars, haircuts and dry cleaning. In fact, just about the only exception is car insurance, where women typically pay less than men due to statistically lower accident rates.
A 2015 study by New York City's Department of Consumer Affairs entitled From Cradle to Cane: The Cost of Being a Female Consumer foundthat women's products cost 7% more on average than comparable items for men. Researchers scouted online and in-store prices at two dozen New York City retailers and found that:
Personal-care products aimed at women cost 13% more than similar goods for men;
Home-health-care products for females were 8% higher than what men pay;
Adult clothing averaged 8% more for women than men;
Girls' toys and accessories ran 7% extra vs. boy's toys;
Clothing for girls cost 4% more than similar items for boys.
Rep. Jackie Speier, (D-Calif.) introduced a bill in 2016 designed to end the pink tax and gender discrimination in pricing nationwide, but it failed to pass. She plans to reintroduce it in the future. And among individual states or localities, California banned gender-based price discrimination for services in 1995, followed by similar legislation Massachusetts, Washington, D.C., and some Virginia counties.
What can you do to avoid the pink tax if you shop for women or girls?
Experts say you should be a smart shopper and always compare prices in stores and online. "The corporate sector, policymakers and community advocates can bring this issue to the fore so people are aware that women and girls are paying more for goods and services marketed to them," said Kahn, the CEO of the Women's Foundation of California. 
She added that retailers should remember that women "are making a lot of the family's financial decisions. They will seek out companies that offer fair pricing."