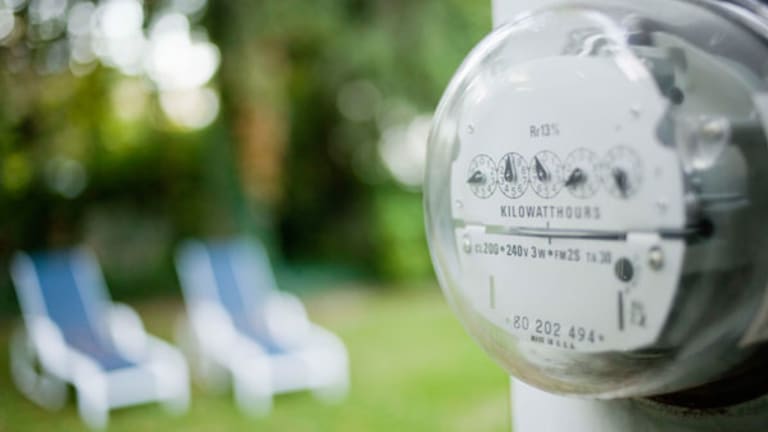 Publish date:
The Payoff for Nuclear Power Looks Dim
A host of hurdles await a plan to boost the atom's share of energy creation.
A host of hurdles await a plan to boost the atom's share of energy creation.
SAN FRANCISCO -- A flurry of interest in nuclear energy has bolstered hopes that it will help meet the country's growing energy needs without saturating the atmosphere with greenhouse gases.
But this resurgence of interest may be creating a mushroom cloud of hype that's blocking the view of reality.
Shares of
NRG Energy
(NRG) - Get Report
began rising last week after the company submitted plans to build two new reactors at its existing South Texas facility, a move that was applauded by pro-nuclear members of Congress who vowed to push through approval.
The growing interest in nuclear energy stretches well beyond the borders of the U.S. and into Europe and Asia, lifting the stocks of companies in the industry. The
Dax Global Nuclear Energy Index
has risen more than 45% over the past year and 81% over the past two years.
To take advantage of nuclear energy's tail winds, securities firm
Van Eck
recently rolled out its
Market Vectors Nuclear Energy
(NLR) - Get Report
exchange-traded fund, which invests in the companies listed in the Dax index, such as
Cameco
(CCJ) - Get Report
,
USEC
(USU)
and
Hitachi
( HIT).
But the industry continues to face vexing problems -- from a shortage of engineers and reactor parts to where to store spent nuclear fuel. All of these serve to tie the hands of regulators and power providers looking to increase nuclear's contribution to the nation's energy mix.
In the short term, the industry will struggle just to make improvements to the existing fleet of 103 U.S. reactors and the 435 plants in operation worldwide.
The handful of plants on the drawing board today, which will likely start up between 2015 and 2018, will hardly be able to keep pace with growing demand for energy as older facilities shut down. More reactors will be needed simply to maintain nuclear energy's current contribution to the supply of energy in the U.S., says Richard Lester, a nuclear engineering professor at the Massachusetts Institute of Technology.
"We'll need significant numbers of new reactors between 2015 and 2050 simply to keep up the 20% market penetration that nuclear has today," said Lester. "And to meet the goal of deriving 40% of the energy supply from nuclear by 2030, we'll need scores of them."
The Nuclear Regulatory Commission expects to receive applications for over 30 new power plants from 17 companies. But most of the development has focused on extending the life of plants currently in operation.
The NRC has already granted licenses to extend the life of 48 aging nuclear power plants by 20 years. The process requires sophisticated computer models to gauge the wear and tear on facilities from years of exposure to high temperatures and radiation levels.
But it spares companies the enormous cost of building a facility from scratch. "Extensions allow power providers to continue using an existing asset that has largely been paid for and creates energy well below the cost of natural gas," says Neil Gerber, an energy industry consultant with
IBM
(IBM) - Get Report
. He's part of a team of IBM engineers that help energy providers create models for new reactor designs and plan the information systems for plant safety and operations.
Gerber recites a common refrain among nuclear enthusiasts: Electricity from nuclear power is much cheaper to generate than gas and coal.
But the comparison is less favorable when considering the $3 billion price tag and risks of building nuclear facilities from scratch.
Another problem is the scarcity of engineers like Gerber with knowledge of the nuclear industry. Engineering students have shunned the practice because there were so few jobs available after the Chernobyl and Three Mile Island disasters froze the industry in its tracks.
Also, falling prices of oil and natural gas in the following years dampened the need for nuclear power and related expertise.
"We've lost a whole generation of nuclear engineers that couldn't find jobs in the industry," says Chris Hansen, an engineer who now works as an analyst at Cambridge Energy Research Associates. "The industry is moving to address this, but there's no question that it's a hurdle and it can pace the development of new facilities."
Hansen is nonetheless optimistic about the nuclear renaissance. The latest reactor designs include technology that reprocesses spent fuel and magnifies the output of nuclear plants by 10 times or more, he says. Under those circumstances, the current supply of uranium could provide power for over 1,000 years while holding down the level of radioactive waste produced.
MIT's Lester, however, says reprocessing spent fuel does little to curb the volume of waste generated and adds considerably to the cost of running a nuclear power plant. The added expense could make nuclear power less competitive with natural gas, especially if gas prices come down again.
Despite the skeptics, for many people in the industry, the only uncertainty about the role of nuclear power is how much the world will rely on it.
"It's unthinkable that we can address energy demands and environmental issues without including nuclear in the portfolio of energy sources," says Guido Bartels, general manager of IBM's Global Energy and Utilities division.
Bartels' portfolio concept underscores the fact that nuclear power can't replace fossil fuels or alternatives like hydropower and wind power. It's best used as a baseline source of power to "keep the lights on," says Cambridge's Hansen, while gas plants can be cranked up or down as demand fluctuates.
The Tennessee Valley Authority, for example, has three reactors that contribute about 30% of its total power output. The Authority recently committed $2.49 billion to complete the Watts Bar nuclear power facility it stopped building in the aftermath of the 1979 disaster on Three Mile Island.
As that event recedes into memory, political winds have shifted in favor of nuclear power. The Tennessee Valley Authority, for example, found that 86% of the people surveyed within 10 miles of Watts Bar favor the use of nuclear energy, while 88% agreed with the Authority's decision to complete the plant's unfinished unit.
And a national survey recently prepared for the Nuclear Energy Institute found that 85% of American adults said nuclear power should be included in a mix of low-carbon alternatives to fossil fuels.
Skeptics and enthusiasts agree that the public support for nuclear energy can dry up quickly if an accident occurs -- or if the industry is tainted by proliferation of nuclear weapons.
"Right now, the trends are moving in the right direction because the industry's safety record is improving and people becoming more comfortable with nuclear energy," says Van Eck spokesman Harvey Hirsch. "But that's not to say trends won't change. If you have an event like Three Mile Island, that will affect public's perception of nuclear as a viable energy source."