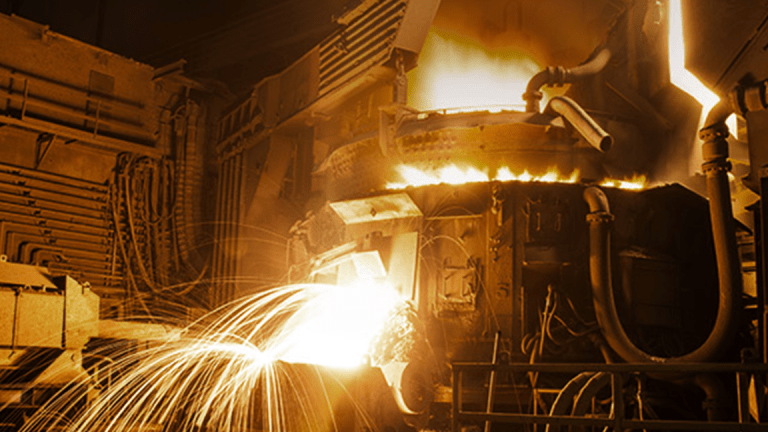 Word is that the United States now plans to allow the European Union's exemption to President Trump's announced 25% tariff on imported steel, and 10% tariff on imported aluminum, to lapse. However, keep in mind that this is the Trump administration.
What does that mean?
Simply put, this means to me that the situation remains fluid until it does not. Plans often change, and negotiations on leveling playing fields may continue even as tariffs are imposed. Perhaps that is just the leverage that the president is looking for.
Are These Tariffs Playable?
The only name in this space that I remain long at this point is Action Alerts PLUS holding Nucor (NUE) - Get Nucor Corporation Report , and really the stock had gone sideways for most of 2018. Why did I hang on? For the same reason that I initiated a long position in the first place. For exposure to events such as this. Way back on April 19, Nucor reported a solid first-quarter beat for both earnings and revenue expectations. Revenue at that point had increased 15% year over year.
The company flat out told you in the post-earnings call that earnings should significantly increase in the second quarter, based on the already in place tariffs that really targeted the dumping of Chinese steel and its sometimes circuitous route to U.S. markets.
Adding Europe to those impacted by these actions only enhances the thesis for Nucor. Yes, these events are playable. I like to throw risk-reducing options trades at you with my equity trades. Obviously with the equity having closed at $64.10 on Wednesday, and trading above $65.50 in "pajama land," pricing the options market is unrealistic until the bell rings. You may have to go that route on your own this morning.
This daily, year-to-date chart, above, does enough to inform the trader. One easily sees both the support shown at both the 200-day simple moving average, as well as a rough 61.8% Fibonacci re-tracement of the initial move higher.
More interestingly, we see the closing giant flag or pennant formation indicating to me short-term violence without indicating direction. This morning's news has now determined direction for us, and in my opinion, will permit the name to obey the pitchfork.
Target Price: $77
Panic Point: $61
We'll need two developments for this trade to work.
1) The tariffs on steel and aluminum must stay in force.
2) We'll need a couple of months. Perhaps late July or August to hit our target.
P.S.: Nucor reports on July 19. Take a look at July 20 $62.50 puts after the open. They last traded at $2.05, but you will not see a premium like that this morning. There may, however, be some value there for the taking subject to some headline risk going forward.
At the time of publication, Guilfoyle was long NUE equity.