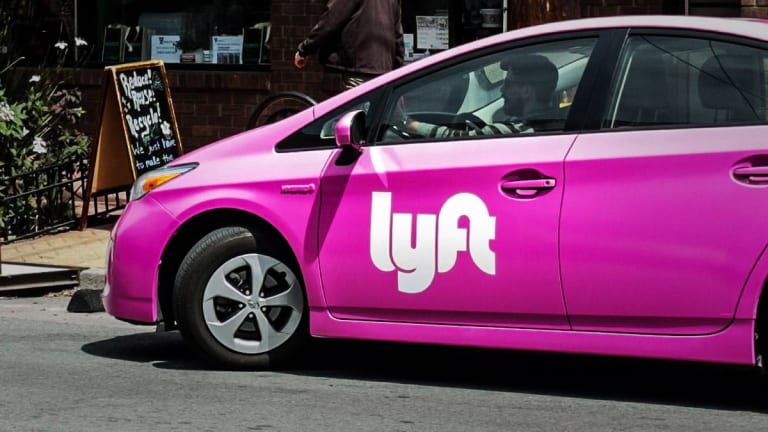 Lyft Will Be Relying on One Unorthodox Number to Sell Its IPO
'Contribution' is a rather brazen attempt to put the best economic face on the ride-sharing firm's operations.
Every tech company that comes to market does so with its own intriguing set of metrics that are distinct from what's in standard financial filings. And that's certainly true of ride-sharing service Lyft, which a week-and-a-half ago released its IPO prospectus.
The one number that will be hammered home repeatedly, as Lyft goes on its roadshow shortly, is "contribution." That number, as distinct from the massive losses noted by Eric Jhonsa last week, shows a sliver of hope this can be a highly profitable entity -- someday.
Lyft's prospectus filing comes after the company initially filed for its IPO confidentially with the Securities & Exchange Commission back in December, at the same time as its much larger rival, Uber, whose exact finances remain a mystery. 
Contribution, which is not in accordance with "generally accepted accounting principles," or GAAP, is a metric that Lyft management describes as a "key measure" of the company's "ability to achieve profitability and increase it over time."
Contribution is the difference between a profit of $921 million last year, and the actual net loss of $911 million that the company reported on a GAAP basis, on revenue in 2018 of $2.2 billion. 
The company arrives at it by stripping out all the normal costs of business after the immediate cost of revenue -- i.e., the cost to pay and insure drivers, process charges and pay hosting and other fees to run the Lyft ride-sharing network.
That means ignoring operating costs, research and development, sales and marketing, and general and administrative costs. The company even strips out three items from its actual cost of revenue -- the amortization of intangible assets, stock options expense and insurance reserves, making the cost of revenue appear less than it actually is.
In other words, contribution is rather like gross profit but sweetened up a little bit, with none of the annoying operating expenses that go with running a company.
On that basis, the company had a contribution margin amounting to 43% of its revenue in 2018, up from 38% the year prior and 24% the year before. That's a nice profit trend if one has no other expenses save for those attached to the immediate ride itself.
All in all, it's a brazen tactic that paints a picture of a company that almost doesn't exist as a company.  
Imagine a giant computer in the sky, with no human employees, just a bunch of contractors out there on the road being directed by smart software to pick up customers. It's a far more attractive picture than the big loss last year that resulted from Lyft actually having to lease and maintain office space, pay salaries to employees, run R&D programs, buy advertising and do all the other things that usually go with actually being, you know, a company.
How will it play with investors? As stated earlier, companies have for years embedded such fake financials in their materials. The point is to show that there is underlying "leverage," as they say on Wall Street -- hypothetical pure profit streams that never actually exist but that come closer to existing as the total volume of business overwhelms the day-to-day operating costs.
While "bookings," the gross amount of dollars Lyft made from fares, rose by 76% last year, its contribution number rose by 130%, as the expanding contribution margin retained more of those dollars booked. 
That's the kind of thing that for years bulls on Amazon (AMZN) - Get Amazon.com Inc. Report gushed about. Despite Amazon's razor-thin retail profit margins, the company was always posited by fans as a company that could yield substantial profit as its volume of business began to outstrip its fixed costs. 
Eventually, it did, in fact, pay off for Amazon. These days, it generates tremendous cash flow annually -- $19.4 billion last year, after paying for property and equipment, according to its 10-K filing.
However, in the case of Amazon, over half of the company's operating profit in 2018 was made on its cloud computing unit, Amazon Web Services, which has a 28% operating profit margin, versus a 5% profit margin for Amazon's North American retail sales business, and a negative profit margin in its international sales.
In other words, when Amazon became the cloud titan starting in 2007, thirteen years after its founding, it changed the company's finances.
Is something similar in the works, someday, for Lyft?
It's hard to see it. Right now, the company consists of one computer application for routing drivers. That one application brought in $2 billion in revenue for the company las year, versus $26 billion in revenue at Amazon's AWS.
If Lyft is someday going to look more like Amazon's big cloud outfit, there has to be something else that's going to increase that top line dramatically for the company, in order to yield gross profit that ultimately ends up being real and significant net profit. 
Right now it's not clear what that something else will be. So remember to ask about it -- all year-round -- when you hear the company endlessly talking up its contribution profit.
Amazon is a holding in Jim Cramer'sAction Alerts PLUS Charitable Trust Portfolio. Want to be alerted before Cramer buys or sells AMZN? Learn more now.
How Much Money Will I Need to Retire?
Want to learn about retirement planning from some of the nation's top experts? Join TheStreet's Robert "Mr. Retirement" Powell live in New York on April 6 for our Retirement Strategies Symposium. For a limited time, tickets are available for $99 for this full-day event. Check out the agenda, learn about the speakers and sign up here.
Tiernan Ray neither owns nor trades any shares of any companies discussed in this article.