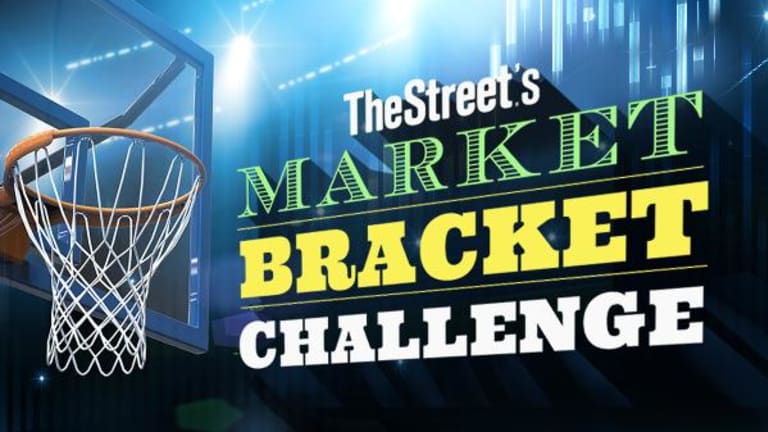 Publish date:
Here's a Look at the 64 Best Performing Stocks Over the Last 4 Months
The top 64 companies taking a trip to TheStreet's 2017 Market Bracket Challenge tournament.
The top 64 companies taking a trip to TheStreet's 2017 Market Bracket Challenge tournament.
As mentioned in the introduction to TheStreet's Market Bracket Challenge we are trying something a little different this year. 
We have ranked some of the best-performing and most widely held stocks in the S&P 500, based both on their appreciation over the past four months and their prospects for the coming weeks. 
TheStreet picked the top-performing companies based solely on a percentage increase over the past four months. We weeded out companies that were currently the target of an announced deal (exceptions being Time Warner (TWX) and AT&T (T) - Get AT&T Inc. Report , because, why not?) and only choose stocks that have a primary listing in the United States.
We picked the top 40 or so stocks based on their performance and also awarded 24 "editorial at-large" bids based on track record, popularity and a staff-wide vote. So when you ask yourself "Why is Apple (AAPL) - Get Apple Inc. (AAPL) Report or Snap (SNAP) - Get Snap, Inc. Class A Report or Exxon (XOM) - Get Exxon Mobil Corporation Report ranked so low? or "Where is Tesla (TSLA) - Get Tesla Inc Report or Microsoft (MSFT) - Get Microsoft Corporation (MSFT) Report ?" Remember, TheStreet's rankings are based solely on performance, not politics. Sorry Elon Musk and Satya Nadella, despite being storied programs, you just didn't measure up when it counted over the last four months.
The stock performance is decided on shear appreciation and percentage change. It does not take into account dividends of any kind. If a company pays a dividend during the tournament the dividend would not be factored into the performance return.
You can enter here to make your selections. But before that, do a little research and judge how these 64 stocks might perform over the next week or so.
DISCLAIMER: This challenge is for entertainment purposes only. There is not a prize associated with this challenge. All trademarks are the property of their owners. This challenge is not sponsored, endorsed or administered by any such trademark owner. Question can be sent to bracketchallenge@thestreet.com.