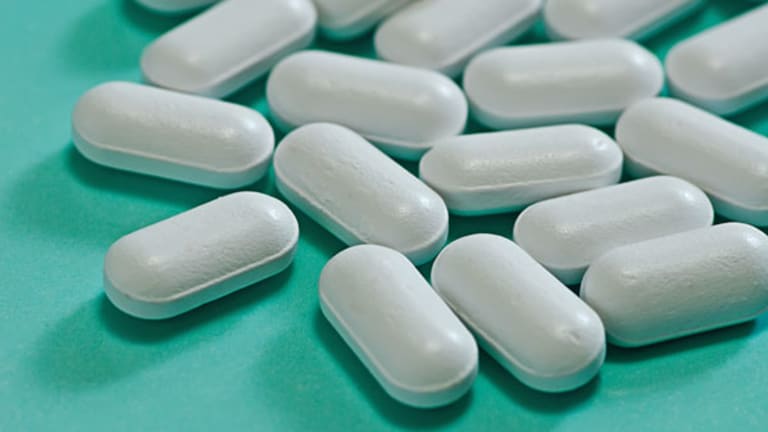 Now that Gilead Sciences (GILD) - Get Gilead Sciences, Inc. (GILD) Report has won U.S. approval for Sovaldi, investors will shift quickly to focus on tracking the hepatitis C drug's commercial launch.
Gilead is expected to sell a lot of Sovaldi -- and fast. Sell-side analysts, on average, are forecasting U.S. sales of $2.2 billion in 2014, ramping to $6.1 billion in 2015 and $8.5 billion in 2016.
Institutional investors, on average, believe first-year Sovaldi sales will total $2.6 billion, according to a recent survey conducted by ISI Group analyst Mark Schoenebaum.
How does Gilead get to $2 billion-plus in Sovaldi sales in a single year?
The company hasn't provided any sales guidance for the hepatitis C pill yet but here's the roadmap predicted by sell-side analysts:
The company will use the first quarter of 2014 as warm up, delivering "just" $194 million in Sovaldi revenue. The accelerator hits the floor in the second quarter 2014 with sales jumping to $419 million. Third quarter: $611 million. Fourth quarter: $869 million.
[These quarter estimates adds up to $2.1 billion, which is the "old" analyst consensus from two weeks ago. Numbers are already going up.]
Don't worry if you're having a hard time fathoming how a single drug can deliver $2 billion-plus in its first year on the market. It's never been done before.
Vertex Pharmaceuticals' (VRTX) - Get Vertex Pharmaceuticals Incorporated Report hepatitis C drug Incivek is the current "Fastest Drug Launch Ever" champion.
Approved in May 2011, here's what Incivek sales looked like its first four quarters: $75 million, $420 million, $457 million, $357 million. Total: $1.3 billion.
So, the first year of Gilead's Sovaldi launch is supposed look like Incivek times two.
Amazing.
I'm only discussing the average consensus expectations here. If you really want to blow your mind, consider the uber-bull thesis of Deutsche Bank's Robyn Karnauskas. She predicts 2014 U.S. Sovaldi sales of $4.5 billion, peaking at $17.3 billion in 2017.
In other words, Karnauskas believes Sovaldi will become the biggest selling drug in history, easily surpassing the $13 billion a year brought in by Pfizer's (PFE) - Get Pfizer Inc. Report cholesterol drug Lipitor in its heyday.
Karnauskas is to Gilead and Sovaldi what former UBS analyst Meirav Chovav was to Genentech and its cancer drug Avastin. Those with some biotech investing history will remember back to 2003 when Chovav wowed investors with a report predicting Avastin sales of $10 billion annually. Chovav over-reached so we'll see if Karnauskas can do better.
Gilead priced Sovaldi at $1,000 per pill, so a 12-week regimen (the most common treatment duration for hepatitis C patients) will cost $84,000.
Let's do some cocktail-napkin math:
To deliver $2 billion in 2014 sales, Gilead would have to treat 23,800 hepatitis C patients, based on the $84,000 Sovaldi price tag. [Sovaldi will be discounted, perhaps by 20% or more, so the actual number of patients will be higher, but this is just rough math.]
Approximately 3-4 million Americans suffer from hepatitis C, so treating 24,000 patients isn't all that much.
At the peak, Vertex and Merck (MRK) - Get Merck & Co., Inc. (MRK) Report (which sells the hepatitis C drug Victrelis) were treating 7,000 genotype 1 patients with per month combined, says Deutsche Bank's Karnauskas. She adjusts upwards by 25% to account for Sovaldi's approval to treat the hepatitis C genotypes, so 8,750 patients per month.
This implies Gilead could treat 100,000 hepatitis C patients in a year just by matching the peak commercial performance of Vertex and Merck i.e. not doing any better and not taking into account Solvadi's superior efficacy and convenience. Karnauskas is "conservatively" estimating Gilead treats 60,000 hepatitis C patients in 2014.
Other factors to consider: Will insurers accept or balk at paying $84,000 for Sovaldi? Will they demand patients try less expensive therapies first, like Johnson & Johnson (JNJ) - Get Johnson & Johnson (JNJ) Report and Medivir's  newly approved Olysio, for example?
Gilead will also face competition from an equally effective combination regimen from Abbvie (ABBV) - Get AbbVie, Inc. Report and Enanta Pharma (ENTA) - Get Enanta Pharmaceuticals, Inc. Report.
Interesting times ahead!
Before I let you go, I want to end with two stock charts which I find really interesting because they show in stark terms just how much Gilead (and its shareholders) have gained from the November 2011 acquisition of Pharmasset. This is the deal that delivered Sovaldi into Gilead's hands.
You may not remember but before Gilead bought Pharmasset for $11 billion, investors were not happy with the company at all. Gilead's core HIV drug franchise was seen as stagnating and in jeopardy of declining once patents expired in 2017 or so. Gilead's efforts to diversify beyond HIV were not very successful. Among the big-cap biotechs, Gilead was very much unloved.
This is a two-year chart that ends in November 2011, which is when Gilead bought Pharmasset. As you can see, Gilead was the worst performer among the big-cap bioechs. Celgene (CELG) - Get Celgene Corporation Report, Amgen (AMGN) - Get Amgen Inc. Report and Biogen Idec (BIIB) - Get Biogen Inc. Report all out-performed Gilead.
 And then Pharmasset transformed Gilead into a hepatitis C powerhouse.This chart starts in December 2011, so right after the Pharmasset acquisition, and continues to the present:
 A complete turnaround for Gilead.
Pretty cool. 
-- Reported by Adam Feuerstein in Boston.
Follow Adam Feuerstein on Twitter.
Adam Feuerstein writes regularly for TheStreet. In keeping with company editorial policy, he doesn't own or short individual stocks, although he owns stock in TheStreet. He also doesn't invest in hedge funds or other private investment partnerships. Feuerstein appreciates your feedback;
to send him an email.