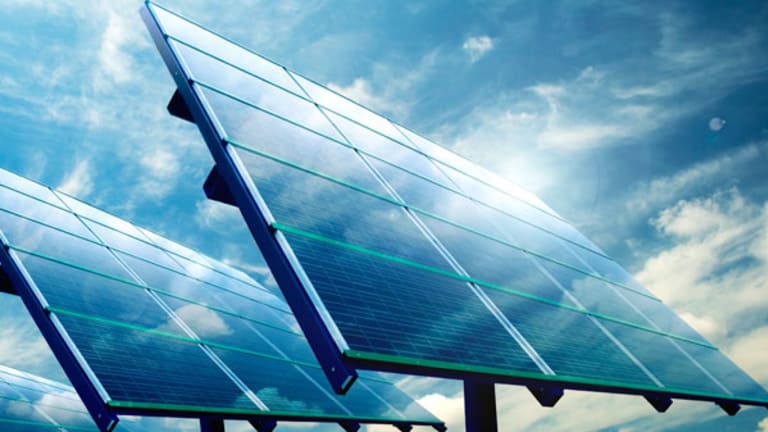 The Next Great Alternative Energy Short Is...
An analyst synonymous with shorting the solar sector chooses his new target within alternative energy.
NEW YORK (
) -- What does an analyst who was synonymous with the big solar stock short do for an encore? The answer is to find a way to short excessive excitement about the electric car market.
On Monday, Axiom Capital analyst Gordon Johnson, who had a long-time, very vocal and very profitable short on
First Solar
(FSLR) - Get Report
, launched coverage of battery maker
Polypore
(PPO)
at a sell. Polypore makes separators that are critical in regulating the flow of ions in batteries, including the lithium ion batteries now being developed for the electric car market.
There will be blood among suppliers of battery technology to the electric car market: analyst.
Shares of Polypore, which have risen 21% this year -- and up from a 52-week low -- were down 6% on Monday morning to $53.
Johnson initiated his sell rating on Polypore with a $26 price target, implying 54% downside from its opening price on Monday.
In the solar stock sector, the short argument relied on two ideas. First, that the sector was headed for massive oversupply and the market expectations for growth of sales were driving up multiples of stocks to excessive levels. Second, and when it came to First Solar specifically, the fact that key executives left the firm over a period of a few years and many insiders were selling shares suggested to First Solar shorts including hedge fund manager Jim Chanos that all was not right at the solar company.
Johnson's Polypore short relies on assumptions related to both of those solar short debate points. The analyst thinks that the electric car market growth assumptions on which Polypore's multiple is based exaggerates the opportunity relative to coming supply. The analyst also points to insider selling by Polypore executives.
Since January 2011, Johnson said he has noticed "a troubling trend among the executives at PPO."
CEO Robert B. Toth has sold 403,000 of his total 450,000 shares (i.e., 89%) for a profit of $24.5 million
CFO Lyn Amos has sold 52,000 of her total 64,000 shares (i.e., 81%) for a profit of $3.3 million
VP Pierre Hauswald has sold 84,000 of his total 84,000 shares (i.e., 100%) for a profit of $5 million
VP Mitchell Pulwer has sold 70,000 of his total 70,000 shares (i.e., 100%) for a profit of $3.8 million
VP Phillip Bryson has sold 46,600 of his total 54,000 shares (i.e., 86%) for a profit of $3.1 million
"Stated differently, in aggregate, PPO's top 5 executives have 'exited' 91% of their vested stock holdings since January 2011; forewarned is forearmed," Johnson wrote in his note.
On the issue of market hype getting ahead of market fundamentals -- which was the downfall of solar stocks in 2011 -- Johnson writes that "the 'hype' surrounding electric-vehicle sales has contributed to an unsustainable increase in separator capacity relative to the market size." The dynamic is misunderstood by investors, and that creates a market dislocation/shorting opportunity, the analyst argues.
Since 2010, lithium ion batteries used in electric vehicles (21.3% of 2010 sales) has been by far the fastest-growing business segment for Polypore. The 2010 sales figure refers to electronic market sales, not electric cars specifically, but Johson believes that in the future the electric car market has to be a bigger part of that growing segment for the company to justify its current multiple -- 21x the Wall Street 2012 EPS estimate of $2.71.
"With a widely anticipated explosion in Li-Ion electric vehicle sales by the lion's share of market pundits, and the fact that Li-Ion batteries used in electric vehicles require 300-400x more separator material than laptops, consensus expectations are for ebullient growth of Li-Ion separator sales driven largely by the penetration of Li-Ion vehicles as a percentage of aggregated vehicle sales. Yet, while we acknowledge that the initial capacity ramp by electric vehicle battery manufacturers resulted in a shortage of separator material 2009-2010, thus driving prices higher, we believe investors are grossly underestimating the enormous amount of separator capacity being added relative to the total addressable market (TAM) size," Johnson argued.
Axiom Capital estimates that separator capacity being added is sufficient to support 2.3 million in annual electric vehicle sales, 12x and 6x greater than the amount of electric vehicles that will actually be sold in 2012 and 2013, respectively.
"Over the course of the next 12 months as additional separator capacity comes online, we expect deteriorating order volume from battery companies for material, thus driving Li-Ion separator pricing lower. We believe PPO's margins peaked in 2011, and see severe risk to the company's operating margins in 2H12/2013 as pricing pressures mount," Axiom said.
Polypore has been the only stock to play in the emerging lithium ion battery space.While President Obama
called out high-tech batteries as an alternative energy sector where the U.S. will not cede its manufacturing prowess, the fate of lithium ion battery stocks has been grim.
Polypore sells into the traditional lead acid battery space and into the lithium ion market for all electronics, but it's the electric car market outlook that Johnson focuses on in saying that investors are missing the carnage to come -- his report is titled "There Will Be Blood."
A123 Systems
( AONE) shares have declined 90% since its IPO three years ago. It remains beholden to the ramp from electric car maker
Fisker
. A123 Systems has burned through a mountain of cash and continues to lose money on every battery it sells. While negative gross margins are typical of high-risk emerging industries, the cash issues at A123 Systems have made it a terrible investment.
Recently, when Fisker announced a delay in its ramp, Wunderlich Securities analyst Theodore O'Neill described it as a positive for A123 because it meant the battery company wouldn't have to spend as much cash in the short-term, a sign of just how tight the cash situation is.
A123 peer,
Ener1
( HEV), last year embarked on a shift in strategy as its business fortunes flailed, with its CEO saying the electric car market would take years to be profitable and it would instead focus on energy storage opportunities in the utility space. The Ener1 CEO was later ousted and the company now trades as a pink sheet.
Sales of GM's Volt
have recently stalled. In 2011, the Chevrolet Volt sold 7,621 units, moderately short of the 10,000 goal. For 2012, Chevrolet's goal is to sell 45,000 Volts in the U.S., and 15,000 internationally.
Medis reports are now suggesting that U.S. sales of the Volt have stalled at a relatively low level near 1,000 units per month, and dealers are being asked to take more Volts than they believe they will be able to sell in early 2012.
At Fisker, the reining in of expectations has been a constant: Fisker has cut its build plan for the Karma to 10,000 units in 2012, down from 20,000 at the beginning of 2011, from 15,000 in November, and from 12,000 in late 2011.
Calling the "best" short in alternative energy is a matter of timing. For example, Johnson's call on solar supply exceeding demand was too early in 2010, but by 2011, it played out and reaped rewards for shorts that held their conviction through the last solar boom of 2010. Stifel analysts recently took on the issue of oversupply in a report on the lithium ion battery market.
In noting the investment in the battery space, Stifel asked, "Will these investments create an oversupply situation that will inevitably create pricing and margin pressure across the EV supply chain? Over the near-to-medium term (2012-2013), we feel this is unlikely; however, given the 35mn kWh of announced longer-term expansions, we do see a possible oversupply situation in the 2015 time frame depending on the slope of the inevitable increase in penetration rates of 'xEVs'. We also want to emphasize that unlike battery capacity investments, which tend to be large, lumpy and years ahead of demand, lithium ion separator capacity ramp timing is matched to underlying vehicle production ramp timing, which should ease concerns of a looming oversupply of separator capacity."
-- Written by Eric Rosenbaum from New York.
RELATED STORIES:
>>Don't Be Fooled, Warren Buffett Doesn't Like Solar Stocks
>>Google, KKR Deal on Fringe of Solar's Future
>>Solar Rally Has Legs, But Don't Expect Profits
>To contact the writer of this article, click here:
Eric Rosenbaum
.
>To follow the writer on Twitter, go to
.
Follow
TheStreet
on
and become a fan on