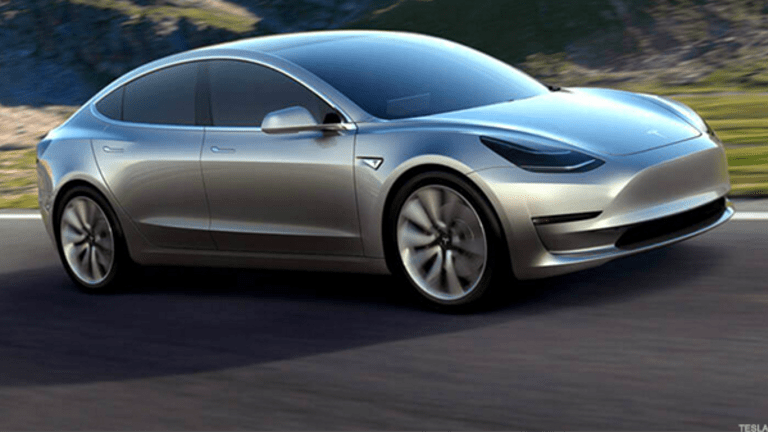 The Model 3 Looks an Awful Lot Like Tesla's iPhone Moment
Tesla's first mass-market electric car appears to be years ahead of GM's Chevy Bolt and other rivals.
In an astute column regarding Tesla Inc.'s (TSLA) - Get Tesla Inc Report  July 28th unveiling of its much-hyped Model 3 sedan, The Verge's Vlad Savov pointed out several similarities between the Model 3 and Apple Inc.'s (AAPL) - Get Apple Inc. (AAPL) Report  first iPhone. Among them: A minimalist interface that contains few buttons, the use of over-the-air software downloads to add powerful new features and an ability to bring advanced technologies to relatively affordable price points.
There's one other important similarity, however: The Model 3, like the first iPhones, is a product for which the whole feels like much more than the sum of its parts. In other words, for which the pairing of well-engineered and well-designed hardware with innovative software and services provides both an air of no-frills luxury that comparably-priced rival products can't match, and also delivers unique features with practical value.
Watch:First 30 Tesla Model 3s Delivered, Check Out the Key Specs
It took years for Apple's high-end smartphone rivals to -- with the help of Alphabet Inc./Google's (GOOGL) - Get Alphabet Inc. Class A Report software and cloud services -- deliver hardware that was competitive with the iPhone. And in the eyes of many iPhone loyalists, they still haven't fully eliminated the gap. Judging by where the competition stands today, the Model 3, whose base model costs $35,000, is opening up a similar lead.
To start, the Model 3 looks and feels like a luxury car. Whereas its primary electric-car rival, General Motors Co.'s (GM) - Get General Motors Company (GM) Report  Chevy Bolt ($37,500 starting price), has a design that brings to mind low-cost subcompact cars such as the Honda Fit or Kia Rio, the Model 3's styling is closer to that of a BMW 3-series sedan. And on the inside, initial reviewers note that features such as premium upholstery materials and a lack of traditional air conditioning vents -- air is pumped through a long vent built into the dashboard, with users able to control the angle at which air flows via the Model 3's touchscreen -- add to its sense of luxury.
Jim Cramer and the AAP team hold positions in Apple and Alphabet for their Action Alerts PLUS Charitable Trust Portfolio. Want to be alerted before Cramer buys or sells AAPL or GOOGL? Learn more now.
More of What's Trending on TheStreet:
So does the Model 3's much-discussed minimalist UI, which does away with the traditional instrument cluster and makes nearly all controls (outside of the steering wheel and pedals) accessible through a 15-inch touchscreen. And if a buyer pays an extra $5,000, he or she gets luxury-car perks such as a glass roof, 12-way front seats, a high-end sound system and inductive (wireless) phone chargers.
The Model 3 also performs like a mass-market luxury sedan -- and maybe then some. The base model has a 0-60 time of 5.6 seconds, while a $44,000 model clocks in at 5.1 seconds while also providing an extra 90 miles of range (310 miles versus 220).
The Bolt has a respectable, if less impressive, 6.5-second 0-60 time and provides 238 miles of range. But there's arguably a larger difference in handling ability. While Bolt reviewers generally found its handling to be acceptable, those testing the Model 3 have gushed over how it maneuvers. "The Model 3 is so [unexpectedly] scalpel-like, I'm sputtering for adjectives," says Motor Trend's Kim Reynolds. "The steering ratio is quick, the effort is light...And to mention body roll is to have already said too much about it."
There's also, of course, a big difference when it comes to in-car software. While the Bolt comes with a 10-inch touchscreen, reviewers have noted it lacks the functionality and refinement of Tesla's touchscreen UIs, the product of many years of software R&D investments that to date have been applied to the Model S sedan and Model X crossover. For example, there's no map-based navigation system in the Bolt's UI, nor is there a way to easily search for EV charging stations.
Watch: Tesla Is On Fire! Here Are 20 Eco-Friendly, Gas Conscious Vehicles.
On the flip side, the Model 3's near-total lack of traditional buttons or knobs might not sit well with some drivers used to relying on tactile feedback to control things like a stereo or an air conditioning system while keeping their eyes on the road. But Tesla's Model S and X buyers have come to accept this, judging by customer satisfaction ratings, and the same might ultimately hold for Model 3 buyers.
Then there's Tesla Autopilot, which for the time being remains the most advanced driver-assistance solution in deployment and can now take over for drivers in a number of real-world scenarios. As with Model S and X, Tesla will charge Model 3 buyers an extra $5,000 to activate "Enhanced Autopilot" features, and (when it arrives) $3,000 more to activate fully-fledged self-driving functionality.
Last but not least, Tesla's giant Supercharger network, which (for a modest fee) can respectively provide the base and long-range versions of the Model 3 with 130 and 170 miles of charging time in just 30 minutes, serves as a competitive advantage. Tesla now has 6,118 superchargers installed at 909 stations, and has promised to have over 10,000 by year's end. The Bolt, by contrast, has access to a much smaller number of DC Fast Charging stations from third parties: They can provide 90 miles of charging time within 30 minutes.
There are still some big question marks surrounding the Model 3 launch -- ones that matter a lot with Tesla, whose shares fell 3.5% on Monday to $323.47, sporting a $53 billion valuation. Perhaps none is larger than whether Tesla, after producing a relatively paltry 83,922 cars last year, can make good on plans to reach a 500,000-vehicle production run rate at some point next year, and in doing so fill a backlog of 500,000-plus Model 3 reservations in a reasonable amount of time. The company is certainly no stranger to missing aggressive production goals.
There's also the question of whether -- in spite of Tesla's big charging network investments -- the still-limited scope of the EV charging infrastructure found in rural parts of the U.S. and other Tesla markets will limit Model 3 sales among households looking to own only one car. That has been less of a concern with the costlier Model S and Model X, which have been bought to a large degree by households owning multiple cars.
But when it comes to the product itself, it's hard not to be impressed by what Tesla has pulled off. The company has finally made good on Elon Musk's long-promised goal of launching a quality mass-market EV, and has given it an end-to-end feature set that rivals in Detroit, Germany and Japan might not be able to match for some time. At least not at similar price points.
Tesla shares fell 1.2% to $319.59 on Tuesday afternoon.
Watch More with TheStreet:
Tesla's Elon Musk Is All Jokes as the Model 3 Accelerates Into 'Production Hell'