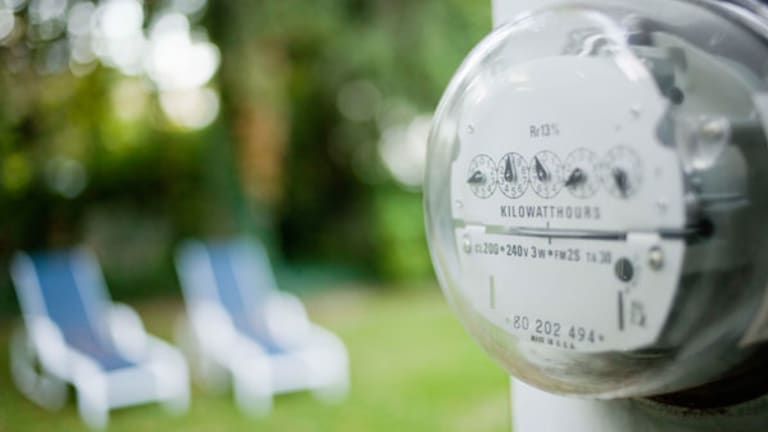 Publish date:
The Long, Slow Slog for Chesapeake Energy Begins
The easy money in Chesapeake Energy already has been made.
The easy money in Chesapeake Energy already has been made.
NEW YORK (
) -- If awards were given for the 2012 stock that excelled in the "bad company/good trade" category,
Chesapeake Energy
(CHK) - Get Report
would be up there.
Now, though, after easy money made by Carl Icahn and others, culminating in Chesapeake selling assets to cover a funding gap that had the company trading in a "death spiral" earlier this year, the stock is no longer a distressed play. From here on out, investors will find it difficult to eke out gains.
And so the long, slow slog for Chesapeake Energy begins.
That's the view of Stifel Nicolaus analyst Amir Arif, who downgraded Chesapeake from "buy" to "hold" Wednesday. He said the company has shifted from "distressed" to simply being another oil and gas play to be valued on basic metrics: enterprise value and earnings before interest, taxes, depreciation and amortization (EBITDA).
Based on enterprise value and EBITDA, "the discount on the name is not as attractive given the reduced, but remaining risks, still present in the name," he said.
After bottoming out at $13.32 in May, Chesapeake shares approached $21 earlier this month. The stock was back below $19 on Wednesday on the Stifel downgrade and oil hitting its lowest price since Aug. 3.
John Freeman, an energy analyst at Raymond James, wrote in an email to
TheStreet
that the current dip in oil isn't his biggest concern for the road ahead: "We're biased
because we have the lowest oil price outlook of anyone next year ($65 a barrel), so we project another big spending gap and continued asset sales through 2013 and more into '14."
Stifel estimates the 2013 free cash flow funding gap at $3.1 billion.
With Chesapeake striving to limit its natural gas production and tilt to liquids to the greatest extent possible, a bearish outlook on oil would limit gains for the entire sector from here, and raise the bar for an investment case in Chesapeake versus peers.
Stifel's Arif noted that natural gas pricing pressure will also make the way forward for Chesapeake shares more difficult, regardless of oil market assumptions. Arif argues that even a meaningful gas recovery "can be better captured with other gas-focused names."
Chesapeake Energy's ace-in-the-hole may also become a problem: CEO Aubrey McClendon had acquired so much in running up the biggest debt tab on any balance sheet in the industry (at least on a relative basis to market value), that there was always something he could sell when push came to shove.
Yet there's been $11.6 billion of asset sales already announced of a targeted $13 billion to $14 billion. And key asset sales have come from oil-rich plays (Permian) and midstream assets, both of which have strong demand in the current market. Midstream assets have been the most prized assets among all recent oil and gas deal activity.
Consider, by contrast, Chesapeake's oil-service business, which McClendon not too long ago tagged with a $7 billion to $10 billion value, and its one-third stake in Frac-Tech, which it planned to IPO a year ago, a deal that has disappeared from the market radar and had the CEO lamenting in the press the lack of market understanding of asset values. McClendon said he just wished everyone understood what he had to sell, like the sovereign wealth funds and national government-owned oil companies did. To date, they haven't stepped in to touch the oil-services assets either.
Any future asset sales won't have the "same market interest," meaning they may not reflect fair market values, Arif wrote.
Aubrey avoided a long, slow slog into oblivion, but is it onwards and upwards from here?
"Incremental investors will be putting a greater focus on the EV/EBITDA valuation rather than the P/NAV
price to net asset value in determining if they wish to be a buyer of the stock," Arif concludes.
After adjusting for asset quality and remaining risk profile, Chesapeake trades at 6.5 times 2013 EV/EBITDA, according to Stifel data, compared with Stifel's entire oil and gas coverage universe at 5.6 times, and large cap gas names at 7 to 9 times.
Chesapeake Energy, which early in 2012 looked like a sexy stock for all the wrong reasons, with more allegations of corporate governance misdeeds than wells actively drilling in the former boom and currently forsaken dry gas basin of the Haynesville Shale -- is starting to look downright boring.
More on Chesapeake Energy
:
$7 billion in Chesapeake Energy deals reshapes investor divide
Chesapeake Energy can't get the Chinese to overpay for every acre
Chesapeake Energy's new chairman puts money where his mouth has to be
--By Eric Rosenbaum
Follow
TheStreet
on
and become a fan on