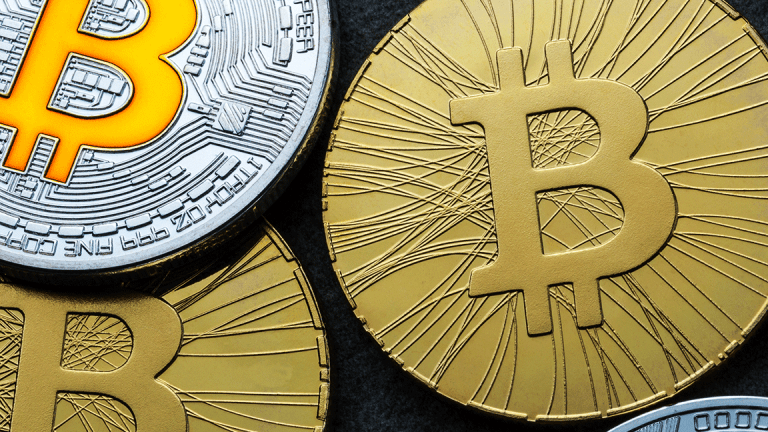 Why Bitcoin's Latest Rally and Plunge Feel Different
The mania surrounding Bitcoin and other cryptocurrencies hit a fever pitch in December. For that reason, that correction that has followed might not end so quickly.
The mania surrounding Bitcoin and other cryptocurrencies hit a fever pitch in December. For that reason, that correction that has followed might not end so quickly.
Considering how many times Bitcoin has sold off sharply over the last 12 months only to roar back with a vengeance, it's probably not a smart idea to to make any firm predictions about where its price will go from here.
That said, the spirit and magnitude of the cryptocurrency mania seen over the last two weeks has felt markedly different from the run-ups witnessed earlier in 2017. And for that reason, the sell-off that has followed might not end as quickly, especially if it shakes the confidence of many of the crypto novices who only recently jumped in.
As of early afternoon on Dec. 22, Bitcoin is trading around $12,900 -- down about 35% from its Dec. 17 peak of just under $20,000, but still up more than 50% from where it traded a month ago, and more than 1,100% from where it traded going into 2017. Leading Bitcoin wallet service/marketplace Coinbase temporarily stopped taking orders earlier in the day, and talk of the sell-off, together with the sharp declines seen in Ethereum, Litecoin and various smaller cryptocurrencies, has been all the rage in both financial and social media.
The extent to which the plunge is consuming media attention is mirrored, of course, by the way that public interest in Bitcoin skyrocketed in the preceding weeks. Google Trends, which tracks Google Search activity for words and phrases, indicates that queries for "Bitcoin" rose over 200% from the week of Nov. 19-25 to the week of Dec. 3-9, and have remained elevated since. The number of queries is also about 20 times as high as they were in March.
Likewise, search activity for terms such as "Ethereum," "Coinbase," "Litecoin" and "how to buy Bitcoin" has soared in December. And so have, disturbingly, queries for how to buy Bitcoin with a credit card. On an anecdotal level, this has all been accompanied by untold numbers of stories about individuals hearing their friends, relatives, co-workers and Uber drivers talk about buying Bitcoin and/or other cryptocurrencies (I can provide a few of my own).
This incredible surge in public interest has been accompanied by plenty of other activity one normally associates with investment bubbles. Consider the 200%-plus run-up seen in online retailer Overstock.com (OSTK) - Get Report  on account of a handful of blockchain investments. Or, even moreso, the giant gains delivered by companies such as Riot Blockchain (RIOT) - Get Report (formerly Bioptix) and Long Blockchain  (LTEA)  (formerly Long Island Iced Tea Corp.), microcaps that until recently had nothing to do with cryptocurrencies.
Finally, consider the flurry of shady initial coin offerings (ICOs) that merely promise "investors" paying via cryptocurrencies access to new virtual goods and services, and the parabolic rise that Bitcoin offshoot Bitcoin Cash saw on Dec. 20 -- it has retreated since -- following the news that Coinbase would accept it.
In spite of all this, there's still a key difference between Bitcoin's surge and something like the 1999/2000 dot-com bubble: Bitcoin's run-up, and the swelling public interest that has accompanied it, helps validate the cryptocurrency as an alternative to precious metals as a store of value -- a secure digital alternative that can be easily accessed anywhere on the planet.
Whereas a manic run-up in a stock increases the stock's earnings/cash flow multiples and makes it objectively a less compelling investment, Bitcoin's surge arguably makes it more valuable by increasing its public credibility -- provided that those who have come to support it in recent months don't lose faith.
But such a boost in public credibility doesn't necessarily apply to the many smaller cryptocurrencies that have joined Bitcoin in surging. While it's conceivable that Bitcoin and perhaps Ethereum (owing to its support for smart contracts) will become popular alternative stores of value, it's much harder to believe that a dozen or so different cryptocurrencies will do so, let alone the plethora of cryptocurrencies out there. 
This boost also doesn't make stories such as those of Riot Blockchain and Long Blockchain/Island Iced Tea any less similar to ones seen during the 1999/2000 bubble, when the stock of some companies soared shortly after adding a .com to their names. Nor does it make Bitcoin itself immune from the kind of gut-wrenching declines -- traditionally followed by a period of smaller declines and gradual disillusionment among those who bought in late -- previously seen by other assets that blasted off amid a wave of public enthusiasm.
In a nutshell: Bitcoin may be for real, and so might Ethereum, but much of the activity recently surrounding them, as well as other cryptocurrencies, is unhealthy and certainly looks very bubble-like. That makes it quite possible that we're due for a shakeout period during which less informed investors exit and a lot of the sketchier activity surrounding cryptocurrencies dissipates.
More of What's Trending on TheStreet: