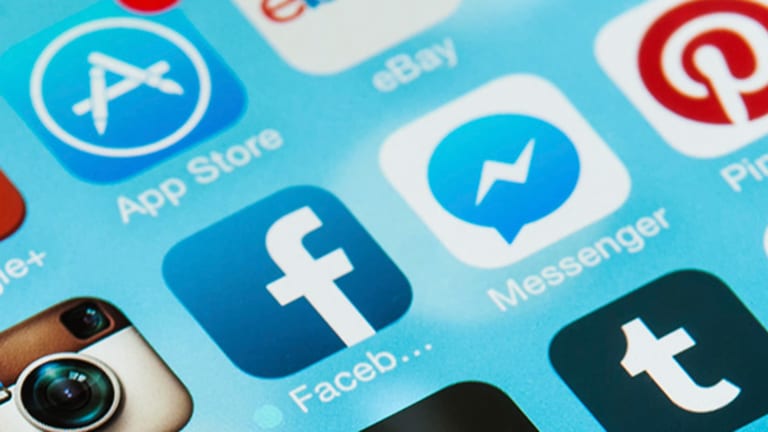 The IRS Goes After Facebook; HPE's Software Business Gets Buyout Interest
Here's a look at major tech stories in the news.
Facebook discloses it could owe $3 billion to $5 billion in back taxes
In the latest sign that U.S. authorities are taking a harder line on offshore tax payments, Facebook (FB) - Get Reportsays it just received a Statutory Notice of Deficiency from the IRS related to the transfer of intangible assets to an Irish subsidiary in 2010.
The IRS thinks Facebook accountant Ernst & Young may have understated the value of these assets by billions of dollars. With the probe also covering years subsequent to 2010, Facebook estimates it could be on the hook for $3 billion to $5 billion, plus interest, if the IRS "prevails in its position."
Facebook fell a modest 0.9% on Friday following the disclosure. It's worth noting that even a $5 billion payment would be equal to less than 1.5% of Facebook's market cap. The larger issue, arguably, is the impact an IRS victory in this dispute could have on future tax payments. Facebook is coming off a second quarter in which it recorded a relatively low tax rate of 26%, and has guided for its full-year tax rate to be similar.
HP Enterprise reportedly gets PE interest for software assets
Sources tell Reuters private-equity firms are interested in acquiring software assets owned by HP Enterprise (HPE) - Get Report that are worth an estimated $6 billion to $8 billion.
HPE finished up 3.5% on Friday following the report, after posting bigger gains earlier in the day thanks to a report from The Information suggesting PE firms are interested in buying the whole company, which sports a $35 billion market cap.
Bloomberg reported three weeks ago HPE is thinking of selling some software assets, without giving an estimated value. The company's software business, whose product lines cover fields such as security, systems management, analytics and data backup, has been having a rough time since the ill-fated 2011 acquisition of enterprise search/analytics software firm Autonomy. Software revenue fell 13% annually in the April quarter to $774 million.
By contrast, the Enterprise Group, which provides IT hardware and related services, saw revenue rise 7% to $7 billion.
The software sale reports come after HPE announced (to the market's enthusiastic approval) it's spinning off another underperforming business -- its Enterprise Services unit -- and merging it with Computer Sciences.
Unloading its software business would allow HPE to focus more squarely on hardware, and also give it a large war chest to expand its hardware business via M&A.
Fortinet and Check Point fall sharply post-earnings; Cisco a Potential Culprit
Two security appliance vendors fell sharply this past week after posting their second-quarter reports, and each made very similar comments about the competitive environment that they're seeing.
Fortinet (FTNT) - Get Report, which supplies firewalls that are well-suited for performance-intensive environments, beat second-quarter sales estimates on the back of 30% annual growth, but only posted in-line EPS.
The company also reported only 19% product revenue growth, less than the first quarter's 28% and below analyst estimates, and (in spite of the sales beat) only upped its full-year billings forecast by $10 million to $1.53 billion to $1.54 billion. EPS guidance was unchanged at 69 cents to 71 cents.
Check Point (CHKP) - Get Report, long a major player in the firewall market and also a provider of many other security hardware/software products, beat second-quarter estimates but guided for third-quarter revenue of $405 million to $435 million and EPS of $1.03 to $1.13, largely below a pre-earnings consensus of $432 million and $1.12. The midpoint of Check Point's sales guidance range implies only 4% annual growth.
On its earnings call, Fortinet reported seeing price discounting from incumbent security hardware providers globally. It also reported seeing spending pauses at certain clients as they map out their future spending plans, after having invested heavily in security over the last year. Check Point, meanwhile, said it's discounting in "certain areas" such as maintenance, due partly to rivals pricing aggressively amid a soft IT spending environment.
Cisco (CSCO) - Get Report, which has made growing security sales a priority under new CEO Chuck Robbins, might be responsible. The networking giant has been aggressively revamping its security hardware, software and services lineup, via both internally-developed offerings and acquisitions. The company's security product revenue rose 17% in its April quarter to $482 million.
Facebook and Cisco are holdings in Jim Cramer's Action Alerts PLUS Charitable Trust Portfolio. Want to be alerted before Cramer buys or sells FB or CSCO? Learn more now.