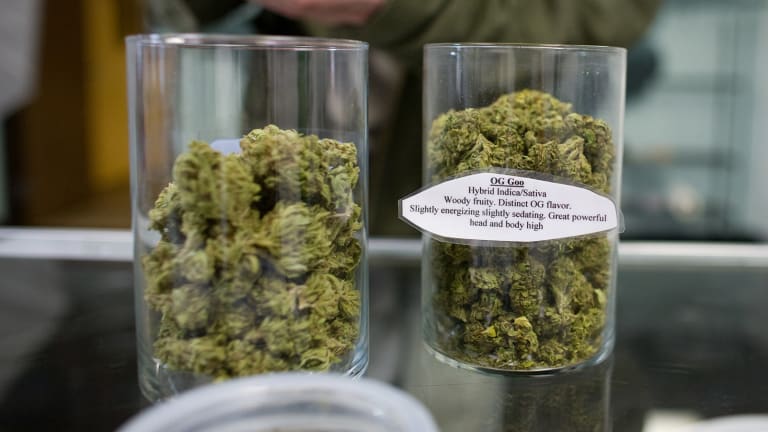 The Hottest Investing Plays in the Booming Weed Industry for 2018
Marijuana stocks are still in their infancy, meaning there's a whole host of weed-adjacent stock moves waiting to be made. Here are the best bets.
Weed stocks are young -- so young they might not make the best investments.
"For the most part, marijuana stocks are not quite ready for prime time," said David Rheins, founder of the Marijuana Business Association. "Many of the penny stocks are mere investment shells rather than robust operating companies."
But that doesn't mean there isn't money to be made in weed-adjacent stocks. The winners of the cannabis trade have (so far) been established companies adding marijuana to their portfolio or operations, such as Action Alerts Plus holding Constellation Brands (STZ) - Get Constellation Brands, Inc. Class A Report . In October, the spirits maker agreed to acquire a minority stake in Canopy Growth Corp., an Ontario, Canada-based provider of medicinal cannabis products.
These are some of the top moves for investors looking to make money in the weed business without growing plants in the basement.
Old School Picks
As a pharmaceutical company, AbbVie Inc. (ABBV) - Get AbbVie, Inc. Report has a unique corner of the market dominated: cannabis-based drugs. AbbVie's Marinol cannabis-based drug alleviates nausea and vomiting for chemotherapy patients and helps AIDS sufferers regain the desire to eat. And it's not even AbbeVie's biggest seller.
"They're one of the only companies out there that has FDA approval for a cannabis-based drug," said Dan Ahrens, portfolio manager of the AdvisorShares Vice ETF (ACT) - Get Enact Holdings Inc Report . "And they're doing well."
AbbVie's annual sales surged 11.8% year-over-year in 2016, and by 10.4% in 2017. This year, Wall Street estimates 13.9% growth. Shares have surged nearly 85% in the last year.
Meanwhile, the Vice ETF invests in cannabis, tobacco and alcohol names, with about 20% of its holdings marijuana-specific. The biggest requirement for inclusion in the fund is federal legality, either through the FDA or the DEA.
Ahrens also pointed to Insys Therapeutics Inc. (INSY) , another pharmaceutical company that offers a generic equivalent to cannabis-based Marinol.
The pharmaceutical stocks are a smart bet in a rocky regulatory environment. They're offerings have earned approval from the FDA or DEA, meaning they're less prone to the wild swings in value that could rock marijuana companies should regulation take a turn for the worse.
"They have a low correlation to the overall market," Ahrens said.
The Non Drug Play
California-based Kush Bottles Inc. (KSHB) calls itself a sales and distribution platform offering products and services for both businesses and consumers in the legal cannabis market. Translation? The company is a "one-stop-shop for all things ancillary," CEO Nick Kovacevich told TheStreet in December.
Last year, Kush grew to over $18.8 million in revenue, up nearly 130% from a year earlier. FactSet analysis suggests that figure could grow to $48.8 million in 2018.
That is some smoking hot growth. 
Landmines Ahead
Ahrens said it's smart to invest in big tobacco or alcohol companies, which will be quick to execute smart scaling should marijuana become federally legal. As of now, it's legal to some degree in 29 states and the District of Columbia.
"We think this change is coming in the future," Ahrens said.
But turning to Canada, which is expected to fully legalize marijuana this summer, isn't smart.
"I think in the last three to six months they've been very inflated by speculative demand," Ahrens said, pointing to the massive inflow of funds to Canada-listed weed stocks as investors scramble for exposure in what many are calling a burgeoning industry.
Ahrens made it clear: "What goes up can come down."