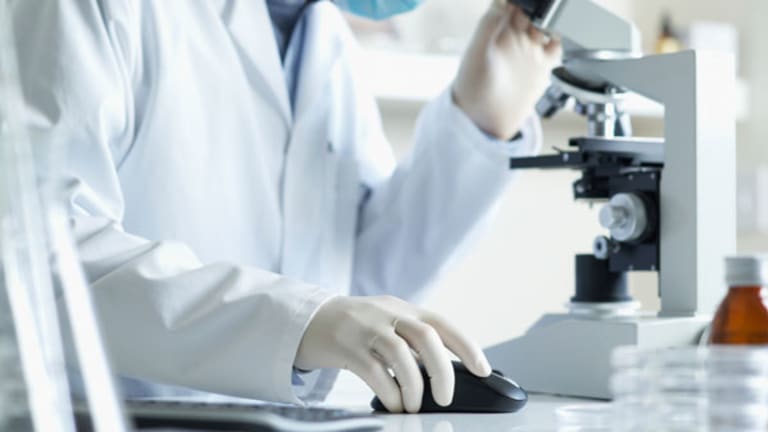 It's impossible to cover the entire annual meeting of the American Society of Clinical Oncology, which starts Friday, with almost 5,000 research abstracts presented over four days.
But here's a pared-down guide to some of the most important data to be presented this year -- important from a Wall Street perspective, at least.
To make it easy to follow, I've arranged the presentations by company and by day.
Saturday, June 2
Genentech
( DNA)
An oral presentation of
Roche's
AVAIL study, which tested low and high doses of Avastin plus a two-drug chemo cocktail in first-line non-small cell lung cancer patients.
Roche
and Genentech have already disclosed that there was no difference between the Avastin doses on the primary efficacy endpoint of progression-free survival, but the actual data from the study will be presented. The risk for Genentech is that a lower effective dose of Avastin might translate into reduced revenue.
Pfizer
(PFE) - Get Pfizer Inc. Report
A poster will detail safety and efficacy of Sutent in a phase II study of patients with liver cancer. Sutent is the biggest competitive threat to
Onyx Pharmaceuticals
(ONXX)
and its drug Nexavar, though the pre-ASCO buzz has Sutent falling off the chase in liver cancer because of toxicity issues.
Onyx Pharmaceuticals
(ONXX)
At ASCO, negative data can make news, too. A study of Nexavar plus chemotherapy (carboplatin and Taxol) in patients with advanced melanoma failed, but the details have been kept under wraps for this presentation. Nexavar gets a second chance at showing something in melanoma later in the day, when phase II data using the drug in combination with dacarbazine (another chemotherapy drug) will be aired.
Arqule
(ARQL) - Get ArQule, Inc. Report
and
Exelixis
(EXEL) - Get Exelixis, Inc. Report
c-Met is a cancer target with a lot of buzz. During this oral presentation, early data from ARQ 197 and XL880 will be presented.
Dendreon
(DNDN)
Consider this the Provenge booby prize. Instead of showcasing a newly approved and first-in-class prostate cancer vaccine, Dendreon instead will present data from the so-called PROTECT study, which enrolled prostate cancer patients with hormone-sensitive tumors. This isn't the data that will convince the FDA to approve Provenge, but will a rumored protest planned by prostate cancer advocates at the conference steal the show?
Amgen
(AMGN) - Get Amgen Inc. Report
With the safety of Amgen's anemia drug Aranesp under the microscope, there will be extra scrutiny for several study posters detailing the use of the drug in various cancer treatment settings.
Immunogen
(IMGN) - Get ImmunoGen, Inc. Report
It's been a long time in development, but the Immunogen-Genentech partnership for the breast cancer drug Herceptin-DM1 finally produces some phase I data.
Sunday, June 3
Bristol-Myers Squibb
(BMY) - Get Bristol-Myers Squibb Company Report
An oral presentation and first look at phase III data from its epothilone drug ixabepilone in patients with advanced, chemo-refractory metastatic breast cancer.
GlaxoSmithKline
(GSK) - Get GlaxoSmithKline plc Sponsored ADR Report
An oral presentation of data from a phase III study of Tykerb as a first-line treatment for patients with metastatic breast cancer. This is the first large study of Tykerb as a front-line treatment, so we'll see how the drug stacks up against Genentech's Herceptin.
Telik
(TELK)
Finally, we get to see posters detailing actual data from the failed Telcyta studies in ovarian cancer. Will there be anything here that's salvageable for this drug?
Celgene
(CELG) - Get Celgene Corporation Report
An oral presentation of a cooperative group study of low and high doses of Revlimid plus dexamethasone in newly diagnosed multiple myeloma patients. Again, we know the trial is positive already, but the details will be important and could significantly boost Revlimid sales.
Genentech
A failed Avastin study? Hard to believe, but true. We already know it's negative, but detailed data from a phase III study of Avastin plus gemcitabine in patients with advanced pancreatic cancer will be presented during an oral session.
ImClone Systems
(IMCL)
Pancreatic cancer is tough. During an oral sesson, we'll get the details of a previously announced failed phase III study of Erbitux plus gemcitabine.
Regeneron
(REGN) - Get Regeneron Pharmaceuticals, Inc. Report
Can Regeneron's VEGF-Trap be the drug that finally gives Genentech's Avastin a run for the cancer money? We'll get some inkling of an answer here when phase II data from a study of VEGF-Trap in patients with advanced, treatment-resistant ovarian cancer is presented in an oral session. We'll also see VEGF-Trap data from a phase II study in non-small-cell lung cancer.
Pfizer
A poster detailing phase II results of CP-675,206, the company's anti-CTLA4 monoclonal antibody for melanoma. Data, if positive, would also help Medarex.
YMI BioSciences
( YMI)
People love a sleeper stock for ASCO, and this might be it. YMI's nimotuzumab is an EGFR inhibitor (like Erbitux) that doesn't cause severe rash. No rash would be a huge advantage, as long as "nimo" works. A poster showcasing data from a phase II study in pediatric brain tumor patients might start to give us a clue.
Monday, June 4
Onyx Pharmaceuticals
Probably the biggest biotech data event at the conference this year: results from the phase III study of Nexavar in liver cancer. The study was stopped early for positive efficacy in February; during an oral presentation Monday, we'll see the actual data for the first time, including the survival benefit provided by Nexavar.
Genentech
Another Avastin oral presentation, this time a phase III study in combination with interferon in patients with kidney cancer. The study -- dubbed AVOREN -- was previously announced as a success, but the data to be revealed for the first time have to be very strong if Avastin is going to compete with the other targeted drugs already used to treat kidney cancer.
ImClone Systems
A poster detailing phase II results from a colon cancer study using a triple-combination therapy consisting of Erbitux, Avastin and chemotherapy. This data poster will be interesting given the negative results from a recent study of Amgen's Vectibix in a similar triple combination. If Erbitux can produce positive data where Vectibix could not, it will give a boost to ImClone.
Pfizer
Another poster will be presented from a phase II study of Sutent in liver cancer. The data will probably move shares of Onyx more than Pfizer.
GPC Biotech
( GPCB)
More (and new) data from the phase III study of satraplatin in prostate cancer.
Introgen Therapeutics
(INGN) - Get Inogen, Inc. Report
A poster detailing the controversial "biomarker" data for Advexin in head and neck cancer.
Tuesday, June 5
ImClone Systems
Erbitux takes center stage with the phase III CRYSTAL study in combination with chemotherapy in first-line colon cancer patients. This is Erbitux's shot at upstaging Avastin, which is the current standard of care for first-line colon cancer. ImClone shares have suffered ahead of ASCO on rumors that this data doesn't live up to expectations. If the CRYSTAL data are bad, Genentech would be the beneficiary.
Medarex
( MEDX) and
Bristol-Myers Squibb
A couple of posters airing phase II data on MDX-010, or ipilimumab, in melanoma patients.
Adam Feuerstein writes regularly for RealMoney.com. In keeping with TSC's editorial policy, he doesn't own or short individual stocks, although he owns stock in TheStreet.com. He also doesn't invest in hedge funds or other private investment partnerships. Feuerstein appreciates your feedback;
to send him an email.