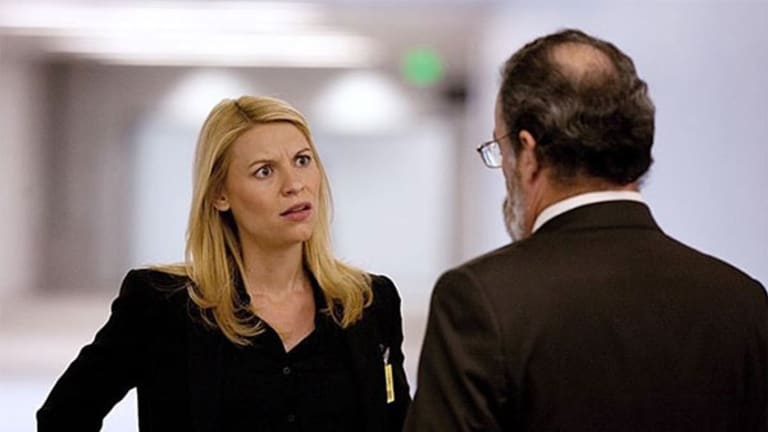 Dissecting The 'Homeland' Phenomenon
Fans are on the edge of their seats waiting for Season 3 of Showtime's <i>Homeland</i>. But just why are we so obsessed with the show?
NEW YORK (
) -- Americans are obsessed with terrorism.
Fans are on the edge of their seats waiting for the third season of
Homeland
,
CBS
(CBS) - Get CBS Corporation Class B Report
Showtime's
critically acclaimed, yet controversial cable television show. The show's two main characters are Sergeant Nicholas Brody (Damian Lewis), a damaged U.S. Marine who was "turned" by al-Qaeda, and Carrie Mathison (Claire Danes), a bi-polar, yet brilliant, CIA officer.
Season 2's premiere last October pulled in a combined 2.07 million viewers, including encore airing, up 60% from the year before, according to media reports. Season 3, which premieres on Sunday, Sept. 29 at 9:00 p.m. EST, will surely surpass that, given the growing buzz about the show. The current state of the American psyche is likely driving the show's popularity.
Homeland
viewers can relate to the show's premise -- the very real threat of terrorists living among everyday people. That much became obvious with 9/11 and more recently with the Boston Marathon bombings this past spring.
"It's topical," says Brad Adgate, senior vice president of research at Horizon Media. "It really resonates with the viewers because it's relevant. It's something going on now. It's a little more real."
The show's popularity also comes from its anti-hero protagonist, who happens to be a female, Adgate says.
"It's not Tony Soprano or Don Draper. ... it's Carrie Mathison," Adgate says. "Claire Danes is just a brilliant actor."
It also has the age-old recipe for TV viewing: we love our flawed characters.
"The flawed character is important," says Jim Farrelly, a professor of English and director of film studies, at the University of Dayton in Ohio. This feeds into people's fears of facing the global terrorist threat head on, he added.
"This gives them
the ability to see it through the eyes of the character, particularly with Carrie," Farrelly says. "They become images of what may be really going on not only with organizations like the CIA, but people who are drawn into the terrorist sphere and then have to survive within that context."
Brody, the damaged U.S. Marine, was deployed overseas only to be captured by al-Qaeda terrorists. Over the course of eight years, Brody's captor tortured him physically and mentally. The brainwashing eventually takes its toll and Brody converts to Islam. Brody becomes a supporter to his tormentor's cause based on the revenge he wants when the young boy Brody is responsible for teaching English to (his captor's son) is killed in a U.S. drone attack.
Brody is eventually supposedly "found" by U.S. soldiers and sent home to Washington, D.C., to his suburban life, wife and two kids, now teens, with an extra dose of post-traumatic stress disorder, and as we learn through the series, an obvious identity crisis. His family believes he can just go back to being the Brody they knew, but when you have instructions to perform an act of terrorism on key U.S. government leaders, that's not so easy.
CIA officer Carrie Mathison is equally damaged, making the eventual get together between her and Brody inevitable, despite the fact that Mathison must figure out if Brody is indeed the terrorist she suspects he is.
Season 3 will start out with characters dealing with the aftermath of a bombing at the CIA, leaving several secondary characters dead and Brody on the run. Carrie, who helped him get across the Canadian border, has returned to Washington to clear his name.
The show is nothing short of suspenseful, with enough twists and turns that viewers don't know who is a good guy and who is a bad guy. But figuring that out is part of the show's appeal.
From
Dexter
to
Ray Donovan
, Showtime has been very aggressive in putting out original series.
"They really made some inroads in putting out these types of serialized dramas with story lines that
HBO
pioneered with
The Sopranos
and
The Wire
after that, and the numbers kind of speak to it. Their subscriber numbers are up
to 26 million homes
from 17 or 18 million homes in 2007," Adgate says.
In an interesting twist, Showtime has decided to run the show's third premiere a few weeks earlier than usual, pegging
Homeland
squarely against network TV season premiere shows. The risk is likely to have strong returns.
"Homeland" Season 3 no doubt will be full of the drama that viewers crave.
-- Written by Laurie Kulikowski in New York.
Disclosure: TheStreet's editorial policy prohibits staff editors, reporters and analysts from holding positions in any individual stocks.