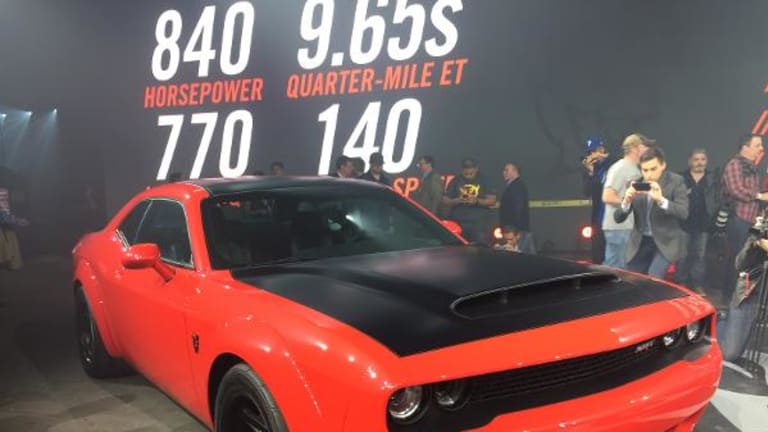 The Heart-Stopping 840 Horsepower Dodge Demon Won't Cost $100,000
Thanks for this one, Dodge.
A tip of the hat to the folks at Dodge for not wanting to completely empty a muscle car fanatic's bank account.
"Obviously the price [for the Demon] will be more than a regular Hellcat, but it's gonna be well below six figures," Tim Kuniskis, Head of Passenger Car Brands at Fiat Chrysler Automobiles (FCAU) - Get Report is quoted as telling Road and Trackrecently. A 707 horsepower Dodge Hellcat typically can be bought for $65,000. 
Pricing and dealer availability for the Demon are expected to be revealed in June.
To be sure, what looks to be a sub $100,000 race car offers up some good value. 
After months of high anticipation -- made so by weekly teases of the car online -- Dodge disclosed last week that the Demon has a mind-blowing 840 horsepower. It allegedly goes 0 to 60 mph in 2.3 seconds. Quarter mile time is a reported 9.65 seconds.
Overall, the Dodge Demon is insane.
First, the Dodge Demon is the first-ever factory production auto with street legal drag tires. As a result of the extra wide treads, the Demon sports some aggressive-looking side fenders.
Meanwhile, the Demon weighs about 215 pounds less than a 707hp Dodge Hellcat. To cut the weight, Dodge has removed the passenger front seat and rear bench seat. It also boasts a massive new hood scoop that supports what Dodge calls a "forced induction" system. The car also has a dedicated drag race driving mode.
To round out the fun is the Demon Crate, a special equipment pack that turns the car from a regular street ride into to an all-out drag-strip demolisher. The crate will boast 18 parts that set the car up for the drag strip, including performance parts, track tools, spare wheels and something it calls the "Demon Track Pack System."
Oh and yes, the Demon will be able to run on special racing fuel. Don't try to race this thing in your Porsche, ladies and gents. 
Here's a quick rundown of the Demon.
The Demon Crate is massive. Good luck fitting this in your garage.
The Demon has some impressive performance stats.
The heart of the beast. What you can't see here: on the engine block is a special Demon logo.
You can get your Demon without a front passenger seat. The car has no backseat -- it has been replaced by a roll cage.
Read more of TheStreet's coverage of the NY Auto Show: