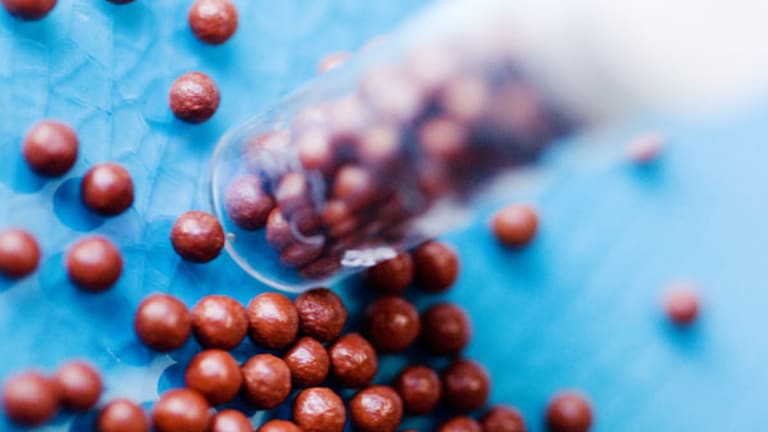 NEW YORK (
) -- I've spent far less time over the past 15 years celebrating my investment successes than analyzing my failures, even though I think I've been right more often than not. The goal of this rigorous self-evaluation is simple: Improve my process. This week's column will examine the valuation short, a classic error that can entrap even the most veteran investor in a quicksand-like morass. Let's take a look at a few of the mistakes I've made and then at a current example.
The Revolution: Biogen Idec
(BIIB) - Get Biogen Inc. Report
I remember when monoclonal antibodies, now-ubiquitous therapeutics that attach to cell surface proteins and function as either receptor blockers or helpful "red flags" for the immune system, were considered nearly impossible to develop.
Johnson & Johnson's
(JNJ) - Get Johnson & Johnson (JNJ) Report
Orthoclone OKT3 (known chemically as muromonab) received FDA approval in 1986 for the prevention of acute transplant rejection, but the technology relied solely on mouse protein. The resulting risk of autoimmune rejection of the drug itself made long-term therapeutic use unlikely. Even
Eli Lilly's
(LLY) - Get Eli Lilly and Company (LLY) Report
cardiovascular drug ReoPro, which reached the market in 1994 and used chimeric -- or fused human-mouse -- technology, was used short-term.
Then came Rituxan.
Long before the merger that created Biogen Idec, I found myself sitting face-to-face with Bill Rastetter, the CEO of
Idec Pharmaceuticals
. In preparation, I had extensively researched Rituxan, a chimeric anti-CD20 antibody for the treatment of non-Hodgkin's lymphoma (NHL), and the company's partnership with
Genentech
. My work suggested that although Rituxan would likely be a commercial success, Idec's deal with Genentech overwhelmingly favored the larger biotech.
Rastetter patiently listened as I noted that even if Rituxan sales reached $1 billion in the first few years post-launch, Idec's profits would be very limited. I also explained how analysts and investors seemed to be ignoring Idec's value relative to the company's near-term earnings potential.
Once I finished, Rastetter agreed that my analysis made sense and seemed factually accurate. He then told me I had missed a critical point. Rituxan was a revolutionary drug, he said, because it would be the first monoclonal antibody to be used chronically (studies eventually demonstrated that patients could be effectively retreated.) I distinctly remember his concluding comment: "Valuation won't matter for a long time."
He was right. Idec shares continued to defy gravity as Rituxan sales grew. I eventually gave up on the short and covered my losses.
The lesson: Make sure to focus on the right metrics. The market never focused on the weakness I had identified, so the investment thesis didn't pan out. A company like Idec, with an exciting new drug and impressive sales ramp, can "grow into" a reasonable valuation over time.
The Bait and Switch: Celgene
(CELG) - Get Celgene Corporation Report
Thalidomide first received FDA approval for the treatment of erythema nodosum leprosum, a rare complication of leprosy, in 1998. Investors paid little attention. (Not surprisingly, there aren't a lot of lepers in the U.S. these days.) Yet over the next few years, a few single-arm trials suggested that the drug might have an impact on multiple myeloma, at the time a rapidly fatal hematologic cancer. As data from these physician-led studies were presented at medical conferences -- and aggressively publicized by Celgene -- "off label" use started to grow. (Physicians can prescribe an FDA approved drug for any disease.)
Wall Street took notice and Celgene's stock began to gain traction.
Having never conducted formal dose ranging studies, Celgene didn't understand how to dose thalidomide in multiple myeloma. In an effort to increase the drug's efficacy and the lifetime value of each patient, the company encouraged experimentation with higher thalidomide doses. At one point, some multiple myeloma patients were receiving a gram or more of thalidomide, more than ten times the current standard dose of 100 mg. At such high doses, thalidomide causes severe somnolence and peripheral neuropathy. The result was zombie-like patients who couldn't feel their toes.
Celgene's valuation clearly overvalued thalidomide's prospects, yet some investors believed company scientists could engineer a better version of the drug with fewer side effects. These efforts yielded Revlimid, which received FDA approval for the treatment of multiple myeloma in mid-2006. Bullish investors had waited, more-or-less patiently, for eight years with little evidence that the molecule once encoded CC-5013 would become the company's $3.5 billion flagship brand.
The lesson: Beware the potentially exciting follow-on pipeline asset. Unless you know the "hope" asset will fail, bullish biotech investors can be astonishingly patient. Revlimid's transformation from chemist's dream to clinical reality gave Celgene a smooth upward trajectory unmarred by commercial challenges. I covered my short.
As an aside, Celgene's repeated missteps over the past few months -- which I think will trigger involvement by activist investors -- have been magnified by company's unexciting post-Revlimid pipeline. Now, even some of the company's most bullish investors struggle to justify long-term investment case.
The Cult: Intuitive Surgical
(ISRG) - Get Intuitive Surgical, Inc. (ISRG) Report
No discussion of valuation shorts would be complete without a mention of Intuitive Surgical. Virtually every long-short equity portfolio manager in healthcare has lost money shorting this stock at some point. I am no exception.
Intuitive's da Vinci surgical robot has become nearly ubiquitous in US hospitals and the company's valuation has for years floated far above the earnings growth rate. Bulls have long argued that the da Vinci will become a surgical standard, in procedures ranging from prostatectomies -- a market the company has already fully penetrated -- to gynecologic and general surgery applications.
The clinical data are mixed, and no prospective, randomized trials have been conducted. Some historical studies show advantages for the da Vinci -- reduced blood loss or a modestly shorter hospital stay -- while others show equivocal results. Importantly, the clinical data all share one characteristic: da Vinci surgeries cost considerably more than traditional alternatives, minimally invasive or not.
Despite this lack of compelling cost effectiveness data, institutions large and small want the marketing benefit of offering robotic surgery. Intuitive has triggered a capital equipment arms race among hospitals. This is especially true in the U.S., where patients demand drugs or technology based on ad campaigns. Ex-U.S., da Vinci growth has been slower due to increased price sensitivity. Bulls contend this too will change over time.
The company's sales growth opportunities -- new procedures, increased disposable utilization, limited competition, and ex-U.S. markets -- enable bulls to remain fixated on a long-term vision of global surgery dominance. Unless reality shatters that vision, the persistent disconnect between Intuitive's EPS growth and earnings multiple won't matter.
The lesson: If the investor base believes the market for the product is infinite, only extreme disruption to the business will trigger a negative re-rating of the stock.
Now let's examine a short idea recently pitched to me that seems to rely solely on valuation:
Pharmacyclics
(PCYC)
.
Pharmacyclics shares have tripled over the past year amid hopes that the company's lead asset, the BTK inhibitor ibrutinib, will prove an effective treatment for chronic lymphocytic leukemia (CLL) and other hematologic malignancies. The company's clinical data in CLL look good to me and I suspect the drug will receive FDA approval for late-stage patients, likely by the end of 2014. Yet Pharmacyclics already has a $3.5 billion market capitalization, will be entering competitive markets, and owns only 50% of ibrutinib's commercial rights following a partnership with Johnson & Johnson.
Bulls are dreaming of a novel anti-cancer drug with efficacy across several cancer subtypes. Bears argue that the stock doesn't reflect the lower urgency of treating CLL -- the disease is not rapidly fatal, so ibrutinib's commercial ramp could be slow -- or the downside risk of clinical failure in other malignancies.
Pharmacyclics feels too much like a valuation short for me to be interested. The bear case relies heavily on metrics -- disappointing non-CLL clinical data, which won't be available for at least two years, and commercial struggle in CLL -- that are too far away to be meaningful negative catalysts. I wouldn't buy the stock or be short right now.
Sometimes, the best bet is not to play.
Disclosure: Sadeghi has no positions in any of the stocks mentioned in this article.
Follow Nathan Sadeghi-Nejad on
.
Nathan Sadeghi-Nejad has 15 years experience as a professional health-care investor, most recently as a sector head for Highside Capital. He has worked on the sell side (with independent research boutiques Sturza's Medical Research and Avalon Research) and the buyside (at Kilkenny Capital prior to Highside). Sadeghi-Nejad is a graduate of Columbia University and lives in New York. You can follow him on Twitter @natesadeghi.