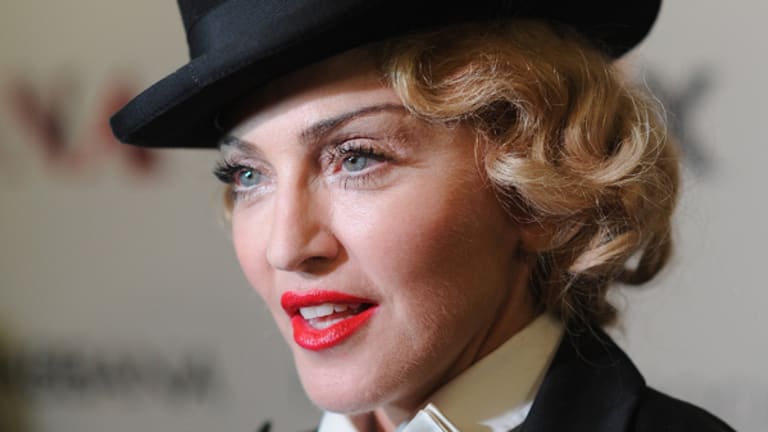 The Grammys Aren't Totally Worthless -- Really
Supporting the Grammys seems like defending the indefensible. But they have a little -- just a little -- merit.
NEW YORK (TheStreet) -- The Grandmas. The Grimmys. The Grammysaurus.
All are terms you might hear to describe the 56th Grammy Awards, which will be handed out this Sunday, Jan. 26. And yes, they are named for a gramophone.
The awards ceremony is a perennial punching bag for all people who care about music -- including TheStreet's own Jason Notte. On Friday, Notte penned a piece called "A Music Fan Should Never Watch the Grammys."
Notte calls the Grammys "notoriously anachronistic" and "just about as relevant as the lurching fossil of a commercial recording industry that this broadcast is trying to prop up." People who watch it "hate music and love watching it die." Ouch.
I can't say I disagree with him altogether. The ceremony is chock-full of yesterday's stars, still ready for their close-ups years after their big days are behind them.
Plus, the broadcast is rife with gratuitous back-patting and self-congratulating done by a music industry that has literally shrunk in half over the last decade in terms of sales. (Business Insider once did a fantastic series of charts on the music industry's decline.)
In truth, when I picture the Grammy ceremony, I see a Day-of-the-Dead style spectacle full of cavorting 70-year-olds with nice taut skin and big white teeth kicking their replaced knees all over the stage. I also picture a few 30-something side players and maybe two teenaged performers shuffling in the shadows of the stage in sad attempt to draw in younger viewers.
Even the younger acts are playing into the nostalgia. Robin Thicke's Blurred Lines, which may well win for the best song of the year, not only straight-up jacks Marvin Gaye's Got to Give It Up. It's been legally judged to be a rip-off. And Rolling Stone dubbed it "The Worst Song of This or Any Other Year." More importantly, Got to Give It Up was recorded in 1976. That's 37 years ago. That's what passes for original with the people who hand out Grammys.
Oh, and the Grammys still segregate Latinos. There is a separate (and equal! They swear!) ceremony for Latin Grammys. Let's not even get into it.
Then there's the anniversary concert to commemorate the Beatles' arrival in America 50 years ago. That show, "The Night That Changed America: A Grammy Salute to the Beatles," will be filmed live on Monday, Jan. 27, and be broadcast on CBS (CBS) - Get CBS Corporation Class B Report on Feb. 9 at 8 p.m. It's about as scripted a take on a youthquake as it is possible to construct. The tribute is rumored to include performances by Paul McCartney and Ringo Starr -- the surviving ex-Beatles -- as well as the Eurythmics, Maroon 5, Keith Urban, John Mayer, Alicia Keys and John Legend.
USA Today notes, disturbingly, that the last three on that list all have won more Grammys than the Beatles ever did. (TheStreet's Carlton Wilkinson will be keeping an eye on the show in a series of upcoming articles.)
The "star-studded tribute" is also misguided. As if the Beatles couldn't draw viewers unassisted.
It's all a strange spectacle.
But even though the Grammys showcase more sagging rockers and more tired music than is seemly, and even if they reward the mediocre, they still aren't totally worthless.
How else would we know what CDs to buy for our parents?
Aw, hey now, I'm joking -- at least a little.
The real virtue of the Grammys, in my mind, is that they get us talking about music -- and better yet, listening to it. Alongside the weird performances and bad award choices and the reek of desperate music executives trying to gin up the numbers, there is the music.
We also get to hear irate music fans complaining about the real best records of the year. So let's pay some attention to the new releases of 2013, and hear some new songs from other years too.
Maybe you don't like the Grammy winners. Maybe you don't like who is nominated. But music isn't, nor will it ever be, about winners or contests or ratings. In the words of Sister Sledge (or, really, Nile Rodgers, who will be performing at the Grammys), it's about getting lost in music. It's about listening to Kraftwerk's Computer World again. And because of the Grammys, maybe we'll find some new music to get lost in. That's the point.

The Show
The Grammys will air live on Sunday, Jan. 26, at 8 p.m. EST. The awards will also stream live Sunday at 12 noon EST.
The Beatles, the Isley Brothers, and Kraftwerk will received well-deserved lifetime achievement awards in the ceremony.
The Performers
The Grammy ceremony performers, for better or worse, are listed alphabetically below.
Billie Joe Armstrong (of Green Day) and Miranda Lambert will be doing a tribute to Phil Everly of the Everly Brothers, who died this month.
Sara Bareilles and Carole King will perform together. King, who has won four Grammys, will receive the MusicCares Person of the Year award. Bareilles is nominated for Album of the Year for The Blessed Unrest and Best Pop Solo Performance for Brave.
Beyonce and Jay-Z are reputed to be performing together. They are co-nominated for Best Rap/Sung Collaboration, and Jay-Z has an individual nomination for his Magna Carta ... Holy Grail for Best Rap Album.
Gary Clark Jr. will perform. He is nominated for Best Rock Song for "Ain't Messin Round" and Best Traditional R&B Performance for "Please Come Home."
Daft Punk, Nile Rodgers, Pharrell Williams, Stevie Wonder, and the RAM Players will play together. Daft Punk has four nominations, for Album of the Year, Best Dance/Electronica Album for Random Access Memories, and a Record of the Year and Best Pop Duo/Group Performance for Get Lucky. Pharrell is nominated for seven awards for work on the albums Blurred Lines and Get Lucky and production for Kendrick Lamar's album Good Kid, M.A.A.D City. This is billed as a tribute to Kraftwerk.
Merle Haggard, Kris Kristofferson, Willie Nelson and Blake Shelton will perform together. Shelton is nominated for Best Country Solo Performance for Mine Would Be You, and Best Country Album for Based On A True Story.
Hunter Hayes is a nominee for Best Country Solo Performance for I Want Crazy.
Imagine Dragons has two nominations, for Record of the Year for Night Visions, and Best Rock Performance for Radioactive.
Juicy J, a rapper who released the Stay Trippy album last year, will also perform.
Kendrick Lamar is nominated for seven awards for his first studio album, Good Kid, M.A.A.D City. He is up for Best New Artist, Album Of The Year, Best Rap Album, Best R&B Performance for How Many Drinks? featuring Miguel, Best Rap Performance for Swimming Pools (Drank), Best Rap/Sung Collaboration for Now Or Never with Mary J. Blige, and Best Rap Song for *** Problems with Tauheed Epps, Aubrey Graham, Rakim Mayers and Noah Shebib.
John Legend is nominated for Best R&B Album for Love in the Future.
Lorde is nominated for Record of the Year, Song of the Year and Best Pop Solo Performance for Royals, and Best Pop Vocal Album for Pure Heroine.
Macklemore & Lewis are up for seven awards, including Album of the Year and Song of the Year for Same Love, featuring Mary Lambert.
Madonna, a seven-time Grammy winner, was added to the bill of performers on Jan. 24.
Bruno Mars is nominated for Best Pop Vocal Album for Unorthodox Jukebox.
Paul McCartney and Ringo Starr, the remaining Beatles, will appear the day before their Grammy tribute is filmed. They will receive the Recording Academy Lifetime Achievement Award. McCartney is nominated for two awards, including Best Rock Song for Cut Me Some Slack and Best Music Film for Live Kisses.
Metallica and Lang Lang will perform together. Metallica hasn't appeared at the Grammys for 23 years, but are now nominated in the Best Recording Package category for their album Metallica Through The Never (Music From The Motion Picture). Lang Lang adds a classical flair. This could be a kind of Apocalyptica thing.
Kacey Musgraves is nominated for Best Country Album for Same Trailer Different Park.
Nine Inch Nails, Queens Of The Stone Age, Dave Grohl and Lindsey Buckingham will play the finale.
Katy Perry is nominated for Song of the Year and Best Pop Solo Performance for Roar.
Pink and Nate Ruess will perform together. Pink is nominated for Song of the Year and Best Pop Duo/Group Performance for The Truth About Love.
Trombone Shorty and Orleans Avenue will perform a mix of funk, hip-hop, and brass band music.
Taylor Swift is nominated for four Grammys: Album Of The Year and Best Country Album for Red, Best Country Duo/Group Performance for Highway Don't Care with Tim McGraw and Keith Urban, and Best Country Song for the song Begin Again.
Robin Thicke and Chicago will perform together. In 2013, Chicago's album The Chicago Transit Authority was inducted into the Grammy Hall of Fame. Thicke is nominated for Best Pop Vocal Album, and Record of the Year and Best Pop Duo/Group Performance for Blurred Lines.
Keith Urban is nominated for Best Country Duo/Group Performance for Highway Don't Care, which also features Tim McGraw and Taylor Swift.
The Nominees
A full list of nominees is at the Grammy Web site.
Nora Morrison is a researcher, writer and editor on music, popular culture, and business topics. She is on Twitter at
No Ticker.