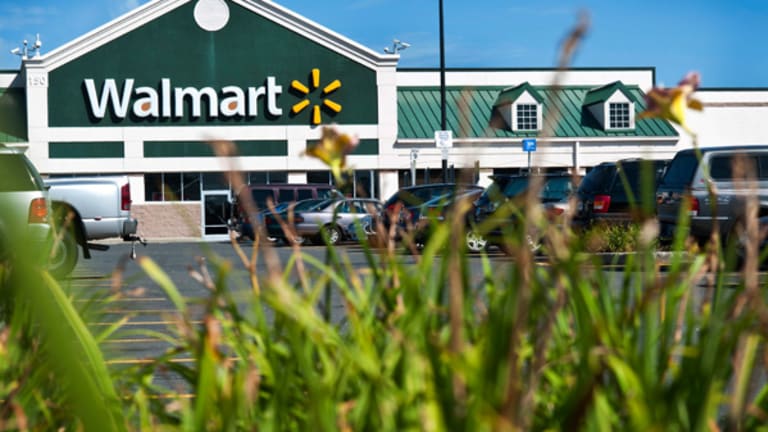 The Good News About Wal-Mart Raising Its Workers' Wages
Wal-Mart's decision to raise wages for its workers to a minimum of $9 an hour was likely driven by more than just public relations.
NEW YORK (TheStreet) -- Wal-Mart's (WMT) recent decision to raise wages for its workers to a minimum of $9 an hour has several competing explanations: It could be a tight labor market, a marketing ploy or pressure on minimum wages.
In reality, all three factors probably played a role, but the strongest explanation is one that bodes well for workers, particularly low-skilled ones.
One explanation for the higher wages is that Wal-Mart is responding to recent and potential increases in state-level minimum wages. However, the minimum wage has a much smaller impact on Wal-Mart than many probably imagine.
Before this increase, only 6,000 of Wal-Mart's 1.3 million workers received the federal minimum wage of $7.25 federal minimum wage. In addition, before the increase the average wage for full-time Wal-Mart workers was $12.85 per hour, significantly above the federal minimum. This is why Wal-Mart was already neutral on whether the current federal minimum wage should be raised. Wal-Mart's support was reported to be useful in pushing through the last minimum wage hike.
It's no surprise that Wal-Mart tends to pay above the minimum wage. Big retailers tend to pay higher wages than smaller retailers. Research shows that after controlling for individual and store characteristics, firms with at least 1,000 employees pay 9% to 11% more than those employing 10 or fewer workers.
Politically, it is uncertain whether Wal-Mart's decision will add much pressure for a higher federal minimum wage. A higher minimum wage can be useful to a company whose business model requires higher wages than its competitors because it puts the lower-wage competition at a disadvantage. In this way, Wal-Mart's latest move increases its benefit from a higher minimum wage and may make the retailer push harder for it politically.
Another reason that Wal-Mart may have raised its wage is that the retail labor market is starting to tighten. Quality-adjusted wages and salaries for retail were up 2.5% for the year in the fourth quarter, and for the quarter they were up an annualized 3%. These tighter market conditions alone could be pressuring retailers to raise wages.
Another labor market-based explanation is that raising wages can be an important tool for firms to reduce turnover and increase labor quality. Lower turnover can help improve labor quality indirectly by increasing their workforce's experience. Higher wages can also increase labor quality by attracting job applicants who might otherwise not have looked at Wal-Mart.
For Wal-Mart, an additional consideration is the marketing value that such an announcement has for a company whose labor practices are often criticized. In light of protests for higher wages that companies have been facing, public relations and marketing may become an increasing factor. Aetna (AET) is another major corporation that recently announced a higher minimum hourly wage. Wal-Mart's raising the company-wide minimum hourly rate rather than across-the-board percentages suggests that marketing and public pressure may be involved here.
Voluntary increases in wages by businesses are better for the businesses and their workers than mandates such as the minimum wage. However, just because firms raise wages voluntarily does not mean that layoffs will not occur to keep total labor costs down.
If businesses are raising wages because tight labor markets are giving workers more options or because of rising productivity, then the higher minimum wage is unlikely to lead to lower employment.
However, if wages are being raised because of a stigma about a reputation for paying low wages, the company may respond by cutting back on payrolls. While a stigma against low wages would seem to be a good thing for workers, the end result could be that firms simply hire fewer low-skilled workers.
The good news is that while the raises at Wal-Mart may have some component of marketing value, to-date wage considerations in the labor market appear to be determined largely by productivity and labor cost considerations.
Indeed, the widespread growth in retail wages and a labor market that is moving quickly toward full employment provide a decent explanation for Wal-Mart's actions all by themselves.
This is good news for workers who have low skill levels because a low-paying job may be their best foothold into the labor market. While tight labor markets will help low-skilled workers, public-relations campaigns to avoid creating low-paying jobs could leave them worse off, as firms could potentially accomplish this by decreasing their labor demand for low-skilled workers.
Read Adam on Moody's Analytics Dismal Scientist.
This article is commentary by an independent contributor. At the time of publication, the author held no positions in the stocks mentioned.