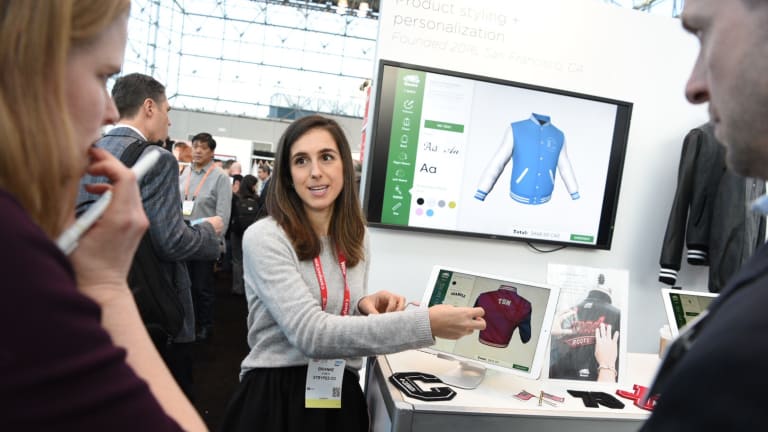 The Future of Retail Is … Surveillance?
Here's where the industry is headed, say attendees at the National Retail Federation's annual Big Show.
"We've all become cursors in the real world."
This is what Tina Sharkey, the CEO and co-founder of everyday product company Brandless, told the crowd at the National Retail Federation's annual Big Show on Tuesday, Jan. 16.
An e-commerce company at the forefront of the direct-to-consumer movement, Brandless has reason to be optimistic about the digitalization and mobilization of retail. The three-year-old company is based entirely online, after all.
But for better or for worse, all of retail is battling with this inevitable disruption. And on Tuesday, that's exactly what it did, from showcasing solutions for retailers to collect customer data to offering technologies that would keep customers in stores. Here are TheStreet's biggest takeaways from the Big Show.
1. The NSA Isn't the Only One Spying on You
The NRF expo had no shortage of cool tech stuff. VR, AR, AI, you name it. But some of the innovations we encountered were creepier than others. Case in point: Did you know that the weather app that every smartphone comes with tracks user movement? That's right. The Weather Company knows where you are and how much you move. It's this data that the Weather Company, which was acquired by International Business Machines Corp.  (IBM) - Get Report in 2016 for an undisclosed amount, uses to help retailers decide where to expand and what new products to offer.
But that's not all. Intel Corp.   (INTC) - Get Report has developed a customer loyalty program that uses facial recognition to pull up a profile on each customer as he or she enters the store. In a partnership with candy chain Lolli & Pops Inc., Intel is installing entrance-facing cameras and arming associates with tablets that are synced with the camera so when loyalty members enter they can be offered recommendations based on their previous purchases.
Consumers, perhaps, have already made the judgment they are OK with corporate data mining. We all know that advertisers have access to browsing and social media activity, and companies like Facebook Inc. (FB) - Get Report  are making bank on it.
"Facebook is the new storefront of retail," the company's head of e-commerce, Martin Barthel, went as far to say on Tuesday.
Facebook is a holding in Jim Cramer's Action Alerts PLUS charitable trust portfolio. Want to be alerted before Cramer and the AAP team buy or sell the stock? Learn more now.
2. Customization Is Everything
Personalized marketing is nothing new. But the narrative has become more and more aggressive: If a retailer isn't using customized, direct-to-consumer messaging, it's screwing up.
According to Rod Sides, Deloitte's head of retail, wholesale and distribution, consumers prefer messaging via email or mobile. And online reviews from anonymous strangers, he added, wield pretty much the same level of influence on a consumer as television ads -- for none of the cost. That's good news for retailers like Kroger Co.  (KR) - Get Report , which has long invested in its customer outreach efforts by acquiring multiple analytics firms and implementing their technologies in couponing, personalized emails and in-store monitoring.
And that's not to mention also that retailers can offer simple innovations that drive sales. NCR Retail Solutions, for instance, showcased a convenience store fuel pump that would recognize a certain customer through his loyalty cards and offer him the option to order certain items that he has purchased before right at the pump.
3. Chobani May Be the Coolest Company Ever
"I disliked the business field growing up," Chobani CEO Hamdi Ulukaya told Macy's Inc. (M) - Get Report Executive Chairman Terry Lundgren on Tuesday.
"I thought it was too selfish -- the gap between working class and CEOs were so wide so disconnected."
That's why he made the decision to give employees 10% of the company's stock when it goes public or is sold. It's really no wonder that neither Coca-Cola Co. (KO) - Get Report or PepsiCo Inc. (PEP) - Get Report succeeded in acquiring the Greek yogurt brand 2016 -- Ulukaya puts his money where his mouth is. Corporations nowadays like to talk a big game in social responsibility. But few can replicate the Turkish billionaire's authenticity.
The lacking dogma, perhaps, is among the driving forces of consumer behavior that now seem to favor the direct-to-consumer disruptors. "It's really hard to fake this stuff," said Eric Kinariwala, the CEO of Capsule, an online pharmacy that delivers straight to patients' homes while offering a 24-hour chat service with pharmacists.
If disruption was the headlining theme Tuesday, social responsibility was an undercurrent. The final panel, dubbed "Transform your culture: Why CEO action is imperative to diversity and inclusion in the modern workplace," featured J. C. Penney Co.  (JCP) - Get Report CEO Marvin Ellison, Clorox Co.  (CLX) - Get Report CEO Benno Dorer and Best Buy Co.  (BBY) - Get Report CEO Hubert Joly.
The 45-minute roundtable tackled both racial and gender equality in the boardroom and beyond, unreservedly denouncing the disparities in the system. But by the time the panel promptly ended, no solutions had arose and not once did the panelists mention maternity leave or affirmative action.
More of What's Trending on TheStreet: