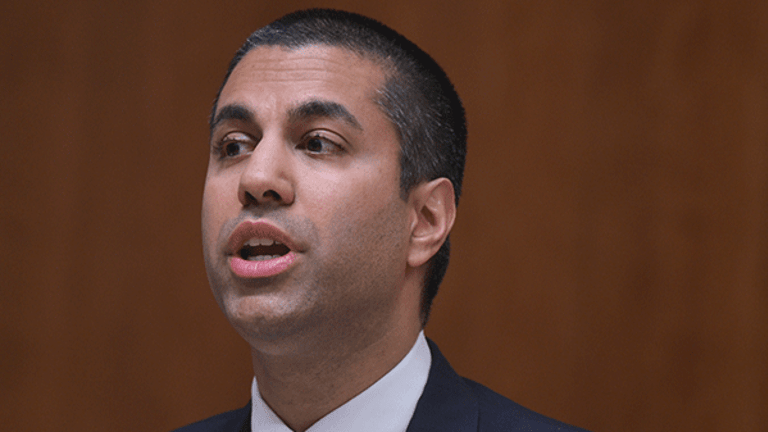 Fundamental Tension in Ajit Pai's Net Neutrality Message
The FCC proposed a rule-making procedure for Restoring Internet Freedom, FCC Chairman Pai's plan to rewrite the Internet rules established under the Obama administration.
Federal Communications Commission Chairman Ajit Pai's effort to roll back the Obama administration's net neutrality is officially on the books. The FCC filed its rule-making proposal on Thursday, under the name Restoring Internet Freedom, and opened the matter for public comment.
Pai aims to unwind former FCC Chairman Tom Wheeler's decision to reclassify broadband service as a utility rather than an information service, which has much lighter rules. In a speech Wednesday, Pai argued that the regulatory shift was a government over-reach, and was not necessary for preserving an open Internet in which broadband providers do not run afoul of Wheeler's "bright line" rules that prohibit blocking, throttling or setting up Internet "fast lanes."
"I believe that there is a fundamental tension between two of the goals that were apparent in [Pai's] speech," said Steptoe & Johnson lawyer Pantelis Michalopoulos, who  represented intervenors, including Netflix (NFLX) , Dish (DISH)  , in prior litigation over the FCC's net neutrality rules before a federal court of appeals in Washington, D.C.
"One is the goals is retaining the bright line rules and the other is the goal of re-reclassifying ISPs," Michalopoulos said.
While the FCC is seeking comment on whether it should continue the bright line rules, Michalopoulos interpreted Pai's speech to mean that the FCC chairman favors the provisions.
Broadband providers like Comcast (CMCSA) have supported the prohibitions on blocking and throttling. "We do not block, slow down, or discriminate against lawful content," Comcast cable division CEO Dave Watson wrote in a Wednesday blog post. "You can absolutely be for net neutrality, which we are, but against using outdated utility regulation to do it," Watson added.
Changing the classification of broadband and keeping the provisions on blocking and so forth may be legally complex.
A 2014 a Washington, D.C., Circuit Court decision in litigation brought by Verizon said that the prohibition on blocking cannot be imposed unless the ISP is classified as a telecommunications service, and not as an information service. A 2016 ruling from the same court, which upheld Wheeler's Internet rules, referenced the 2014 decision's reasoning.
Pai has made clear that he aims to listen to the public. If comments strongly support Wheeler's provisions that ISPs should not block, throttle or prioritize traffic, the FCC could face legal challenges.
"What continues to be unresolved is how the FCC will be able to square the circle by keeping the bright line rules but also changing the reclassification of ISPs," Michalopoulos said.
Comcast is a holding in Jim Cramer's Action Alerts PLUS Charitable Trust Portfolio. Want to be alerted before Cramer buys or sells CMCSA? Learn more now.
Editors' pick: Originally published April 28.