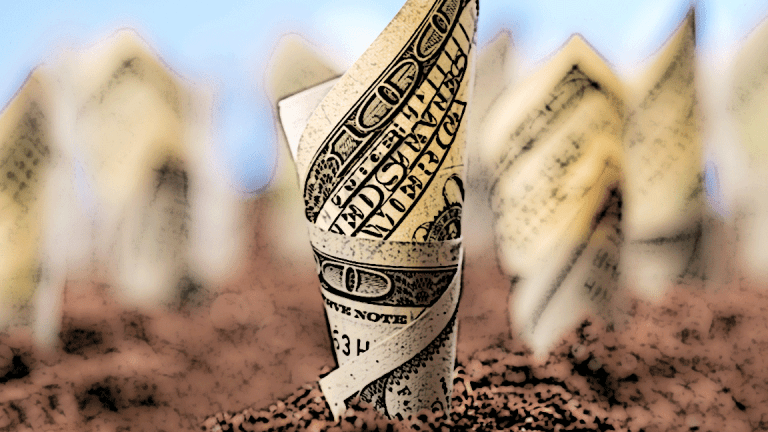 The 5 Best Dividend Aristocrats For 2018
If you are looking for the best dividend stocks out there, look no further than these top dividend aristocrats.
If you are looking for the best dividend stocks out there, look no further than these top dividend aristocrats.
If you want to find the best dividend stocks to trust, look no further. The Dividend Aristocrats are a group of 50 companies in the S&P 500 Index, with 25-plus straight years of dividend increases. These companies span all eleven sectors within the index and encompass both large-cap growth and large-cap value stocks. But how can investors pinpoint the best Dividend Aristocrats to invest in right now?
Here, we searched for Dividend Aristocrats that also boast a 'Strong Buy' analyst consensus rating on TipRanks. This is based on analyst ratings from only the last three months- giving a valuable perspective on how the Street perceives these stocks right now. The bullish outlook from the Street on these five stocks reassures us that the price of these stocks is set to rise rather than fall. Add in the consistent dividend payouts and you can see why these stocks make such an appealing source of investing income.
Top Dividend Stock: Abbott Laboratories
Global healthcare stock Abbott Laboratories (ABT) - Get Report  is a true Dividend Aristocrat. The company has declared a whopping 376 consecutive quarterly dividends since 1924. It has also increased the dividend payout for 46 consecutive years. With a yield of 1.9%, the next quarterly payment of $0.28 falls on Feb 15.
Shares in Abbott are currently surging over 4% following solid fourth quarter earnings results. "Abbott did not disappoint and the fourth-quarter print was impressive across the board," commented Evercore ISI analyst Vijay Kumar. Most encouragingly, sales from Abbott's large medical device business posted a 9.6% rise to $2.74 billion for the quarter. Meanwhile, top Morgan Stanley analyst David Lewis adds: "As risks fade, we see an emerging picture of top-tier growth that is not captured in Street expectations for 2018."
Abbott has received 8 recent buy ratings with just 1 analyst choosing to remain sidelined. The average analyst price target stands at $67 indicating 9% upside potential even on the back of recent gains.
Abbott Laboratories is a holding in Jim Cramer'sAction Alerts PLUS Charitable Trust Portfolio. Want to be alerted before Jim Cramer buys or sells Abbott? Learn more now. 
Top Dividend Stock: McDonald's
Nicknamed the 'Golden Arches', McDonald's Corporation (MCD) - Get Report  boasts a sweet dividend payout. Back in September, the board of directors approved a sizable payout increase of 7%. This counts as McDonald's 41st straight dividend increase. As a result, McDonald's paid shareholders a $1.01 quarterly dividend in December with a 2.3% yield.
And this isn't all. The Street is buzzing about McDonald's right now. In the last three days the stock has received three bullish ratings from top analysts from Nomura, Robert W. Baird and Credit Suisse. With an eye on the new value menu, Nomura's Mark Kalinowski bumped up his price target from $190 to $198 (12% upside). The $1 $2 $3 dollar menu means a roughly 15% price cut for consumers.
Even more bullish is Cowen & Co analyst Andrew Charles. He says McDonald's is still 'our top pick for 2018.' He notes that the firm's "survey data shows McDonald's exited the fourth quarter with the strongest value perceptions relative to quick service peers in the history of our data, despite heightened competitive value tactics."
Top Dividend Stock: Chevron
Oil and gas giant Chevron Corporation (CVX) - Get Report  ticks all the boxes for 2018. Chevron's dividend yield is a lucrative 3.38%. This resulted in a $1.08 quarterly payout in December. Note that the yield is far above the basic materials sector average of 2.13%. And most impressively, Chevron has a strong record of steady dividend increases over the last 29 years.
But from a Street perspective, Chevron is also a top pick. This is a 'Strong Buy' stock with 100% support from top analysts over the last three months. Even better, with a $149 average price target, these four top analysts see 13% upside potential from the current share price.
On January 11, BMO Capital's Brendan Warn upgraded Chevron to Outperform from Market Perform. He also considerably upped his price target from $120 to $140. He is anticipating a 'year of delivery' due to the triple whammy of project ramp-ups, rising oil prices and US tax reforms benefits. At the same time, Warn is modeling for "material share buybacks" on impressive post-dividend cash surplus of around 4%.
Top Dividend Stock: Medtronic
Irish-based Medtronic plc (MDT) - Get Report  is among the world's largest medical equipment development companies. Medtronic scores 40 consecutive years of rising dividend payments. Currently, Medtronic pays a $0.46 quarterly dividend on a 2.3% current yield with a low payout ratio of 49%.
On top of being a Dividend Aristocrat, Medtronic also boasts a steadily rising share price. Indeed, over the last five years, share prices have doubled. And the word on the Street is that 2018 will be a stellar year for this 'Strong Buy' stock. The company plans to launch its own robotic surgical system with the help of Mazor Robotics.
In the last three months, Medtronic has received 10 buy ratings vs just 2 hold ratings. These analysts are projecting an 8% spike for the company from its current share price. Take Oppenheimer's Steven Lichtman, who reiterated his buy rating and bullish $94 price target on Jan. 19. He sees big cash and margin drivers ahead for Medtronic, and says tax reform will free up over $5 billion in cash from outside the US.
Top Dividend Stock: Stanley Black & Decker
Stanley Black & Decker Inc. (SWK) - Get Report  is a definitely a Dividend Aristocrat worth checking out. This manufacturing company has an impressive, and truly unique, dividend record over the long haul.
According to Stanley Black & Decker, its 141-consecutive year record of annual dividend payments is unmatched by any industrial company on the New York Stock Exchange. Plus, the company has increased dividends in each of the past 50 years. Most recently, shareholders received a $0.63 quarterly dividend in December on a 1.51% yield.
And on the back of strong fourth quarter results, the Street's take on Stanley is also encouraging. In the last three months, this stock has received 5 bullish calls vs just 1 neutral rating. These analysts are projecting (on average) that Stanley Black & Decker can climb a further 13% to hit $193.
In the words of B. Riley FBR's Liam Burke "All three business segments generate strong free cash flow, which enables the company to return cash to shareholders while still reducing acquisition-related debt." He approves of its global position in tools and storage with the acquisitions of Sears' (SHLD) Craftsman brand and Newell Rubbermaid's (NWL) - Get Report former tool business.
While McDonald's may have an attractive dividend, rival Wendy's (WEN) - Get Report has a hot growth story. Check out TheStreet's Executive Editor Brian Sozzi talking about the future of Wendy's with CEO Todd Penegor.
More of What's Trending on TheStreet:
TipRanks offers investors the latest insight into eight different sectors by tracking the activity of 4,500 analysts, 5,000 financial bloggers and even 37,000 corporate insiders. As of this writing, Harriet Lefton did not hold a position in any of the aforementioned securities.