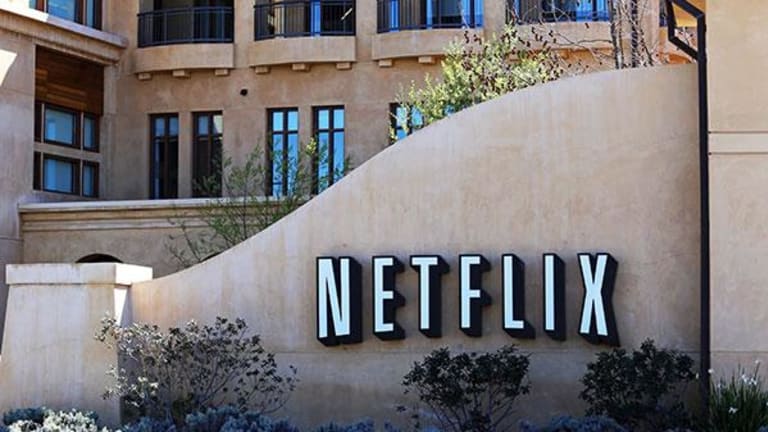 Publish date:
The EU's Copyright Ideas Are Nettlesome for Alphabet and Facebook, But Positive for Netflix
Alphabet and Facebook can't be thrilled to see the EU's proposed copyright rules, but the revenue impact should be limited. Meanwhile, Netflix and Amazon could benefit.
Alphabet and Facebook can't be thrilled to see the EU's proposed copyright rules, but the revenue impact should be limited. Meanwhile, Netflix and Amazon could benefit.
Assuming they're implemented, the EU's plans to create a common set of copyright rules across its member states will likely inconvenience Alphabet's (GOOGL) - Get Report Google and Facebook (FB) - Get Report, and potentially diminish the value of some of their services a bit. But there aren't any signs yet that the revenue impact for either online ad giant will be huge.
Alphabet and Facebook are holdings in Jim Cramer's Action Alerts PLUS Charitable Trust Portfolio. Want to be alerted before Cramer buys or sells FB or GOOGL? Learn more now.
For online video service providers such as Netflix (NFLX) - Get Reportand Amazon (AMZN) - Get Report, on the other hand, the proposed rules could make life a little easier, and perhaps also let them offer better services in EU countries.
Of the "three main priorities" outlined in the EU's proposal, the one drawing the most scrutiny is its plan to create "a fairer and sustainable marketplace for creators and press." These efforts include making sure audio and video content owners are compensated for the use of their works on "video-sharing platforms such as [Google's] YouTube or DailyMotion," and more notably creating "a new related right" for "press publishers" such as newspaper and magazine owners to be compensated.
YouTube and other video sites have long provided audio/video copyright holders with tools that let them decide whether their material can be used in uploaded videos, and to get an ad revenue cut on allowed material. But print content has been a more hotly-disputed battleground.
Google, Facebook and others have argued that providing excerpts and links for copyrighted material on their platforms -- say, on Google News or Facebook's news feed -- is legal on fair-use grounds. And U.S. courts have tended to agree.
In Europe, however, courts and lawmakers have at times sided with publishers. In 2014, Spain announced a "Google tax" that required search engines to pay publishers for using their work; Google responded by shutting down the Spanish version of Google News.
At the same time, Google tried to appease continental publishers last year through its Digital News Initiative, which gives publishers $163 million over three years to fund their digital efforts. The company has also set up an $82 million fund to compensate French publishers.
Google was quick to criticize the EU's proposals, arguing they would "effectively turn the internet into a place where everything uploaded to the web must be cleared by lawyers before it can find an audience." It also declares the rules could hurt publisher traffic, and that "paying to display snippets is not a viable option for anyone."
And just before the proposals were unveiled, the company announced new YouTube tools for news publishers to help them manage and monetize the use of their content. YouTube states many big European publishers are testing the product.
The potential damage to publishers from stringent copyright rules -- either because links and excerpted content are prevented from appearing on sites like Google and Facebook, or because the sites choose not to show them rather than pay steep fees -- could limit the fallout from the EU's proposals, though. Publishers are well aware that Google News and Facebook are major referral traffic sources, and that losing those sources for the sake of collecting high fees would be self-destructive.
In addition, it should be noted Google and Facebook don't get much revenue directly from their print excerpts. Google's search ad business is driven by consumers and businesses conducting searches related to goods and services they're interested in, and Facebook's core news feed ad business is fueled by sponsored posts that target users based on their likes and profile data. For each company, linked news excerpts enhance the value of their services, but don't drive their monetization.
But for Netflix, the financial impact of the EU's proposals could be bigger, and in a good way. The EU is calling on member states to "set up negotiation bodies to help reach licensing deals, including those for cross-border services," for video-on-demand (VOD) platforms like Netflix. That could facilitate licensing deals with studios that cover many EU markets, lower total licensing costs and make it easier for consumers to watch subscription video content when visiting other countries.
Such changes would also benefit Amazon, which is investing heavily in its European Prime Video offerings. The proposals come as Netflix announces a deal with European pay-TV provider Liberty Global (LBTYA) - Get Report to have a Netflix app installed on Liberty set-top boxes. Liberty claims 29 million subscribers in 30 countries.
The Liberty deal follows a similar deal with Comcast, as well as one with Liberty's U.K.-based Virgin Media subsidiary. A healthy portion of the 33.9 million paid international subscribers Netflix claimed as of June resided in Europe.
As with many other proposals looking to regulate evolving tech markets, the EU's ideas aren't set in stone. Expect to see plenty of arguing and lobbying in the coming months as regulators, tech giants and content owners push back and forth on various details.
Alphabet and Facebook shares were (like the Nasdaq) up slightly following the proposals, while Netflix closed up about 1%, likely on account of the Liberty deal.